The pinnacle of closed-back design?
what do we look for when evaluating whether or not a pair of headphones is any good? There's plenty of criteria, both quantitative and subjective. Frequency response, impedance, comfort, sound signature, connection standard, you name it—the list is almost endless. There are ways we can guess ahead of time, however; things we look for when seeking a pair of acoustic drivers capable of satisfying our highly demanding criteria. More often than not, it comes down to two specifications: impedance and frequency response. Although not the be-all and end-all of headphone design, a good frequency response indicates a potential soundscape untethered by the limits of the driver itself. Coupled with a high impedance cutting out any residual background noise, and you're usually on to a winner.
BEST HEADPHONES EVER?
With that in mind, Beyerdynamic's T5p headphones shine far brighter than any others we've ever reviewed. The frequency response is situated between 5 and 50,000Hz—that's 30,015Hz more than the perceived limits of human hearing. The impedance is a comfortable 32 ohms—not breathtaking, but low enough to allow a suitable versatility to these cans, ensuring they operate just as effectively on portable devices and smartphones as they do plugged into your favorite DAC. They come with a closed-back design, although you can opt for a semi-open variant, touting an impedance almost 20 times higher than from the likes of the T5p. And, of course, they have a circumaural over-ear design, with what can arguably be described as one of the most innovative internal driver constructions we've ever seen.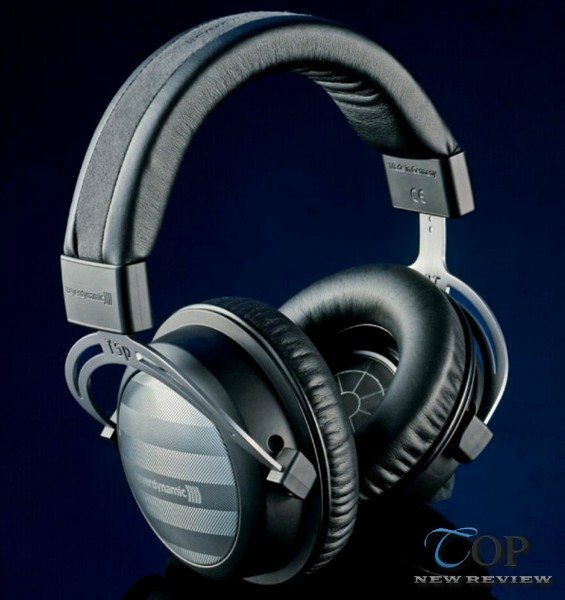 In short, they've got a spec list to die for. But, at almost $1,100, that's what you'd expect. The overall styling of this beautiful pair of cans is exceptional. The metal frame and exterior aluminum earcup plates lend an air of class to the whole affair— the double-sided detachable cable adds to that—and the combination of leather, memory foam, and suede acts as suitably comfortable padding. The Tesla-dynamic drivers are situated internally in two diagonally angled enclosures, ensuring they direct sound efficiently into your ear canals. They also look bailer, to boot.
We tested this particular set of Beyers on the positively modest (in comparison) Denon DA-300USB DAC. With Tidal as our baseline, the audio was phenomenal. There's almost no audible background noise, and the frequency response of the T5p was exceptional; the upper edge of the treble was crisp and well rounded, nothing was lost in the mids, and the bass was reassuringly comfortable. It's a reference sound signature—arguably flat, in as far as there's no additional EQ tinkering here. You're listening to how the artist intended the music to be heard, and you can feel it. It's moving, sleek, elegant, spine-tingling, the list of adjectives could go ever onward. Electronic and synthetic music fair a little worse than the likes of the more authentic acoustic, pop, and rock, but not enough to dissuade you from the sensual experience.
The T5p's biggest problem actually stems from making music sound too good. It's easy to pick apart the production values of a track by listening to it through these, with amateurish, alternative, and older music seemingly flat and basic in contrast to the more mainstream media you can enjoy from the charts. Adele, Ed Sheeran, and many other popular artists resonated well, yet the likes of Metallica, Lamb of God, and Rage Against the Machine just didn't have quite as much resonance as those with the bigger budgets. Even classical scores took a hit—Hans Zimmer is always going to
be a winner in this regard, but those with a penchant for movie trailer music may be a little disappointed in some areas.
In essence, these headphones are nothing short of legendary. They're comfortable, innovatively designed, and stunning to listen to. The reference, yet well rounded, soundscape is exceptional, and coupled with a dependable DAC, the listening experience is second to none. Are they good value for money? Yes—but you need to have that money, a good set of ears, and be dedicated to the music you produce or listen to in order to truly appreciate just how good these headphones are. Otherwise, you might be better off opting for something a little more affordable from this German manufacturer—both the 1770 and new 1990 Pros come to mind in that regard, -zak storey
PROS:
Breathtaking soundscape;
exceptional comfort;
innovative design;
almost good value;
peak of dynamic technology.
SPECIFICATIONS
Driver Type Dynamic Tesla Neodymium
Impedance 32 ohms
Frequency Response 5Hz-50kHz
Design Style Closed back
Connectivity 3.5/6.35mm analog
Weight 12oz
Cord Length 4.5 feet