A year ago, BlackBerry announced the KEYone, an Android smartphone with a button keyboard, and everyone said, 'Wow! BlackBerry still exists?'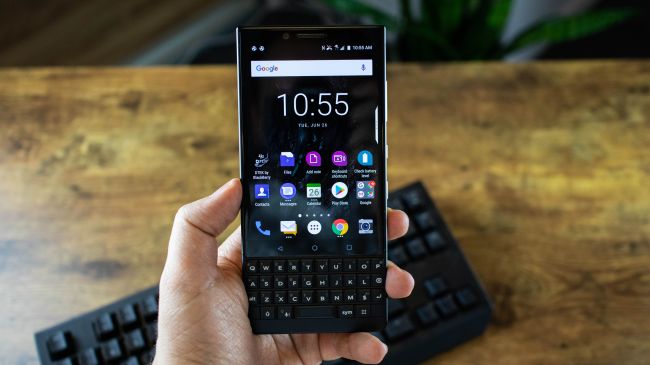 In fact, the phone was made by a company called TCL, which had bought the rights to the name after the once-giant Canadian firm announced it was giving up hardware to focus on software and services.
It did contribute the KEYone's tweaked version of Android, incorporating features like BlackBerry Hub, which handles texts and social-media messages in one place.
If you like pressing buttons, it's fine. But there are better phones for less money
Surprisingly, just enough people bought a KEYone to make the whole exercise not entirely futile, so here, in the inevitable cycle of consumer technology, is the differently spelled Key2.
The screen, which measures just 4.5in because the space below is taken up by the keyboard, remains the same, but this is otherwise a noticeably slimmer and arguably more attractive device.
Again, it comes in all-black (or black with silver details).
The distinctive chrome bars between the rows of buttons have gone, removing an aid to accurate typing, but there's still a gap you can feel with your fingertips, and a new matt finish helps.
The narrow space bar houses the fingerprint sensor.
This still isn't, however, an exclusively keyboard-operated device. To reach the Home screen you have to tap an icon, and you can't just start typing to search for
SPECIFICATIONS:
4.5in 1620×1080-pixel screen • Dual 12-megapixel rear cameras • 8-megapixel front camera • 64GB flash storage • MicroSD card slot • 802.11ac Wi-Fi • Bluetooth 5,0 • 3G/4G • Android 8.1 • 151x72x8.5mm (HxWxD) • 168g
apps or messages – you have to open the app drawer first.
A new 'speed key' lets you assign apps to keys, though, and the keyboard has a touch-sensitive surface, so you can swipe across it to scroll (albeit not very reliably).
The screen feels awkwardly small, but it's sharp and has good colour quality.
The dual camera, with iPhone X-style optical zoom, makes a decent job of 'portrait' shots with fake blurred backgrounds, and copes well in low light, but is otherwise fairly average.
Inside is a mid-range eight-core Snapdragon 660 chip that runs BlackBerry- flavoured Android 8.1 smoothly.
Cellular data speeds are slower than current phones, though, and we found Bluetooth prone to drop-outs.
The battery lasted just over 13 hours in our video- playback test, and in ordinary use came nowhere near the claimed two days.
VERDICT:
Best BlackBerry Key2 prices ?
MORE DEALS

ALTERNATIVE:
With a better screen, cameras and processor, this is a better buy unless you're bonkers about buttons