Editor choice
BitDefender Total Security 2018 Review: BEST WINDOWS SECURITY SUITE FOR PROS
"The parental controls are also excellent, second only to those offered by Symantec, with a cloud- based management and policy center. You can also use the portal site to monitor devices attached to the license and even remotely trigger scans."
For many years, BitDefender has been our pick for advanced users, and even a good pick for beginners as well, thanks to its autopilot mode.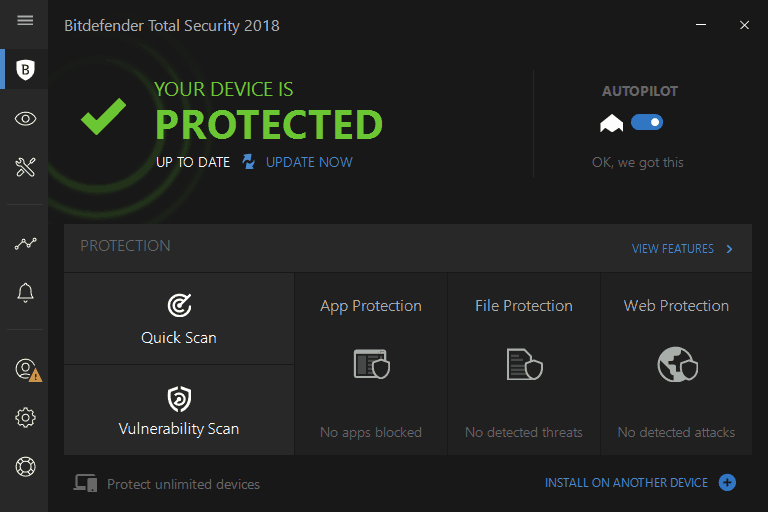 The set of features available is equalled by few suites. It has a firewall, anti-malware and anti-spam, but also secure browsing, file locking to prevent ransomware encryption, anti-theft tools, game modes, parental advisors, social network protection, password manager, file shredder, security auditor, system cleanup and more.
In this latest version, it's added webcam access monitoring (which works much better than Windows' permissions), as well as an improved anti-ransomware file locking tool. File access to selected folders can now be permission-based.
The parental controls are also excellent, second only to those offered by Symantec, with a cloud- based management and policy centre. You can also use the site to monitor devices on the licence and remotely trigger scans.
It achieved perfect scores in AV-Test's antivirus benchmarks. We've had excellent results with its removal engine as well – it does a good job of cleaning infections after detection, and includes a pre-boot mode for ripping problematic elements out.
It also has one of the best recovery drive/disc creators going, with a good set of tools available for repairing a system that's so messed up you can't even boot into it.
All the tools, options and reports are highly configurable, and you can really drill down into a lot of features if you've a mind. You can set multiple location profiles and adjust sensitivity sliders if you want to increase the aggressiveness of its heuristic scans. If you don't want to do that, you can always switch BitDefender into autopilot mode, which lets it make most of the decisions for you. We've never had any real problems with autopilot, and it's smart enough to make firewall and cleanup decisions without your input.
This suite is everything a security suite should be: full of features but easy to manage, highly configurable yet also capable of auto­configurations, and designed to not just detect threats but also get them out of your system. It's still the best suite around, and our top pick amongst all suites.
Verdict
Excellence across the board and at damn good price.
---
Kaspersky Total Security Review
A very close second.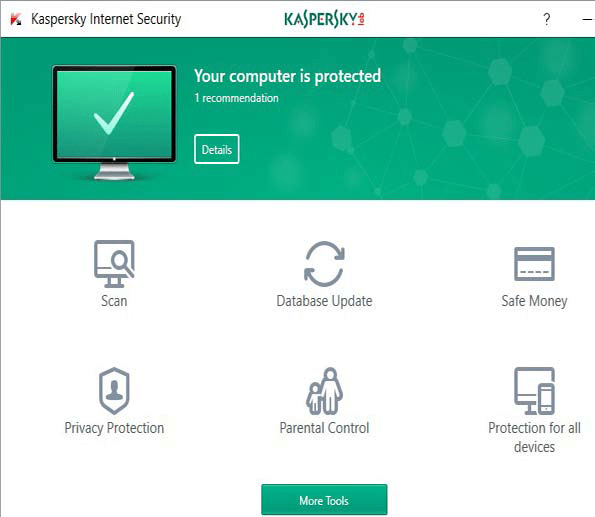 Although bitdefender is still our top suite pick, it was a very near-run thing. Kaspersky continues to improve, and Total Security has a feature set that very closely rivals that of BitDefender. All the tools you could really want are built into the suite – including backup, file encryption, webcam monitoring, cloud- based parental controls and a password manager. It even includes a volume-limited VPN for secure connections when you take your laptop onto public Wi-Fi hotspots.
Really, the biggest thing stopping it from overtaking BitDefender is the price.
In terms of features and capabilities, it's on par. Still the best.
Complete protection for Windows, Mac OS, iOS and Android
Unbeatable malware detection
Better privacy with Webcam Protection New
Multi-layer ransomware protection to keep your files safe
Optimized speed and cross-platform performance
Complete protection for Windows, Mac OS, iOS, and Android
Unbeatable malware detection
Better privacy with Webcam Protection New
Multi-layer ransomware protection to keep your files safe
Optimized speed and cross-platform performance
Last update was on: 2017-10-21 9:57 pm