Best Windows clipboard managers
Best Windows clipboard managers
The Windows clipboard has received a welcome overhaul – but how does the updated version of an old classic measure up against free third- party tools? Steve Clark copies and pastes his way through the best managers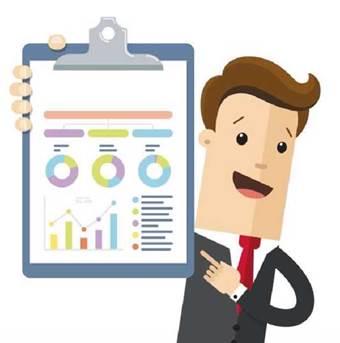 CopyQ | bit.ly/copyq476 | 5/5
FEATURES 5/5 | PERFORMANCE 5/5 | EASE OF USE 5/5
What we liked:
You may be happy with the standard clipboard built into Windows (see Best of the Rest, opposite), particularly since it was upgraded in the Windows 10 October Update. After all, what could be simpler than just copying text and images, and pressing Windows+V to see (and re-copy) them all? But it's not until you try an alternative clipboard program such as CopyQ that you begin to realise just how limited Microsoft's offering still is.
This is the sort of software anyone with a computer can master, with a clean interface and a sidebar of one-click commands. However, it's the tabs that first drew us to CopyQ. This feature, which is easy to set up, helps you organise your clippings and immediately solves one of the biggest problems with most clipboard managers: the clutter. CopyQ makes it easy to create separate tabs for work projects, general use, images and whatever else you're copying and pasting.
Beyond that, the tool feels like a streamlined version of our Silver Award-winner, Clipdiary. Many functions are identical, such as the ability to tag and flag clippings, but with fewer related options. For light users, this is a strong selling point.
Other highlights include the ability to add notes to any clip, which is great for referencing, and previewing longer clips in a separate pane. Meanwhile, having a rummage in Preference turns up a whole directory of handy keyboard shortcuts and customisation options.
The sleek and neat design lines up quick-access actions in a handy sidebar, making navigation swift and intuitive.
It's this attention to detail that makes CopyQ our Gold Award-winner – a clipboard manager that's at once packed with features while effortless to use.
How it can be improved:
There's a danger that CopyQ is too simple. After all, if you're abandoning the disappointingly feature-free Windows Clipboard, you may want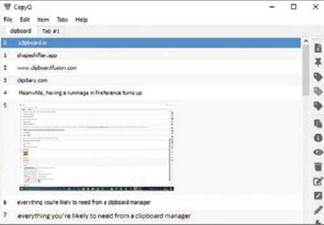 more than just a few more options.
In that respect, the tool is more Justice League than The Avengers: It's easy to use and has broad, commercial appeal, but power users may hanker for something more.
OUR VERDICT
CopyQ is a no-brainer. Intuitively designed and undemanding, it delivers everything you're likely to need from a clipboard manager and had no trouble with text, images, and everything else we threw at it.
Clipdiary | clipdiary.com | 4/5
FEATURES 5/5 | PERFORMANCE 4/5 |  EASE OF USE 5/5
What we liked:
Clipdiary excels at clipboard management – particularly when you've made the move from Windows' own static version, Not only can you search your entire clipboard, but there are options along the top to reorder and delete your 'clips'. Right-click a clip to add labels, stars and flags, not unlike organising your inbox, and dive into the Advanced section to save clips or search for copied text online.
There's support for custom hotkeys – by default, Ctrl+D activates the clipboard – while shortcuts let you quickly paste recent items, making it a delight to copy content to multiple documents. Once you have the clipboard on-screen, use the arrow keys to select what you want and press Enter to paste,
Purists, meanwhile, can breathe a sigh of relief: the traditional keyboard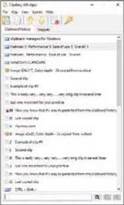 shortcuts of Ctrl+X/C/V are still available, as are the Copy and Paste buttons located at the top of the screen.
How it can be improved:
Getting copied content to the clipboard is easy enough but clearing it is less so – you need to individually delete every clip. More needs to be done with the Snippets section, too, which lets you create frequently used phrases and other content ('Thanks for your interest', 'My email is' and so on) – it's useful but under-serviced.
OUR VERDICT
As effective as it is easy to use, Clipdiary gives you all the control you never knew you needed from a clipboard manager. We're impressed by the helpful start-up tutorial and that it's available as a portable tool.
ClipboardFusion | www.clipboardfusion.com | 4/5
FEATURES 4/5 | PERFORMANCE 5/5 | EASE OF USE 5/5
What we liked:
Don't be fooled by the stripped- back. fuss-free design.
ClipboardFusion may look as basic as its built-in rival, but there's a whole lot going on with this tool – it's just not going on in the actual clipboard manager.
There are five tabs in the main pane, although two – Online Syncing and Online Pins – are reserved for paying users. But we appreciate offline Pins getting its own space, so pinned clips don't get lost in the list.
Unlike its rivals, ClipboardFusion's interface is almost entirely free of distractions, save for a search bar at the bottom. Even previewing text is refreshingly clean – just run your cursor over the text or image to pop-up a larger preview.
But it's the Settings menus that deliver the wow factor, housing an astounding collection of options, such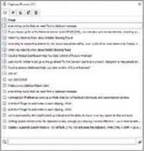 as creating macros and an extensive set of custom hotkeys. Top of this list is automated Triggers, which can be set to scrub and replace specific words.
How it can be improved:
On installation, you're automatically granted access to the Pro trial which, after a limited time, reverts to the free version. At this point, you lose several features – notably, syncing across devices, including your Android or iOS phone – which Windows Clipboard now tosses in for free.
OUR VERDICT
ClipboardFusion feels professional and while anyone can use it, it's Pro users who will most enjoy its advanced features. If only certain essentials, such as syncing, weren't locked behind the paywall.
BEST OF THE REST
Windows Clipboard
Clipboard is one of those tools that 'just works' – it's as basic as a digestive biscuit. Flowever, its simplicity is its main drawback – everything you copy is stored inside the tool for later use, which is bad news if you're hoping to do anything more than copy, paste and pin content to your clipboard. Still, if you feel it adequately serves your needs, you should still take full advantage of its best feature – search Start for clipboard settings and switch on account syncing.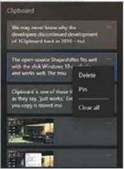 Shape shifter
shapeshifter.app The open- source Shapeshifter works well and fits right in with the slick Windows 10 aesthetic.
However, the user interface is permanently hidden until you press and hold Ctrl+V and use the arrows to jump between clippings. Try doing that in Microsoft Word and see how far it gets you. It's just a bit too fiddly for our liking, but one to watch with future updates.

1Clipboard
1clipboard.io We may never know why the developers discontinued development of 1Clipboard back in 2016, but we're glad the tool is still available for download. It's very lightweight, with only a handful more features than Windows' own version, including search functions and choosing to view only copied media files. You can also sync across multiple computers by signing in with your Google account – that alone earns it a place in our 'Best of the rest' picks.