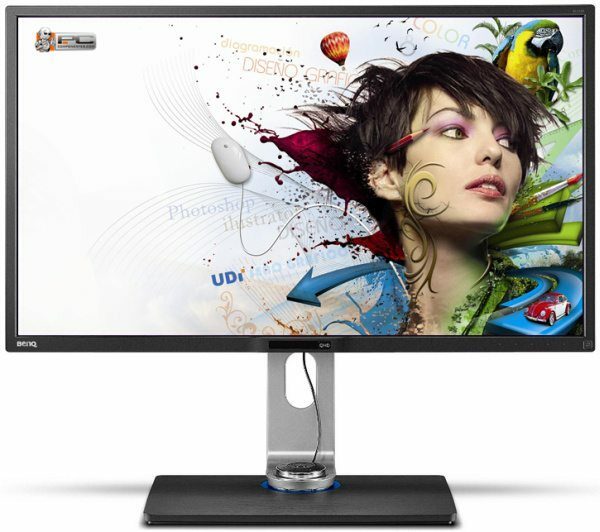 Following BenQ's previous monster 32in monitor, the BL3200, the new BL3201PT gains a notable upgrade that moves resolution from 2560×1440 pixels, to the UHD dimensions of 3840×2160. This large desktop monitor is aimed at designers and discerning home users looking for great image quality, high-class construction, and notable ease of use. We think it wins on each count.
Based on a very large panel – even by recent PC monitor standards – stretching 32in across on the diagonal, the BL3201PT is no shrinking desktop violet. This IPS panel is framed by a relatively thin bezel around its 16:9 form, in professional matt black rather than showy and distracting gloss plastics.The detachable stand has a heavy rectangular base platform that provides solid support, able to rotate, tilt back and forth, and crucially is height adjustable over a large range, between 60- and 210mm, providing a useful tall extension. When raised to its highest point, it can easily be swivelled 90 degrees into portrait mode.
At the bottom of the main pillar is a recessed dish to store a wired remote control. This palm-sized widget includes four buttons around its circular top, labelled 1, 2, 3 and Back, with a four-pole compass rose inside this and an OK button in the centre.
Connections to a PC are made along the right side of a panel box that protrudes from the rear, with a choice of DVI, two HDMI, and full-size and Mini DisplayPort 1.2. The HDMI inputs are only specified to v1.4, which limits screen refresh rate to a 30Hz maximum at native screen resolution. This unfortunately limits other sources with HDMI 2.0 ports from taking advantage of the monitor's capabilities.On the very edge of the screen frame on the right side again are some additional ports closer to hand that may be required more frequently – an SD card slot, two USB 3.0 ports and a headphone jack. There's another three USB 3.0 ports facing downward too, all available through a shared hub once wired to your PC with one USB 3.0 Type B cable.
Stereo speakers are built in, a pair of tiny 18 mm on each side and facing upward through the monitor's cooling grates. Sound quality is not the worst we've heard, but the thin, papery sound with additional rattle is too grating to enjoy music or video soundtracks.
The BenQ has the best OSD interface we've seen on a UHD display, starting with five touch-sensitive white LEDs that are concealed on the right of the lower bezel edge. As your finger nears, a proximity sensor turns on the lights; and when you press one a small graphic panel appears onscreen to give direct access to input, volume, main menu – plus Picture Mode, where you can quickly change presets such as CAD/CAM, Low Blue Light and sRGB mode.
The wired remote is even quicker to use, and has the benefit of a gentle mechanical click that gives more intuitive feedback when any button is pressed. Using the remote alone, you can very simply move through the entire menu to tweak any setting; or take advantage of the user-programmable three preset buttons.
The BL3201PT comfortably meets the sRGB colour space, and the chromaticity diagram shows its coverage extends fractionally further into the green-red vertices. We also measured 78 percent Adobe RGB coverage, a decent figure which is now typical for high-quality IPS panels, if short of what was once available before white LED backlighting became the norm when closer to 100 percent Adobe RGB was more common.Contrast ratio measured well at 650:1, which is about average for a better-grade IPS panel. And judged by eye we saw good, dark blacks in typography and image details.
Luminance uniformity across the panel was excellent, with no greater variation than 17 percent at full brightness and peak 20 percent in one corner at the more slightly revealing 50 percent brightness setting (which here was a very low 44cd/m2, too).
Colour accuracy was superb, one of the best on test, with an average below 1.0, resulting in Delta E of 0.95. This was only beaten by the much more expensive Samsung.
Peak power consumption was around 50W, here giving an insanely bright 362cd/m2, and when dialled back to a more realistic 120cd/m2 we saw only 27W drawn, one of the lowest figures and remarkable given the size and resolution of the panel.
The BenQ BL3201PT is an outstanding monitor that ticks almost every box as a modern high-performance UHD display. By combining the basics of uncluttered and well-constructed design, and an OSD interface that doesn't make you want to punch the screen, the display becomes far easier to live with, all sealed by the best overall image quality at the price.