LCD panels for PCs are now bigger than ever, but that doesn't necessarily mean you have to have a big monitor on your desk to enjoy more screen working space. With the Acer S277HK, you get the expanse of a 27in monitor in a compact frame that's little bigger than most 24in designs. Read our Acer S277HK Review.
This is a monitor that wants to wow with its unusual design, featuring a nearly bezel-less display and a fixed offset stand that's offset of central to hold the panel in the air.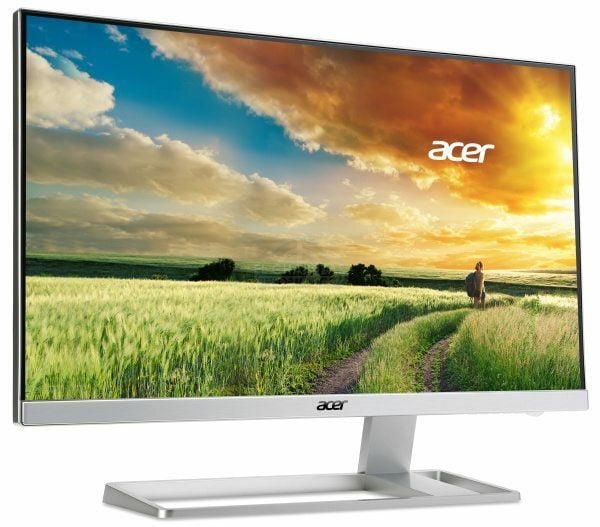 Here is a desktop monitor which sets itself apart from the all black school of display, instead using glossy white plastics across the back panel and a natural aluminium finish support stand. There is plastic trim running up the centre of the back and around the display's edge, sprayed in silver to match the stand finish. The brand name 'acer' is emblazoned across the back in lower case on an otherwise neatly finished part of the monitor that's too often overlooked by monitor manufacturers.
From the front there's little to see apart from the 3840×2160-pixel IPS panel and a chin piece that runs along the bottom; a veneer of aluminium trim with a brushed grain effect. Acer markets the monitor as frameless although it's not a true 'infinity' display that goes right to the edge – the visible display is framed by a black and silver border around 8mm wide along the top and side. Meanwhile, the bottom strip measures 25mm thick.While the stand is minimal and stylish, we found it to be simply too low to be used comfortably. Placed on a desk, it will need lifting by a few books' height to bring it to a safe working height that doesn't cause neck strain from poor posture. Normally we'd suggest trying a third-party stand attached to the monitor's rear VESA mount, but this monitor doesn't have one.
The panel's provenance is unknown, but appears to be a gloss finished type that has been treated to a stick-on anti-glare film. This does a great job of reducing annoying reflections, although it also adds a layer of grain to the image, making it more soft-focused than panels with a factory-applied hard coat anti-glare finish.Connections are made to the panel above the stand mount point at the rear, with cables docking perpendicular to the panel. There's a choice of regular and Mini DisplayPort (both to v1.2 standard), DVI and HDMI. Most usefully, the latter is the latest v2.0 standard, so will allow native UHD resolution at full 60Hz refresh rate. That could prove invaluable in future-proofing, for when HDMI 2.0 finally becomes commonplace on PCs.The S277HK relies on four hidden buttons under the screen bezel for adjustment. These buttons are sunken into the frame and only just pressable after a concerted effort since they're so recessed. The OSD that appears is fixed in the bottom right corner, and requires you to move your finger between different hidden buttons that lie under changing onscreen graphics. It's not the worst OSD setup menu we've seen, but did prove annoying to navigate.
The colour gamut of the Acer's IPS panel was wide enough to fully encompass the sRGB colour space, and with a reported 80 percent cover of the Adobe RGB space, it also measured by a fractional margin the widest colour spread in this group.
Contrast ratio was good when compared to budget displays, if a little low for an IPS technology screen and the poorest in this group test, showing a 530:1 ratio. Most high-quality IPS panels will be closer to 600:1 or 700:1.Colour accuracy was very good, with an average Delta E figure of just 1.08. Brightness variation was average, the top third of the screen darker by around 15 percent, increasing to 25 percent darker than the bottom at a nominal '25' brightness setting. In use this is still not a major issue.Sound quality from the built-in stereo speakers was passable for system alerts but tinny and annoying for music. Don't be fooled by the DTS brand badge in the marketing – this is no hallmark of audio quality any more, and in this example switching the DTS function on served no audible purpose whatsoever.
With a peak draw of 53W at full brightness (280cd/m2), the Acer is a little higher than others of its size and resolution. Down at a more usable 120cd/m2 it drew 29W of power.
The Acer S277HK makes an impact with its angular white and silver design, and offers good image quality that's only clouded a little by the applied anti-reflective film. An adjustable height stand or even VESA mount would subtract our problems with its form-before-function ergonomics. It is one of the cheaper 27in UHD IPS displays currently available.