It's been a very long time since we've had enthusiast motherboards supporting two types of memory from a single chipset, but that's exactly what's happened with Z690. Read our ASUS TUF Z690 PLUS WIFI D4 Review.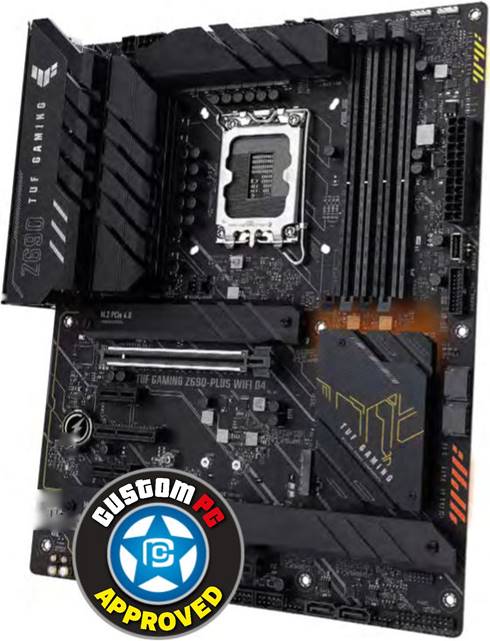 Specifications
Chipset Intel Z690
CPU socket Intel LGA1700
Memory support 4 slots: max 128GB DDR4 (up to 5333MHz)
Expansion slots One 16x PCI-E 5, one 16x PCI-E 3, one 4x PCI-E 3, one 1x PCI-E 3
Sound 8-channel Realtek HD Audio
Networking 1 x Intel 2.5Gbps LAN, 802.11ax Wi-Fi
Cooling Seven 4-pin fan headers, VRM heatsinks, M.2 heatsinks
Ports 4 x SATA 6Gbps, 4 x M.2 PCI-E 4, 2
x USB 3.1 Type-A, 4 x USB 3, 1 x USB 3.1 Type-C, 1 x USB 3.1 Type-C, 2 x USB 2, 1 x USB 3.1 Type-C header,
1 x LAN, 3 x surround audio out
Dimensions (mm) 305×244
There's a clear divide between Asus' upper and lower product stack, though, with its Prime and TUF ranges more likely to offer DDR4 support, while its ROG ranges are almost exclusively limited to DDR5. The  Z690-Plus WiFi D4, as its name suggests, supports DDR4 memory, but it still offers full support for Intel's 12th-gen Alder Lake processors.                                                
If that comes as news to you – and we wouldn't be surprised if that's the case, as we've seen quite a few people on social media that missed this fact – then the main takeaway is that if you have DDR4 memory in your current system, you can transplant it into your new Z690 system to save cash.
That's quite handy, since DDR5 memory is certainly more expensive than DDR4 memory, but it also doesn't offer significant performance benefits, as we cover in our Alder Lake upgrade feature on p76 this month. What's more, at the time we wrote this review in mid-November, DDR5 kits still weren't available to buy, except in the form of bare-PCB Micron 4800MHz memory in hardware bundles at Scan. This means that the TUF Z690- Plus WiFi D4 could well offer a much cheaper and easier way for you to upgrade to 12th-gen Intel CPU.
It's certainly cheaper than the ROG Maximus Z690 Hero, which costs twice as much money, but does splashing out over £ still bag you a decent product? Well, you get the same nifty tool-free M.2 latches that we saw on the Hero, which are a very welcome inclusion, but there's no handy 16x PCI-E slot release button. However, it's not needed as much on this motherboard, due to its smaller heatsinks.
Underneath these VRM heatsinks sits a 15-stage power delivery system, and while there's no heatpipe linking the heatsinks, they're still very substantial and they kept the VRMs to a peak of 53°C in our stress test.
Meanwhile, three of this board's four M.2 ports are covered by heatsinks. The largest heatsink sits at the bottom of the PCB, and is probably the one you'll most want to use for a fast boot drive as a result – it returned a peak M.2 temperature with our PCI-E 4 SSD of 51°C.
Thankfully, all the M.2 ports support up to PCI-E 4 SSDs, but the only PCI-E 5 support comes from the primary 16x expansion slot, not that this makes any difference with current hardware. The SSDs are also cooled on just one side, unlike the Hero's double-sided M.2 heatsinks.
There's no Thunderbolt 4 port here either, unlike the Hero's numerous ports, but there is a Thunderbolt 4 header, so you can plug in an expansion card such as the Asus ThunderboltEX to provide actual Type-C Thunderbolt 4 ports. The audio is fairly basic too, and Asus has sneakily removed the actual codec model number from its specifications. Delving into the driver details suggests it's a Realtek ALC897 codec, and the performance would certainly confirm that, with a dynamic range of 95dBA and noise level of -95dBA, but we can't tell for sure. It's certainly not as good as the 120dBA we saw from the Hero, and it's not hi-fi quality audio, but it's fine for most people's needs.
There's certainly none of the Hero's fancy RGB lighting here either, but two small sections on the board do light up, plus you get four RGB headers on the PCB if you need to jazz up the interior of your system a bit further.
Thankfully, apart from a rather basic accessory box, that's all we have to moan about with this motherboard, as it otherwise covers the essentials, while also offering a few mod cons, including 802.11ax Wi-Fi and a USB 3.1 Type-C port on the rear panel, as well as a corresponding header on the PCB for compatible cases. You get six Type-A USB ports, which is good, but not exceptional, but all of these are either USB 3 or USB 3.1. There are also display outputs if you want to use your CPU's on-board graphics, as well as the full complement of audio outputs.
Asus is well known for having a decent software suite, but our Windows 11 test system threw up some issues with the software for this board. Chief among these issues were a couple of omissions from its AI Suite of Windows controls, specifically Fan Xpert.
This, along with its installer software Armory Crate, isn't currently compatible with Windows 11. However, Asus is working on a fix that should bring these features to the new OS. For now, if you want to tweak fan speeds, you'll either have to use Windows 10 or use the EFI's fan control suite, which thankfully is very good.
Performance
When it came to overclocking, we had to enable loadline calibration to deal with a fair amount of vdroop, and we also had to apply slightly more voltage than usual, with a 1.37V vcore. However, once we'd done that, we found that our usual settings of 5.1GHz across all P-Cores and 3.9GHz on the E-Cores was stable, and without temperatures peaking above 90°C.
Interestingly, this overclock didn't see the big drop in the image editing test we saw with the ROG Maximus Z690 Hero, with the score rising by 2,000 points instead.
We also saw higher frame rates in Far Cry 6 after overclocking, but the performance didn't rise across the board, with similar results in Cinebench and our heavily multi-threaded Handbrake video encoding test. Power consumption was quite restrained, especially at stock speed, but once overclocked, it was well over 300W for the system as a whole.
Conclusion
The Z690 platform offers two polarised choices. The first is to get a cheap DDR4-compatible motherboard, offering the most affordable upgrade path to owning a 12th-gen CPU. The Asus TUF Z690-Plus WiFi D4 definitely fits this category and achieves its aim with a minimum of fuss, while throwing decent cooling and Wi-Fi into the mix. You'll likely need to spend significantly more money and opt for DDR5 memory to get a significantly more lavish setup.
It's a solid motherboard, though, and one of the cheaper Z690 options available, even if £ would have bought you a lot more even just a couple of years ago. Right now, though, if you want to get on the Intel 12th-gen bandwagon for as little money as possible, and maybe transplant your existing DDR4 memory, the TUF Z690-Plus WiFi D4 is a great choice, and it can cope with an overclocked Core i9-12900K too.
ANTONY LEATHER
VERDICT
Editor choice
ASUS TUF Z690 PLUS WIFI D4 Review
A little lacking on features given the price tag, but you won't find more elsewhere and it's otherwise a solid option.
PROS
Attractive design
Good M.2 and VRM cooling
Excellent EFI
CONS
Features are a little lacking
Some software currently incompatible with Windows 11
Mediocre on-board audio
Add your review
Best ASUS TUF Z690 PLUS WIFI D4 prices ?
MORE DEALS