The competition for Z690 chipset motherboards with sub-£ price tags and DDR4 support seems to be fierce, and MSI undercuts the Asus TUF board on test this month by £ with the MAG Z690 Tomahawk WiFi DDR4. Read our MSI MAG Z690 TOMAHAWK WIFI DDR4 Review.
This MSI board's list of accessories is nearly as threadbare as that of the Asus TUF board, but MSI does at least include a 16GB USB flash drive with an image of the usual installation DVD on it. Unfortunately, though, the flash drive is USB 2, so it took an absolute age to mount the 5GB image file. If you want to do this instead of downloading up-to-date drivers from MSI's website, then be sure to copy the image file to a faster drive.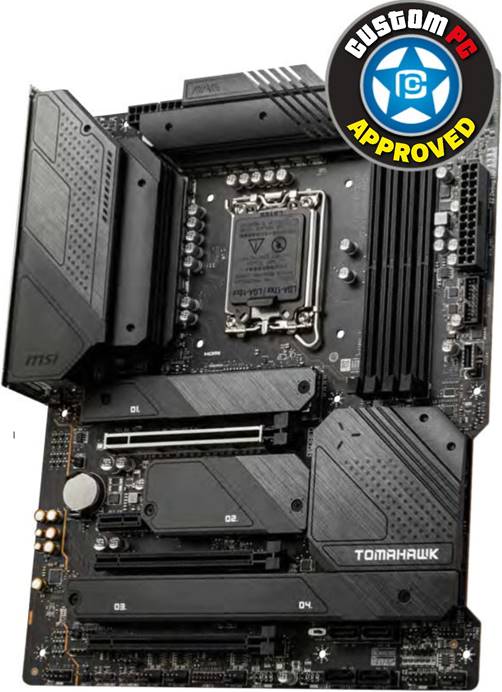 MSI's Windows software is still quite clunky compared with that of Asus as well, with no option for tweaking E-Cores and only basic overclocking options. The fan control section is also difficult to find, and while it offers reasonably granular control, we'd still prefer to head to the EFI. There's very little information about temperatures across the motherboard too, such as the VRM temperature, which we found in HWMonitor and the EFI, but MSI doesn't tap into this data for its own software.
The motherboard looks great, though, and in our opinion, it looks slightly smarter than the Asus TUF Z690 Plus WiFi D4. It's devoid of RGB lighting, although it has the usual RGB headers for added illumination if you want it, and the Asus board doesn't have much in the way of lighting anyway. However, the black design is attractive and the large heatsinks did a good job of keeping the 18-phase power delivery system below a peak of 56°C during stress tests with our Core i9-12900K.
It has a similar M.2 SSD arrangement to the Asus TUF Z690-Plus WiFi D4 too, with three PCI-E 4-capable M.2 ports and a fourth M.2 port that tops out at PCI-E 3. Here, though, MSI covers all of them with heatsinks and they even have similar tool-free latches to those of the Asus board, which is handy. When fitted to the large heatsink at the bottom of the PCB for best airflow, our PCI-E 4 SSD reached 63°C after our stress test ended, which is cool enough to stay away from throttling, but not quite as cool as on the Asus TUF Z690-Plus WiFi D4.

spec
Chipset Intel Z690
CPU socket Intel LGA1700
Memory support 4 slots: max 128GB DDR4
(up to 5200MHz)
Expansion slots One 16x PCI-E 5, two 16x PCI-E 3, one 4x PCI-E 3, one 1x PCI-E 3
Sound 8-channel Realtek HD Audio
Networking 1 x Intel 2.5Gbps LAN, 802.11ax Wi-Fi
Cooling Eight 4-pin fan headers, VRM heatsinks, M.2 heatsinks
Ports 6 x SATA 6Gbps, 3 x M.2 PCI-E 4, 1 x M.2 PCI-E 3, 2 x USB 3.1 Type-A, 4 x USB 3, 1 x USB 3.1 Type-C, 1 x USB 3.1 Type-C, 2 x USB 2, 1 x USB 3.1 Type-C header, 1 x LAN, 3 x surround audio out
Dimensions (mm) 305×244
As you'd expect at this price, there's no Thunderbolt 4 support at all, but you do get the high-end Realtek ALC4080 audio codec, which produced some solid results of 110dBA dynamic range and -111dBA noise level, outperforming the audio on the Asus TUF Z690-Plus WiFi D4. Next to the audio ports are seven Type-A USB ports, five of which are USB 3 and above, and there's a single USB 3.1 Type-C port as well.
Like the Asus board, you get a 2.5Gbps Ethernet port, and the rear I/O panel also plays host to the connectors for the on-board 802.11ax Wi-Fi, plus the DisplayPort and HDMI 2.1 outputs. There's also a USB BIOS FlashBack port, which will be handy if you want to buy this board at the same time as a next-gen LGA1700 CPU.
There's a generous count of eight fan headers too, but sadly no other overclocking and testing tools. One feature we did like, though, were the two angled SATA ports hidden under the edge of a heatsink. While the Asus board has a similar arrangement, the ports aren't hidden, and the Asus also has fewer SATA ports than the MSI.
Performance
We had to apply a 1.37V vcore in the EFI, and open the taps on all the power limits, in order to get a stable overclock on this MSI board, but this did allow us to push the E-Cores on our Core i9-12900K to 4GHz instead of 3.9GHz, although the P-Cores still topped out at 5.1GHz. Interestingly, CPU-Z showed the vcore under load was hitting 1.4V, so it's clear there's some extra juice being applied.
This overclock also gave us some of the fastest results we've seen from our Core i9-12900K yet, with a score of 83,602 in the image editing test and 1,116,097 in the video encoding test, but for some reason, Cinebench's multi-threaded test fell a couple of thousand points, even though temperatures were within limits. What was sky-high, though, was the power consumption, which ballooned from 306W to 411W under full load.
We also saw some great results in Far Cry 6, with a peak 932fps 99th percentile result and 135fps average when overclocked, and both stock speed and overclocked results were faster than those from the much more expensive Asus ROG Maximus Z690 Hero. Meanwhile, our PCI-E 4 SSD managed a 4,963MB/sec read speed and 4,239MB/sec write speed, which is on the money. You can see the full performance results over on p20.
Conclusion
MSI's software is still clunky and leaves a lot to be desired compared with the Asus AI Suite; while not perfect, the latter is easier to use and offers greater control, although even it suffers from a lack of Windows 11 support for now. The cooling on the Asus TUF Z690-Plus WiFi D4 was slightly better for both VRMs and M.2 ports as well, but the MSI MAG Z690 Tomahawk WiFi DDR4 has a better design and layout, as well as superior audio quality and heatsinks for all its M.2 ports.
Both boards will be absolutely fine if you want to build a DDR4 Alder Lake system. We chose the Asus TUF board for our feature bundles this month, as it has a better EFI, but if better audio quality is a priority for you, this MSI board also comes recommended.
ANTONY LEATHER
VERDICT
Editor choice
MSI MAG Z690 TOMAHAWK WIFI DDR4 Review
An attractive motherboard with slightly more features than the competition, including superior audio, although its software needs some work.
PROS
Attractive design
Full M.2 heatsink array
Excellent audio
CONS
Overclocking easier on competition
Software lacks polish
Average M.2 cooling
Add your review
|
Read reviews and comments
Best MSI MAG Z690 TOMAHAWK WIFI DDR4 prices ?
MORE DEALS