Z690 MOTHERBOARD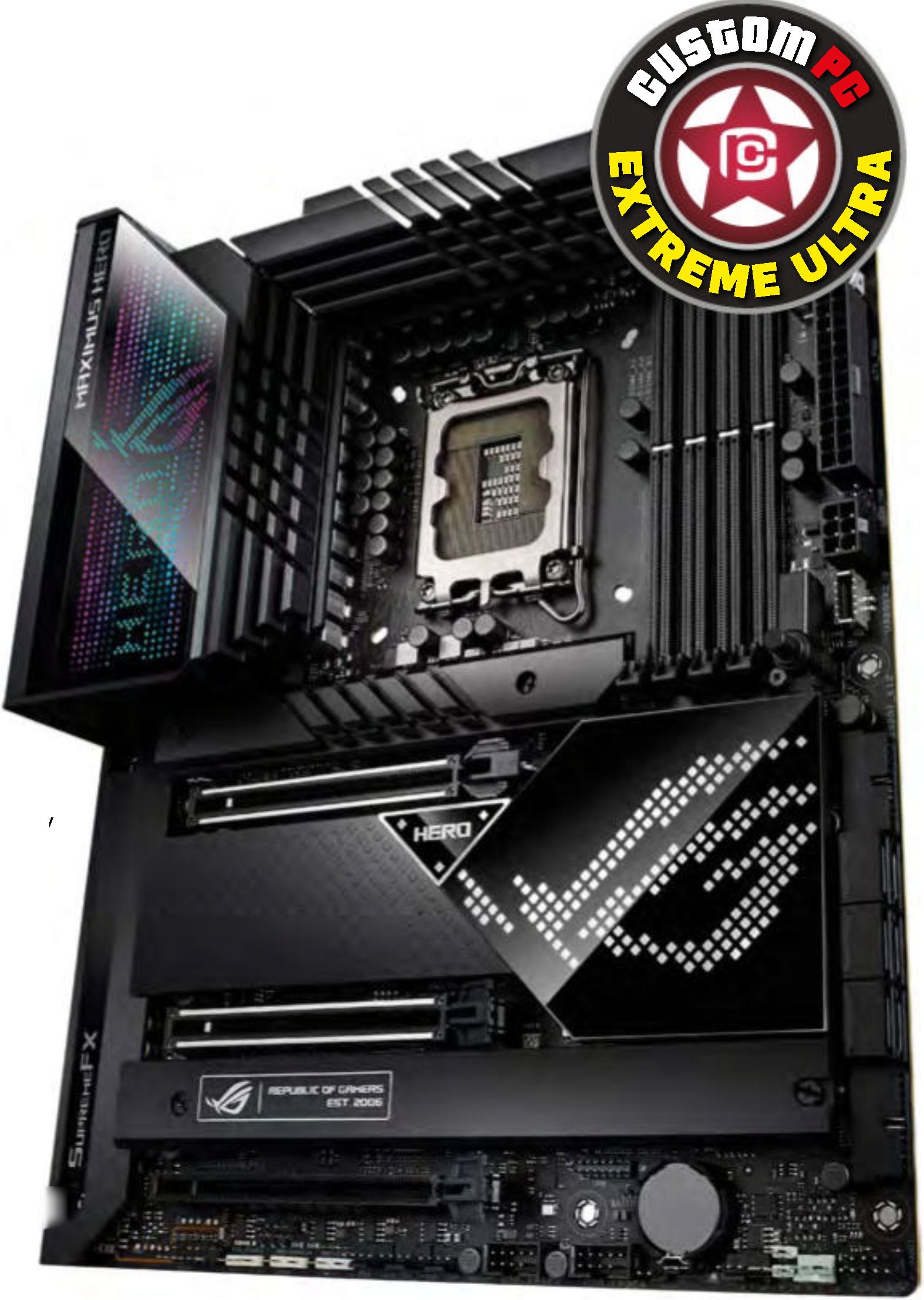 spec
Chipset Intel Z690
CPU socket Intel LGA1700
Memory support 4 slots: max 128GB DDR5 (up to 6400MHz)
Expansion slots Two 16x PCI-E 5, One 16x PCI-E 4
Sound
8-channel Supreme FX
7.1 Realtek ALC4080
Networking 1 x Intel 2.5Gbps LAN, 802.11ax Wi-Fi
Cooling Nine 4-pin fan headers, VRM heatsinks, M.2 heatsinks
Ports 6 x SATA 6Gbps, 5 x M.2 PCI-E 4, 6 x USB 3.1 Type-A, 2 x USB 3.1 Type-C/ Thunderbolt 4, 1 x USB 3.1 Type-C, 2 x USB 2. 1 x USB 3.1 Type-C header, 1 x LAN, 3 x surround audio out
Dimensions (mm) 305×244
It's okay, we know what you're thinking. Sadly, that isn't a typo and the latest iteration of the popular Maximum Hero does indeed cost more than £500. The reason for this whopping price compared with previous Hero boards is likely down to several reasons, not least of all the absolute monster of a motherboard that you get in the ROG Maximus Z690 Hero's box.
In fact, that box has a surprising amount of weight to it – when it first arrived, we initially thought Asus had mistakenly sent us one of its pre-water-cooled motherboards. Instead, the Hero packs a massive punch in the air cooling department. It has two enormous stacks of heatsinks linked with a heatpipe, which cools the 21-stage 90A teamed power delivery system.
It's one of the biggest arrays of heatsinks we've seen, and it was no surprise to see the VRMs max out at just 50°C after a ten-minute stress test with a Core i9-12900K. If you're thinking about pushing your new Alder Lake CPU to its limits without worrying about VRM temperatures, then the Hero's cooling system certainly has you covered.
If you want to install loads of M.2 SSDs then this board has a mass of options here too. There are three slots on the PCB, two of which support PCI-E 4 NVMe SSDs – they're all covered by large heatsinks and Asus also includes an expansion card covered with a large heatsink. This card adds two more M.2 ports, one of which is PCI-E 5-ready, although there sadly aren't any PCI-E 5 SSDs available to take advantage of it yet.
Two of the three 16x PCI-E slots are PCI-E 5-compatible too, so you could still use your graphics card as well as a PCI-E 5 SSD on the expansion card when they're available. Installing a PCI-E 5 SSD in this card will drop the bandwidth of the two PCI-E 5 expansion slots from 16 to eight lanes, but that will still be plenty for graphics cards for a long time.
As you'd expect, there's the usual complement of six SATA 6Gbps ports as well, so if you want to drop in several terabytes of ultra-fast storage and half a dozen hard disks, you have all the connectors you need.
The M.2 heatsinks work well too. Even the lower heatsink on the PCB kept our PCI-E 4 M.2 SSD below 55°C, with the expansion card dropping this temperature to just 49°C. The M.2 ports also feature new tool-free latches, which enable
you to lock M.2 SSDs in place without dealing with tiny screws, which makes installation so much easier.
This motherboard even makes removing your graphics card less arduous than beforehand. There's now a button next to the primary 16x PCI-E slot, which allows you to pop open the slot latch and release your card, without having to fiddle under your graphics card cooler. This is just as well, as the heatsinks make it very tricky to access the latch otherwise.
You also get Realtek-based audio using a ROG SupremeFX ALC4082 codec with an ESS DAC. This setup performed exceptionally well in our tests, with a dynamic range of 120dBA and noise level of -120.2dBA.
Another reason for the cost is the two Thunderbolt 4 ports on the rear I/O panel, which bump up the price. You also get 802.11ax 2×2 Wi-Fi with Bluetooth 5.2, plus a 2.5Gbps Ethernet port, although the Z590 version of this board had two of the latter. More features that go some way to justifying the price are the Power and Reset switches on the PCB, as well as an LED POST code display, plus clear-CMOS and USB BIOS FlashBack buttons on the rear I/O panel.
In addition to the pair of Type-C Thunderbolt 4 ports on that back panel, there's a standard USB 3.1 Type-C port, eight Type-A USB ports and also an HDMI output should you wish to just use your CPU's on-board graphics. There's also an intriguing 6-pin connector next to the front-panel Type-C header, and this provides extra power to the header, so it can dish out up to 60W when charging your smartphone or laptop.
There's a total of nine fan headers that can be controlled using various temperature sensors, including a thermal probe input on the PCB, which is handy for water-cooled systems. The ROG Maximus Z690 Hero looks fantastic when you fire it up, with a large ROG-themed, animated RGB lighting array on top of the I/O shroud and most of the PCB covered in heatsinks. It certainly looks like it's worth its price tag when it gets going, plus you get DDR5 support.
Performance
Several BIOS updates have been released since our initial Alder Lake coverage last month, but the overclocking situation doesn't seem to be any better, with a 5.1GHz all-core overclock on the P-Cores and 4GHz across the E-Cores being the limit of our Core i9-12900K sample without pushing the vcore beyond 1.4V.
Overclocking all the P-Cores in this way results in a drop of the peak boost of several hundred megahertz, which explains slower results in some of the lightly threaded workloads, such as Far Cry 6 and our GIMP image editing test.
Out of the box, the Core i9-12900K is already running close to its limits, meaning that running it at stock speed is the best option for most people, and it's already very fast at these settings. Overclocking it yields small gains in multi­threaded tasks, such as a boost from 27,407 to 28,079 in Cinebench, but that's it.
However, the Hero did draw a fair amount of power here on the auto settings in the EFI, hitting 339W under load. Meanwhile, our M.2 SSD hit the usual read and write speeds of 4,978MB/sec and 4,249MB/sec respectively.
Conclusion
There's no denying that Z690 motherboards are expensive. The Hero is Asus' entry-level ROG Maximus board, and this Z690 version costs over £ inc VAT. We don't doubt the Hero's credentials – it's utterly droolworthy and dripping with features, but the fact is that it's simply out of reach for many people, and that's a shame.
Were it to cost £ or even £ less, we'd be sorely tempted to splash out in it, but as it stands, it's only really a motherboard for people with an enormous amount of money to spend.
That's especially true when you consider that the Core i9-12900K doesn't seem to benefit much from overclocking, with plenty of examples we've seen offering limited gains and often slower lightly threaded performance after an all-core overclock.
ANTONY LEATHER
Verdict
Editor choice
ASUS ROG MAXIMUS Z690 HERO Review
A monster motherboard that's dripping with features, but with a price to make your wallet cry.
PROS
Gorgeous design
Superb M.2 and VRM cooling
Loads of features
CONS
Monstrous price tag
Only supports DDR5
Core i9-12900K isn't a great overclocker
Add your review
Best ASUS ROG MAXIMUS Z690 HERO prices ?
MORE DEALS