If you've been put off an Alder Lake upgrade by the eye-watering prices of Z690 motherboards, then the cheapest example in this month's Labs test costs £, which is certainly far cheaper than most examples we've seen. However, ASRock has had to cut back the Z690 PG Riptide's features significantly to hit this price. Read our Asrock Z690 Pg Riptide Review.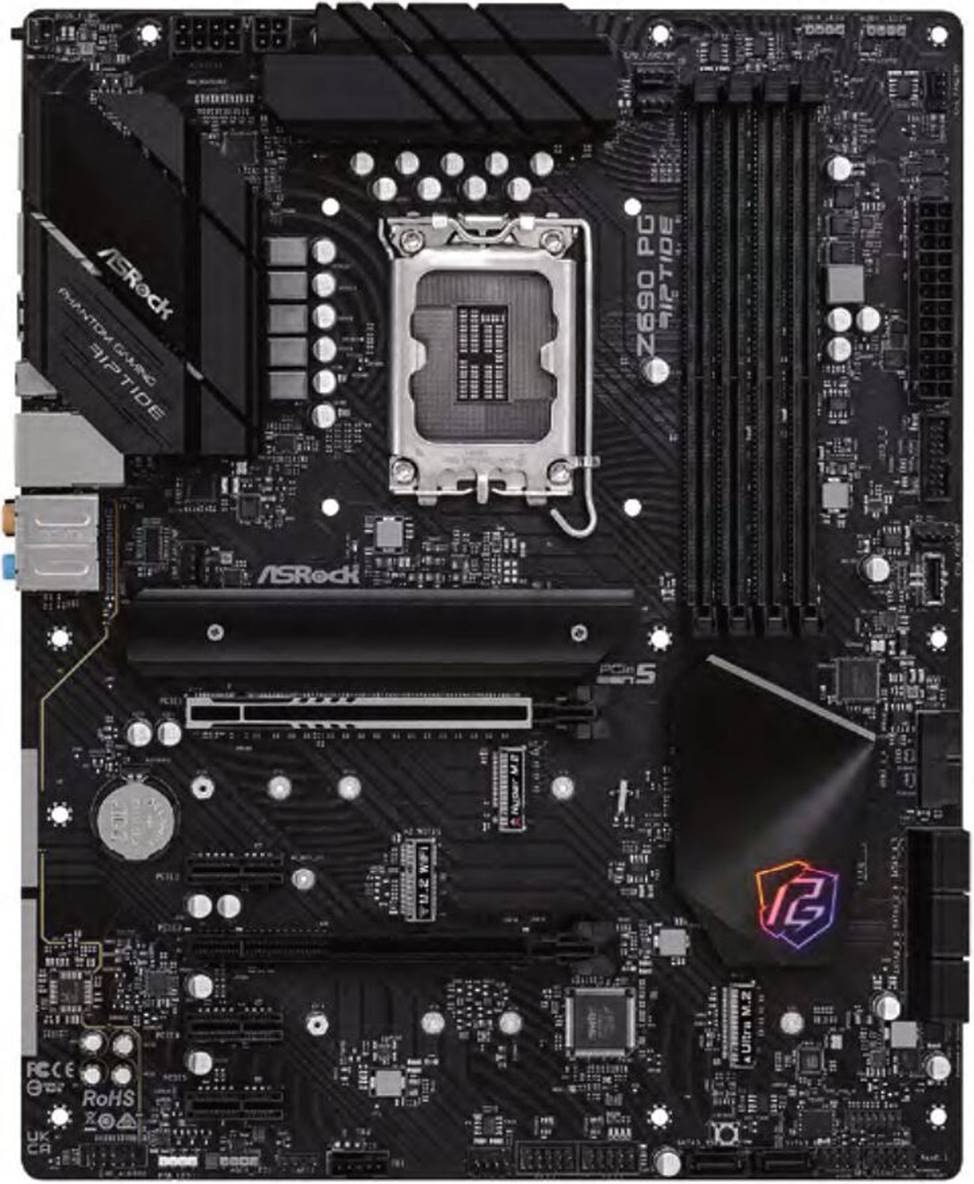 It's a reasonable-looking board, but the Gigabyte Z690 Gaming X is certainly more attractive. The latter has a large array of M.2 heatsinks, while the ASRock board only has one. Our PCI-E 4 SSD ran noticeably cooler in the Gigabyte board too, thanks to its larger heatsinks, peaking at 53°C instead of instead of the ASRock's 60°C. The VRMs were cooler too, at 55°C compared to 59°C for the ASRock board.
spec
Chipset Intel Z690
CPU socket Intel LGA1700
Memory support 4 slots: max 128GB DDR4 (up to 4800MHz)
Expansion slots One 16x PCI-E 5, one 16x PCI-E 3, three 1x PCI-E 3
Sound 8-channel Realtek ALC897
Networking 1 x Realtek 2.5 Gigabit LAN
Cooling Six 4-pin fan headers, VRM heatsinks, M.2 heatsink
Ports 6 x SATA 6Gbps, 2 x M.2 PCI-E 4,1 x M.2 PCI-E 3,1 x M.2 Key-E, 1 x USB 3.1
Type C, 2 x USB 3.1 Type A, 2 x USB 3,1 x USB 3.1 Type-C. 2 x USB 2,1 x USB 3.1 Type-C header, 1 x LAN, 3 x surround audio out
Dimensions (mm) 305 x 244
For us, though, the biggest difference is the lack of an integrated I/O shield. You'll have to play Russian roulette with your fingers to get the Z690 PG Riptide into the back of your case, while the Gigabyte Z690 Gaming X includes an integrated shield for just a little more money. Both boards lack Wi-Fi, but have PCI-E 4 M.2 ports and 16x PCI-E 5 slots, and are also equipped with six 4-pin fan headers, plus both 3-pin digital and standard 4-pin RGB headers.
It's another win to Gigabyte in terms of USB ports, though, with an impressive count of nine Type-A ports, trumping the ASRock board by three ports. Should you wish to use integrated graphics, you get both HDMI and DisplayPort connections on the Gigabyte Z690 Gaming X, while the Z690 PG Riptide only has the former. Both boards are equipped with their own versions of USB BIOS FlashBack, but the ASRock board has an extra advantage by including a clear-CMOS button, as well as the full complement of audio outputs.
Gigabyte's software is also a little easier to use, though, and more granular. While neither board has thermal probe inputs, the Gigabyte board does at least allow you to pick from various temperature inputs to control your case fans – not just the CPU. Audio performance was a little disappointing as well, with the ASRock using the dated Realtek ALC897 codec, resulting in a -94dBA noise level and 94dBA dynamic range.
Despite the Gigabyte board having a more elaborate 16+1+2 power phase design than the ASRock, the Z690 PG Riptide's 13 phases still coped fine with our overclocked Core i5-12600K, achieving the usual 5GHz on the P-Cores and 4GHz on the E-Cores with a vcore of 1.36 V. This saw the video encoding score rise from 759,888 to 834,121 and the Far Cry 6 minimum 99th percentile from 96fps to 104fps. The load system power draw also rose from 248W to 297W, although the CPU was still fairly easy to cool.
The ASRock's price of £ still seems hefty for this board, especially given the lack of features, but it's still more than capable of dealing with an overclocked Core i9-12600K and cutting-edge M.2 SSD. If possible, though, we recommend stretching your budget to get the Gigabyte Z690 Gaming X DDR4 at this price range.
Asrock Z690 Pg Riptide Review
A solid effort and decent overclocker, but it lacks features compared with similarly priced boards.
PROS
Cheap for a Z690 board
PCI-E 5 slot and PCI-E4 M.2 ports
Good overclocker
CONS
No integrated I/O shield
Above-average M.2 and VRM temperatures
Mediocre on­board audio
Add your review
Best Asrock Z690 Pg Riptide prices ?
$

205.00
18 new from $205.00
in stock


The item in this listing is a brand new sealed product in its original manufacture retail packaging. This product will come with a Minimum 1 year warranty. ASRock Z690 PG Riptide LGA 1700 Intel Z690 SATA 6Gb/s DDR4 ATX Intel Motherboard • Supports 12th Gen Intel Core Processors (LGA1700) • 13...


£

198.22
30 new from £197.22
in stock

MORE DEALS