APPLE iPhone 8 Plus – 4/5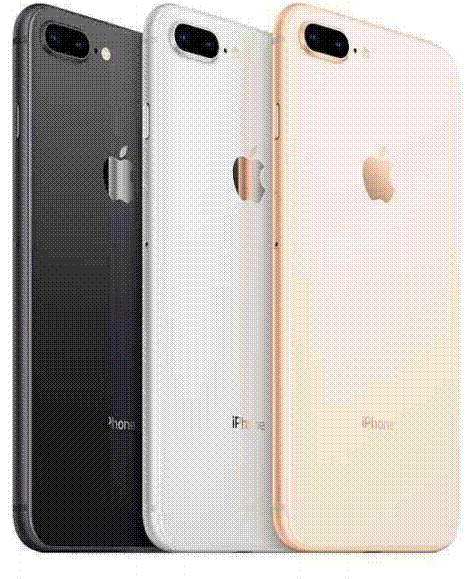 iOS 11 phablet
VERDICT
The latest plus-sized iPhone is faster, better, but ultimately more of the same
BACK IN THE day, Apple used to revamp the design of its smartphones every two years and boost the specifications in between. Recently, however, it has stepped outside the tick-tock development cycle. The Apple iPhone 8 Plus might be the latest, greatest iPhone (at least until the iPhone X launches in November), but the design template that both it and the smaller, standard iPhone 8 are based on is now four years old.

So, while it has some new tricks, such as its glass back, A11 Bionic processor and wireless charging, it doesn't look significantly different to 2014's iPhone 6 Plus. It's even closer to the iPhone 7 Plus, as all the buttons, the camera lenses and the flash and nano-SIM card tray are in precisely the same locations. It's still dust- and water-resistant to IP67, it still has a Force Touch fingerprint-sensor home button beneath the screen on the front, and (unfortunately) there's still no 3.5mm headphone jack.
INTERESTS OF TRANSPARENCY
Flip the phone over, however, and there are some more obvious differences. The biggest one is the glass back, which looks and feels lovely. It's flat across most of its glossy expanse, but does curve up very slightly at the edges, so there's no sharp chamfer to dig into the palm of your hand. It's easy to wipe clean of any fingerprints, too.
It's a little too early to say how robust the glass is, or how scratch-resistant and how shatterproof it is. Apple says it's tough, of course, but there's no Gorilla Glass branding here to back up that claim. If you're buying one, we'd advise picking up a case at the same time, just to be on the safe side.
One of the immediately positive implications of the glass back, however, is that the iPhone 8 Plus is no longer afflicted by those ugly plastic antenna strips. You can see them on the edges at the top and bottom of the phone on each side, but because they don't wrap around the top and bottom edges like they used to, they're far less obtrusive.
Other than this, and the fact that you now get wireless charging to the Qi standard (another benefit to a glass rear), the phone is also noticeably heavier than the iPhone 7 Plus. It now weighs 205g, which is positively elephantine, even with the current trend towards bigger handsets.
COPY THAT
What hasn't changed very much, if it's even changed at all, is the display. The iPhone 8 Plus's 5.5in IPS display turned in a near-identical set of figures to the iPhone 7 Plus in our tests: peak brightness reaches 553cd/m2, only up from 520cd/m2, while the contrast ratio is 1,365:1 to the iPhone 7 Plus's 1,350:1. These are, to be fair, good figures, and colour accuracy is spot on as well. It's as you'd expect from an Apple product, in other words, but no better or worse than its predecessor.
It's certainly no better than the Samsung Galaxy S8, S8 Plus or Note 8 displays, all of which reach higher peak brightness levels, use AMOLED panels and smash the iPhone 8 Plus out of the park when it comes to contrast.
The big development here is True Tone, which started out as an iPad-only feature. With True Tone enabled, the phone uses its sensors to gauge the colour temperature of the ambient light, matching the white balance of the colours onscreen.
The idea is that your brain doesn't have to keep readjusting its perception of colour when you look away from the screen and back again, resulting in more natural-looking images and less eyestrain for you. It works beautifully and is a feature that's well worth leaving on. We'd still rather be looking at a Galaxy S8 Plus, though.
COOK'S ELEVEN
Performance is one area in which you can categorically say the iPhone 8 Plus is a huge improvement. In fact, the new hexa-core A11 Bionic chip is so good that it batters not only its predecessor, but also the Samsung Galaxy S8 and all its Android flagship buddies as well.
In the past, iPhones have outperformed their Android counterparts in the single-core Geekbench test, but haven't done so well in the multicore part of the benchmark. This time around, performance is screamingly quick across the board: with its scores of 4,254 in the single-core test and an almost unbelievable 10,517 in the multicore test, the iPhone 8 Plus is a record-setter in both.
Graphics performance is superb as well: in the GFXBench Manhattan test, this phablet beat all its rivals with 59fps in the onscreen test and 85 in the offscreen test. The former is effectively maxing out what the iPhone 8 Plus can actually show, owing to the display's 60Hz refresh rate capping performance at 60fps.
You won't get any higher until Apple decides to endow its iPhones with a super-smooth 120Hz screen similar to the ones it's given to the recent iPad Pro models.
I SHRINK, THEREFORE IPHONE
Battery life is decent, but not wildly impressive. That's perhaps because Apple has taken advantage of the extra efficiency of the A11 chip to reduce the size of the battery. That's right; the battery inside the Apple iPhone 8 Plus is a 2,675mAh unit, which is smaller by 225mAh than the iPhone 7 Plus's 2,900mAh unit.
Here, the iPhone 8 Plus's closest rivals have a clear upper hand. In our video-rundown battery test, in which we run at a set screen brightness of 170cd/m2 with the phone in flight mode, the iPhone 8 Plus lasted 13h 54m before giving up. That's a long way behind the Galaxy S8 Plus, which managed 20h 33m, and the OnePlus 5, which lasted 20h 40m.
You can charge the phone wirelessly via Qi standard chargers, which means you can
Most smartphones are perfectly fast these days, so it's kind of academic that the iPhone 8 Plus is the fastest phone we've ever tested plonk it down on one of Ikea's Selje nightstands or the base of one of its Varv lights without having to connect a wire to the base of the phone. However, we're not convinced this is such a huge benefit; connecting a cable isn't exactly a taxing process, and unlike with charging pads, a cable allows you to pick up the handset and keep using it while it charges.
LENS IN HIGH PLACES
Frankly, smartphone manufacturers are running out of room for improvement when it comes to raw performance. Most smartphones are perfectly fast these days, so it's kind of academic that the iPhone 8 Plus is the fastest phone we've ever tested. That's why the camera, which can vary much more between devices, is such an important factor to consider.
However, Apple isn't giving you much to cheer about here. In 2017, the iPhone 8 Plus gets a pair of 12-megapixel shooters: one 28mm, the other a 2x telephoto 56mm lens, with apertures of f/1.8 and f/2.8 respectively, just like on the iPhone 7 Plus.
The only major difference in hardware terms is that the telephoto camera is now optically stabilised, so it performs slightly better in low light, allowing sharper photographs to be captured at slower shutter speeds and thus ensuring lower levels of noise.
That's the theory at least, and it's backed up by an improvement in software and processing as well. Most significantly, HDR is now enabled permanently – you can't disable it – and there's an enhanced Portrait mode, which allows you to apply lighting effects to those creamy out-of-focus background portrait photos.
The latter works well, giving you the option to change the look of your portraits both before and after the shot. It's a nice feature, and Portrait mode works as well as ever, but by now it's hardly revolutionary.
SOUND FOOTAGE
Still, for regular shots, the iPhone 8 Plus has a very good pair of cameras. They take reliably sharp photos in favorable and unfavorable light, but in terms of reliability and quality, they're not hugely better than last year's models. In fact, after comparing a few snaps side by side, we'd still rate the camera on last year's Google Pixel XL as slightly better than the iPhone's. It retained fractionally more fine detail in both the outdoor and low-light comparison shots we've taken.
Then again, you do have dual cameras here, giving you more overall flexibility. To get a dual-camera setup matching the iPhone 8 Plus, you'd have to pay even more for a Samsung Galaxy Note 8.
As for video quality, that's remarkably good, too. You can capture in 4K at up to 60fps, and the stabilisation is just superb; once again it's a close match for the Pixel's smooth, Steadicam-esque footage, and it works just as well on the telephoto lens as it does on the regular lens.
Finally, the front-facing camera is a 7-megapixel f/2.2 unit, but this is no different to last year's. It takes detail-packed selfies and, although there's still no front-facing flash, the screen can be used to flood your face with light, which helps with indoor posing.
EIGHT, RATED
The Apple iPhone 8 Plus is a very well-made phone, of that there is no doubt, but there are a number of questions you should ask yourself before you commit. After all, is an awful lot of money to spend on anything, even the piece of tech you use the most.
So, is it a great smartphone? Is it as good as its rivals at around the same price? Is it even as good as those phones costing much less? Objectively, the answer to all these questions is no. It is very, very fast; it has great cameras; and it's dust- and water-resistant.
But it's not the best you can buy.
The Samsung Galaxy S8 may not be as blindingly fast, but it's not far off, and it's cheaper and has a better screen. It might not have dual cameras, but its single camera is at least as good as the iPhone 8's main shooter, its battery life is better, and it has microSD card expansion. In addition, if you care about such things, the Galaxy S8 arguably looks nicer as well.
The iPhone 8 Plus is one of the best phones Apple has ever produced, and for Apple diehards it offers the most bang per buck of the new range. But even then, if you're going to spend big on an Apple smartphone, it makes sense to at least wait for the iPhone X.
Jonathan Bray
SPECIFICATIONS
PROCESSOR Hexa-core Apple A11 Bionic • SCREEN SIZE 5.5in • SCREEN RESOLUTION 1,920×1,080 • REAR CAMERAS 12 megapixels f/1.8; 12 megapixels f/2.8 • STORAGE 64GB/256GB • WIRELESS DATA 4G • DIMENSIONS 154x78x7.5mm • WEIGHT 205g • OPERATINGSYSTEM iOS 11 •WARRANTY OneyearRTB
---
Apple iPhone 8 Plus, Fully Unlocked 5.5", 64 GB - Gold, Apple Computer
Price History