Acer's 27in FreeSync display is sure to impress the moment it lands on your desk. Read our Acer XG270HU Review.
Its striking bright black and red frame makes it stand out, and the almost impossibly slim bezel, measuring no more than a few millimetres across, goes some way towards shrinking the space between screens in multiple-display setups.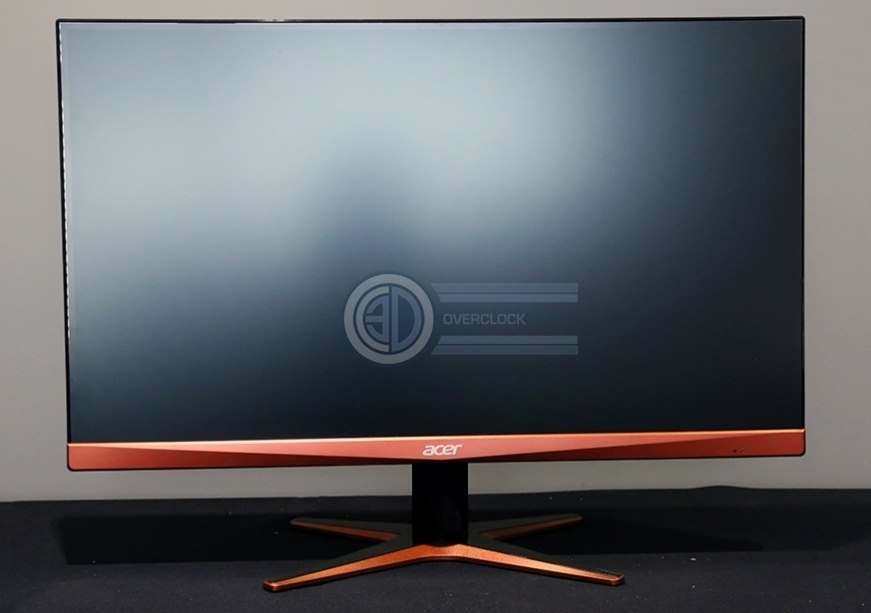 But while the slim bezel is undoubtedly a plus point for the XG270HU's aesthetics, other more fundamental aspects of its physical design are lacking.
The stand can be tilted, but at a fixed height, with no portrait option.
Also, there are no VESA mounting holes, so the stand can't be replaced with a monitor arm – a strange omission, when even cheap, low-end displays offer this feature, and one that rules out some multi-monitor gaming stands too.
It carries a standard array of video inputs: dual-link DVI, HDMI and DisplayPort, supporting the HDMI 2 specification, but there are no built-in USB ports.
Meanwhile, the OSD is controlled by six physical buttons and presents a range of video presets, including Eco, Graphics, Movies and User so you can set your own preset.
It covers the basics, but navigation of the menus is clunky when compared with BenQ's remote control system, or LG and Asus' joysticks.It's a TN panel with a 2,560 x 1,440 native resolution and a 1ms response time.
Desktop image quality is generally excellent.
We measured a white point of 6700K in Graphics mode, while the factory default setting's white point of 6400K is even closer to the 6500K target.
Colour reproduction is fine too, dropping to a delta E of 1.91 after calibration.
We also measured a very high brightness of 367cd/m2, which is a good result for a TN panel, but the contrast ratio of 780:1 is even more impressive.
Display uniformity is in a relatively narrow range, between 6 and 16 per cent, as expected with TN technology, although it drops off by 20 per cent at the bottom right, making it slightly weaker than average when compared with the other displays on test.
You won't need a colorimeter to see slight tone drift at the sides of the screen, as with most TN displays – that's part of the price you pay for 1ms response times.
FreeSync performance was similar to other panels on test – within the supported 40Hz-144Hz frequencies, it performs spectacularly well, but at frame rates below this range it starts to tear and stutter, depending on whether vsync is enabled.
As with the BenQ XL2730Z, enabling FreeSync disables the Overdrive function too. It's clear that, with FreeSync, it's important to use a high-end graphics card or in-game setting that can keep performance above 40 fps to avoid tearing.
We spotted a little ghosting as well, which was present with or without FreeSync enabled.
It showed up on the edges of objects in high-contrast, light-on-dark scenes, although it was only really noticeable when running the AMD FreeSync Windmill tech demo, rather than in games.
The Acer XG270HU has the highest contrast ratio on test, and great image quality on the desktop and in games, with the exception of slight ghosting. Of course, below the 40 Hz range, you'll see the same screen tearing and stuttering with the XG270HU you get when playing games on any display, but that's currently true of all FreeSync monitors.
However, it's disappointing that Acer has skimped on extra features, such as VESA mounting holes, USB ports and a flexible stand, as well as the OSD controls.
If these features aren't important to you then the XG270HU is a decent FreeSync monitor for the money, especially with its 2,560 x 1,440 resolution, but the BenQ XL2730Z is a better all-round package if you can stretch your budget a little further.
Decent image quality, great looks and a high contrast ratio for a good price, but it lacks features.
Native resolution 2,560 x 1,440
Refresh rate FreeSync 40Hz-144Hz
Display inputs Dual-link DVI, HDMI and DisplayPort