Asus' 27in ROG Swift is the priciest G-Sync monitor in this Labs by a wide margin. But good image quality, a wide range of additional features and superb gaming performance go a long way to justifying this cost.A five-way joystick at the back is used to control the OSD, providing an easy means of navigating through the menus, and there are four separate physical buttons for additional controls. One of these buttons is labelled Turbo and adjusts the refresh rate, switching between 60Hz, 120Hz and 144Hz without needing to manually adjust the setting in the OSD. Like other manufacturers, Asus has added a button that enables an on-screen crosshair too, giving you a potential advantage in FPS games.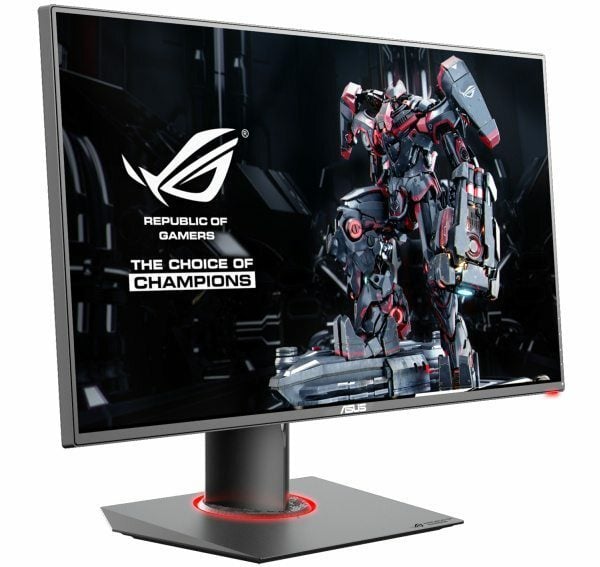 Meanwhile, the chunky wedge-shaped stand has a glowing red LED in the base that lights up when the monitor is powered on. The stand isn't just pretty either. It supports a full range of motion including height adjustment, rotate, 90-degree swivel and pivot from -5 to 20 degrees. There's a single pair of built-in USB 3 ports at the left-hand side of the screen too. Like other G-Sync displays, however, the range of video inputs is unfortunately limited to a single DisplayPort connector.
The TN panel itself is great too. At its native 2,560 x 1,440 resolution, the desktop shows up at a sharp pixel density of 109 ppi, and a 590:1 contrast ratio, 6800K white point and delta E of just 1.69 are fine credentials for the screen's black levels and colour reproduction. Its brightness uniformity just about matches other displays as well, albeit with some slightly above-normal deviation in the lower right corner.
Although the desktop looks very good, however, the ROG Swift PG278Q doesn't offer the absolute best image quality on test, as its whites aren't the absolute brightest, and its blacks aren't the very deepest either. For accurate Photoshop use, an IPS display would probably provide better colour reproduction.
It's in the gaming tests where the PG278Q really shines, through, with little to no obvious tearing in either Crysis 3 or Battlefield 4, even at frame rates outside the 30Hz to 144Hz range it supports, beyond which vsync kicks in. Gaming remained absolutely smooth at all times, setting the ROG Swift PG278Q above other displays when it came to G-Sync performance. In fact, in gaming, the ROG Swift PG278Q is the best 144Hz screen we've tested. The promise of G-Sync gaming is the total elimination of screen tearing, which the FreeSync displays nearly achieve, but they fall down once you hit lower frame rates. No matter how we used the PG278Q, though, it produced a smooth gaming experience every time. Like other G-Sync screens, the PG278Q also supports Nvidia's ULMB blur-reduction mode.
There's slightly noticeable ghosting if you don't enable the Overdrive setting in the OSD, but this setting is enabled (and set to Normal) by default, which completely eliminates any ghosting. During testing, there was no need to push the Overdrive setting it to its Extreme mode either.
The Asus ROG Swift PG278Q isn't cheap, nor is it quite the best monitor in terms of image quality. However, its desktop image quality is still decent, and its gaming performance is phenomenal, and the latter is your main priority when investing in a G-Sync monitor. To top it all off, the PG278Q has a cracking feature set. With loads of features and simply superb gaming performance, the Asus ROG Swift PG278Q is the G-Sync monitor to buy if you can afford it.
It's pricey, but the Asus' gaming performance is phenomenal, and it has a cracking feature set too.
Native resolution 2,560 x 1,440
Refresh rate G-Sync 30Hz-144Hz
Extras On-screen crosshair, Turbo Key, 5-way joystick-controlled OSD and 2 x USB 3 ports