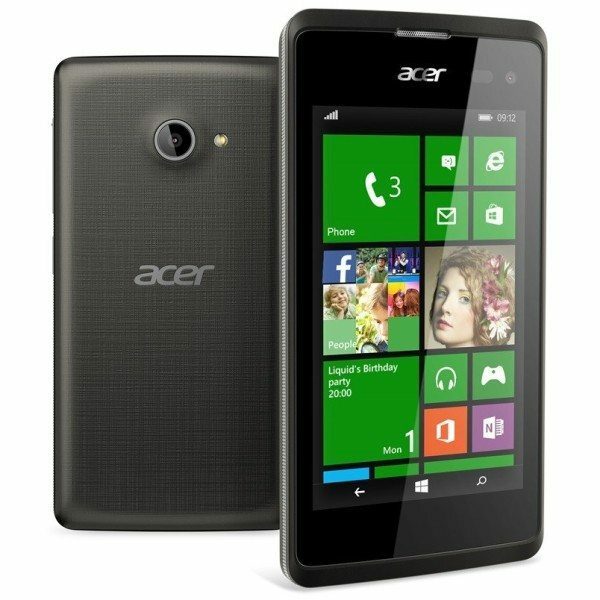 A budget Windows Phone that isn't a Microsoft handset? Can this simple little device compete with the bargains being churned out by the Redmond software giant?
It's tough being a non-Microsoft handset in a Windows Phone world. The company has inadvertently put a stranglehold on its own OS, producing solid handsets across the entire line that often undercut the competition. This makes outside manufacturers a little weary about developing for the platform, which already sees far less returns to investment versus iOS and Android. Acer is quite brave going in at the deep end, with the Lumia 435 already securing the bargain-bin sector as a fully featured device that can be had for as little as forty quid. On paper it should give it a run for its money, exceeding in some areas while falling behind in others.
With a screen size of only 4.0 inches, it's a cute little thing to be sure. There's a lack of dedicated camera controls, which is to be expected at this price point, though you can still use the on-screen buttons to snap a pic. It sits in the hand well and is very easy to grip thanks to the textured rear finish. With a thickness of only 9.6mm, it's also considerably thinner than most other smartphones in this price-point.
The plastic case somewhat resembles faux leather, though it feels a bit cheap in places. There's also quite a bit of dead space on the front panel, which makes the screen seem smaller than it actually is. Acer could've easily squeezed some capacities buttons on there, though it would've no doubt bumped the price up quite considerably.
Despite the nit-picking, the overall design is pretty good it definitely looks more expensive than the retail price suggests. Removing the cover reveals the 1,300mAh battery, sim tray and microSD slot (which you'll definitely be needing).
One area where Acer has really splashed the cash is in the photography department. With a 5 megapixel rear and 2 megapixel front camera, it's a massive improvement over the Lumia 435 and its poor 2 megapixel rear shooter. The pictures from the device have a good amount of detail and less noise than expected. Low-light is a bit of an issue but this is a budget phone after all. I was also surprised by the video quality, which is above VGA but below HD. The results are very good and much better than anything else at this price.
Front camera are nearly always neglected on budget devices, with the image quality ranging from bad to terrible. The Acer bucks this trend by throwing in a very capable selfie shooter. The image quality is perfectly acceptable and it should be more than usable for the odd video call, which isn't something I usually say for phones costing double the price.
I never expect miracles from low-end devices but the screen on this device is pretty bad. After a promising showing from the camera, it's disappointing that the panel lets it down so badly. It suffers from some of the worst viewing angles I've ever seen and that's after taking into consideration that it's a cheap TN panel. Colors will warp at the slightest turn and at anything less than maximum brightness, it is simply impossible to make anything out. The only option is to hold the phone dead central with your line-of-sight, which is both inconvenient and very difficult.
The resolution is also low at only 800 x 480 pixels. Granted, this matches the Lumia 435 but I don't remember the pixilation being half as evident on that panel. Jagged edges are everywhere and clearly viewable at normal distances. Even the color reproduction fails to excite, with a dull palette that can probably be attributed to the poor viewing angles. Windows Phone usually looks great on low resolution panels but even the OS can't help this one.
The device uses a 1.2 GHz Snapdragon 200 processor, which is the same processor found in the Lumia 435 we reviewed previously. Whereas things were fairly smooth on the Lumia, the Acer seems slightly slower under general browsing. That said, the UI still feels very fluid and only really shows its shortcomings when opening larger apps.
The storage is a bit of an oddity on this device, with only 4GB internal memory. We realize this is done to keep the ultra-low price point but when the OS alone takes up 2.6GB of memory, it seems like a bit of a bottleneck. It renders the phone practically un-usable unless you purchase a microSD card. There's also no 4G support, which could be an issue for those wanting the fastest mobile speeds possible.
Gaming was hit-and-miss due to the device only having 512MB RAM. Most Windows games won't run on anything less than 1GB, though I did manage to get Halo: Spartan Assault working. Performance was fluid with only occasional frame-rate drops. Battery life is okay at 1,300mAh though it never quite lasted as long when compared with the Lumia 435. Even so, I was able to get a solid day of use before the warning message popped up.
The Acer M220 uses the latest version of Windows Phone 8.1 but it doesn't get any of the treats usually found on Lumia devices. It's almost able to match Android and iOS when it comes to the core functionalities, although it's fair to say that some of those are not quite as robust versus the competition.
The experience is mostly seamless on the Acer, which is a testament to its optimization on lower-end hardware. Apps hang a little when they initially load but it's a minor niggle when you consider the hardware. The app store is still pretty woeful with a poor selection of Triple-A third party applications, though it has gotten a lot better than when the OS was first announced.
While the jury is still out on which non-Microsoft devices will get the upgrade to Windows 10 Mobile, I would be surprised if the Acer M220 is included on the list. With only 512MB RAM, it doesn't meet the recommended specifications of 1GB or more. That said, at this price point it's highly likely most people won't be purchasing the device with that in mind.
Although the Acer M220 was once the cheapest Windows Phone device you could buy, the Lumia 435 has slowly trickled down in price and can now be found for much cheaper. Although the camera is great and I'm actually really fond of the design, it's difficult to recommend this over the Microsoft equivalent because of important omissions such as 4G and a lack of suitable storage space.
Processor 1.2GHZ dual-core Snapdragon 200 Micro SD compatible – up to 32GB