Acer ConceptD 500 Review
Acer enters the fray with new designer hardware
ACER recently came by to deliver us a presentation about its new line of products, the ConceptD range. Apparently, the D stands for "Design" not…. Well, who knew? Real talk, though, Acer has zeroed in on a key problem with the computer hardware market: Content creators are experiencing a dearth of purpose-built systems, instead opting to buy powerful gaming PCs for their 4K video-editing needs. That wouldn't necessarily be a problem, if it weren't for the fact that many working professionals don't want a giant, glowing RGB unit shooting red and blue lighting all over the place.
So, the ConceptD 500. The standard desktop model in the ConceptD range (which includes laptops, monitors, and more) is a high-powered system, meant to integrate seamlessly and unobtrusively into office spaces with a simple, aesthetically pleasing design. Convenience is a cornerstone of this system's design; the faux-wood finish on top includes a Qi wireless charging pad hidden beneath, enabling you to drop your phone atop the case for a battery boost. At the front, a quick press reveals a spring-loaded mount to hang a pair of headphones on. The top I/O is covered with an odd plastic shield that can be removed to access it; we get the impression that it would be tossed aside immediately by 95 percent of users, but that's fine.
As Acer describes it, the ConceptD 500 is "elegantly honest." There are no hidden bells and whistles here, just high- quality components inside a minimalist case. When powered on, the gray plastic ring surrounding the wooden top panel emits a (slightly feeble) orange glow. At the rear, two silver clips at the top and bottom of the panel allow for some cable management. It's also impressively quiet; the front panel appears solid at first glance, but subtle gaps in the triangular design allow for air to be drawn in by the case fans, although said fans are pretty tiny. Even running under stress, the volume stays respectably low.
Of course, it's all about the hardware inside. A Core i9-9900K processor powers this system, backed up by a mighty 64GB of DDR4-2666 memory, prepped and ready for complex design work. Graphics are handled by a RTX Quadro 4000 GPU, ideal for everything from 3D architectural rendering to driving high- fidelity environments in VR, and as the name implies, we've got full ray-tracing support, too. The OS boots from a high-speed M.2 drive, which also ensures that any programs load rapidly. Two more HDDs provide an additional 4TB of storage for videos, images, and more, with models packing both 2.5-inch and 3.5-inch drives.
The system also comes with a handful of slightly unusual but still beneficial features. Pre-loaded on to the desktop is ConceptD Palette, a simple systemmonitoring tool that lets you check the usage of your CPU, GPU, and memory at a glance. There's also a system health indicator LED on the top I/O, which pings should something untoward occur. Lastly, there's an intrusion alarm. This triggers a notification on boot next time the system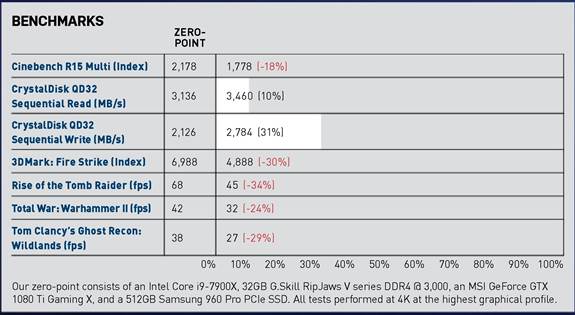 powers up, should the case be opened—a tamper alert, essentially.
The ConceptD 500 is something of a new breed. Built specifically with workstation functions in mind, it doesn't really fit our usual selection of game benchmarks. For comparison here, we've used our regular 4K build, but going forward, you'll see this system acting as our zero-point for workstation PCs. To that end, we tested a few pieces of software: Fry Render and SPECviewperf 13 both returned favorable results. The table below might make it look like this desktop struggles in comparison to older systems, but that's not the case in practice.
While this is a competent platform for 4K gaming, that's not what it was designed for; instead, it excels at rendering, video editing, and 3D art. Versatile, it's at home in the office space of a graphic design business or the home office of an architect. Cracking open the case doesn't show anything appealing, just a mess of cables and unbranded silicon, but the target audience isn't likely to want to make modifications. If you're looking for a workstation PC to support your tech startup or 3D animation firm, this is the machine for you. -Christian guyton
Acer ConceptD 500
+ DESIGNER Powerful hardware; charming visual design; purpose-built for creatives.
– DISASTER A little pricey; tricky to modify; weak case fans.
SPECIFICATIONS
| | |
| --- | --- |
| CPU | Intel Core i9-9900K |
| Graphics | Nvidia RTX Quadro 4000 |
| RAM | 64GB (4x 16GB) Kingston DDR4-2666 |
| Motherboard | Unbranded X299 |
| Primary Storage | Western Digital SN720 1TB M.2 NVMe SSD |
| Additional Storage | 2x Toshiba 2TB 3.5-inch HDDs |
| Cooling Solution | Air cooler |
| PSU | LiteOn 500W 80+ Gold |
| Case | ConceptD 500 |
| Warranty | One year |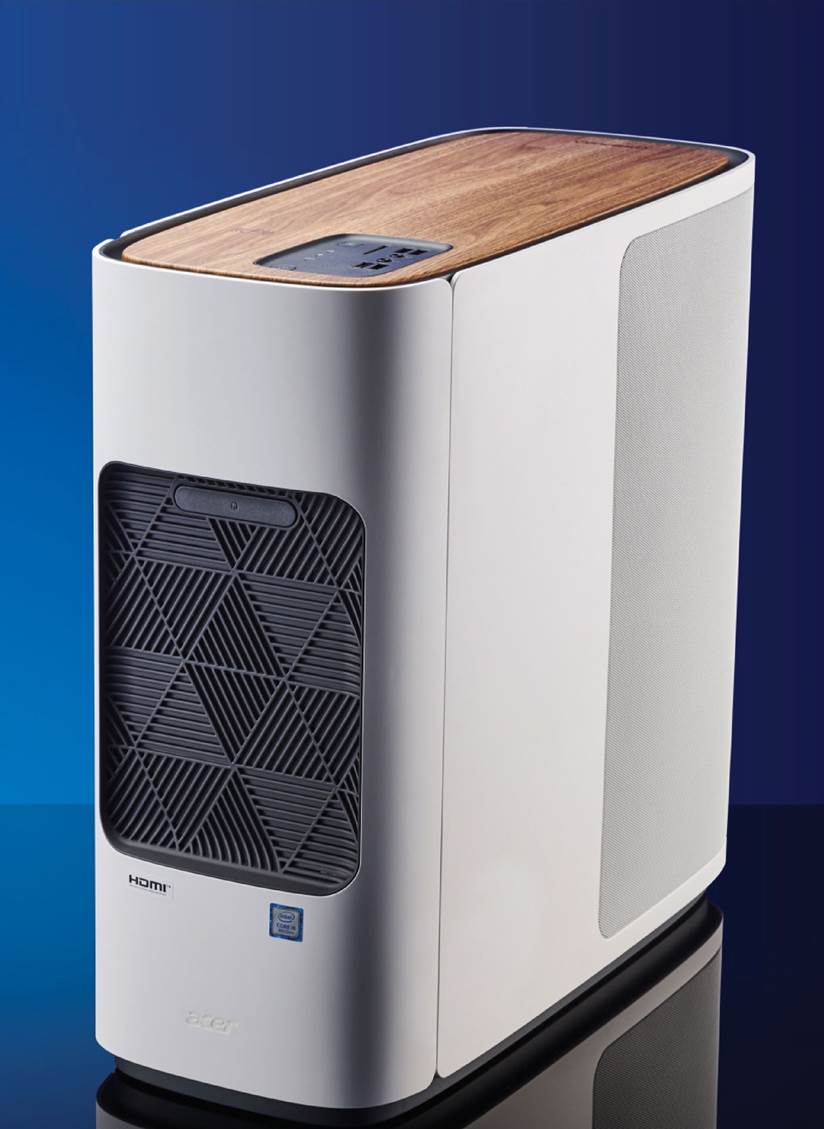 The top I/O has support for both USB-C and USB-A connectors.