See what Windows 8.1 and Windows 7 can do when it's given your full attention! Ben Andrews and Nick Peers reveal 50 tweaks and apps to upgrade your operating system
Windows 8.1 and 7 is packed with features, many of them honed over years of development, so you could be forgiven for thinking Microsoft must now have covered every base and satisfied every need.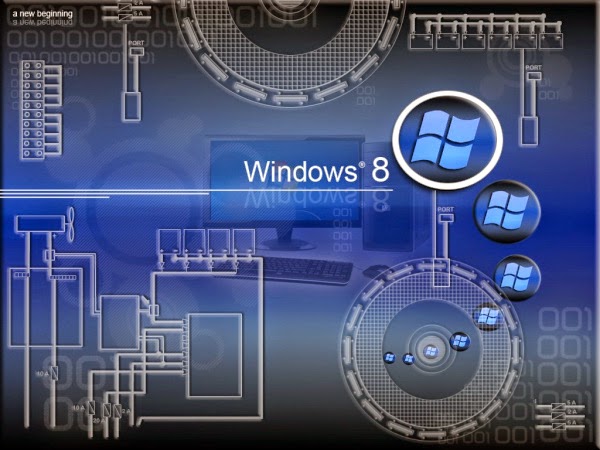 The reality is rather different, as anyone who's had to spend extra on an additional antivirus package will appreciate. People tend to forget that essential virus protection, along with programs like Word and Excel, aren't included with Windows, but are actually pricey upgrades.
Don't worry though, because the free alternatives out there are just as good. While Internet Explorer and Windows Media Player are both great programs, they're fending off several third-party web browsers and media players that are brimming with innovation. Likewise, Windows' updated Paint app may be streets ahead of previous versions, but it's still no match for a dedicated photo-editing package such as Paint.NET.
Extra programs like these are a tempting way to improve Windows 7 and 8.1, but there are plenty of improvements you can make to the core Windows tools. So, as well as sharing the best free software, we'll show you tricks to fine-tune the tools Windows already has. From calibrating your display settings to produce more accurate colours on your monitor to reducing unnecessary visual effects to speed up performance, there'll be something for you.
So stop putting up with a disorderly desktop and struggling to find errant files. Here's our guide to the best upgrades, gadgets and tweaks to help you get the best experience, whatever your version of Windows.
Internet and security
Try a new web browser
When you're browsing the web, the chances are you'll be using one of the 'big three' browsers. That is: Internet Explorer, which comes pre-installed with Windows; Google Chrome (www.google.co.uk/chrome); or Firefox (www.mozilla.org/firefox). But, if none of these browsers hits the spot, why not give Opera (www.opera.com) a try? It uses the same browser engine as Chrome, which means each tab runs independently, so if a website crashes one tab it won't bring down your entire browser. But Opera also boasts some nifty unique features of its own: Opera Turbo compresses web pages before they're delivered to your PC to speed up browsing and reduce bandwidth usage, for example. Also, bookmarks are easy to manage – you can even share them with others.
Ensure virus immunity
Windows 7 and 8.1 both offer Windows Defender for protection against malware, but confusingly they're not the same product. Windows 7's iteration offers basic protection against spyware only, while the Windows 8.1 build is a rebadged version of Microsoft Security Essentials. While Security Essentials (windows.microsoft.com/en-GB/windows/securityessentialsdownload) offers some protection, it's still not as good as other free solutions.
The problem with free anti-virus and firewall tools is that many bundle other software with them – even previously reputable tools such as AVG and Avast! If you're looking for strong free anti-virus software that won't attempt to sneak anything else onto your system, try BitDefender Free (www.bitdefender.co.uk/solutions/free.html).
Set up a firewall
Windows comes with its own firewall to help protect you from cyber intruders, and the likelihood is your router also comes with a built-in hardware firewall for additional protection. The problem with the Windows Firewall is that it's not – by default – set up to block outgoing connections, so while it protects against attacks originated on the internet, it won't block malware from 'phoning home' to wreak more havoc.
Again, there are plenty of free, thirdparty firewalls that close this gap, but the same warning applies as with free anti-virus software – many now attempt to install extra programs and make changes to your browser settings. One that doesn't is Windows 8 Firewall Control (www.sphinx-soft.com/Vista), which  adds extra functionality to the existing Windows Firewall (and works with XP, Vista and Windows 7 too). Advanced users may like to try Privatefirewall (www.privacyware.com) instead, but be warned – it has a steep learning curve.
Protect from malicious software
A powerful firewall and up-to-date antivirus package are the two cornerstones of a well-protected PC, but your antivirus tool isn't infallible. Therefore, it's best to gain a second opinion – as well as the ability to remove browser hijackers and other PUPs (potentially unwanted programs) – by downloading and installing the free version of Malwarebytes Anti-Malware (www.malwarebytes.org).
It's designed to sit alongside your antivirus tool, but the free version offers no real-time protection, so remind yourself to use it to scan for possible threats at least once a month. It'll let you review its findings, and all suspicious items are quarantined, so you can restore them if it wrongly flags any entries.
Encrypt important files
What if your laptop and documents it contains were to fall prey to a lightfingered lout? A Windows password may give some intruders the slip, but it's easily foiled.
Microsoft's answer is BitLocker – a brilliant tool that encrypts all the data on your hard drive. Unfortunately, it's only included with the most expensive versions of Windows 7 and 8.1, but there are alternatives. DiskCryptor (diskcryptor.net) is a free app that will protect internal or external hard disks, and even USB flash drives. It's not the easiest software to use though, so take some time to read through the Wiki on the main page, and take a full system backup before you begin – just in case.
Install specialist email software
Are you still logging onto a web-based email inbox to read your email? A third-party mail client can not only speed up your communication, but will give you plenty of other time-saving features too.
The obvious choice is Mozilla's Thunderbird (www.mozilla.org/en-GB/thunderbird), which supports a range of email accounts (including Microsoft, Gmail and Yahoo!). It's no longer developed, but is updated to squash bugs.
Alternatively, eM Client (www.emclient.com) provides you with an Outlook-style user interface and built-in support for calendars and contacts. And if you're juggling multiple email accounts, take a look at Inky (inky.com), which offers a super-minimalist interface that puts the email you want right at your fingertips.
Take remote control of your PC
Wouldn't it be great if you could access your PC remotely from anywhere with an internet connection? That's exactly what TeamViewer (www.teamviewer.com) can do, letting you browse your computer from another Windows PC, Mac or mobile device. You don't even need to leave your PC powered up all day either, as most can be woken remotely from sleep mode.
With a fast internet connection, this nifty app will have you zipping around your files as if you were at your desk.
Share files with quickly and easily
What do you do if you want to send a big batch of photos – or even a video – to a friend? Free image-sharing websites often impose strict upload restrictions, and most videos will be too large to send as email attachments.
Uploading to the cloud is the answer. In this sense, the 'cloud' just refers to internet-based storage, and Microsoft's OneDrive (onedrive.com) is one of the most convenient providers. The client's built into Windows 8.1, while those using Windows 7 or earlier can download it from onedrive.live.com/about/en-gb/download/.
You get 15GB of free storage, which is more than enough to share a large number of videos or full-resolution photos – and you can always upgrade for more storage. Just log in with your Microsoft username and password at onedrive.com, and you're ready to go.
Make free phone calls
Skype (www.skype/com) is an excellent way to chat with other Skype users for free via your internet connection. And it's now owned by Microsoft. However, it's not included with Windows, so you'll need to download it from www.skype.com. Then it's just a matter of setting up a Skype account so you can connect to friends and family who use Skype too. You will of course need a PC microphone to be heard, plus an optional webcam if you'd like to be seen too.
Back up files and programs
Backing up your files is the best way to protect them from viruses, as well as hard drive failure. Windows 8.1 comes with File History for file-based backups – switch it on by pressing [Win]+[Q], typing 'File History' and clicking 'File History'.
If you'd like to take an exact imagebased backup of your PC, you'll find the 'System Image Backup' option available here too, but a more flexible tool for taking complete backups is Macrium Reflect Free (www.macrium.com/reflectfree.aspx). It's very easy to use, and not only allows you to back up and restore your entire drive, you can even browse drive images to recover individual files and folders too.
Entertainment and media
Consider your codecs
Does Windows throw a wobbly when asked to play a DVD or downloaded video? Chances are Windows Media Player isn't to blame – the issue is more likely to be down to missing codecs. These little files tell Windows how to decode the compression methods used to reduce the size of video files.
Thankfully, Windows can be upgraded with a huge range of codecs to ensure slick playback of even the most modern or obscure video file formats. Just download and install the Combined Community Codec Pack from www.cccp-project.net.
Windows Media Player alternatives
Once you've installed copious codecs, you'd think Windows Media Player would be up for anything, but even with these upgrades, it's still not immune to issues. Windows 8.1 users will note it can no longer play DVD movies, for example. So supplementing it with other video players such as Media Player Classic (www.mpc-hc.org) or VLC (www.videolan.org/vlc) is a wise move.
Both players will handle pretty much any video file format, including DVDs and – in the case of VLC Media Player – some Blu-ray discs too, but it's their extra features that give them the edge over Windows Media Player. Extensive subtitle, video aspect ratio and frame rate options are all useful tools, as is VLC's ability to alter audio synchronisation so you don't have to put up with inaccurate lip-syncing.
Grow your thumbnails
Even though you can now play most video files, you might find that Windows Explorer still runs into problems when you're browsing through your video collection. It will only generate previews for certain file types, and will turn its nose up at more recent video file formats, such as the new MKV standard. Broaden Windows' thumbnailgenerating horizons using Icaros (www.videohelp.com/tools/Icaros). Simply install the software, open it and select the video formats that you'd like to generate thumbnails. Once that's done, click the large 'Activate Icaros' button and hey presto, extra video thumbnails in Windows Explorer!
Edit your photos for free
Windows' built-in image-editing tool, Paint, gains small improvements with every release, but even in Windows 8.1 it's still not really fit for purpose, particularly when it comes to editing photos. Thankfully, there are a whole host of free tools jostling for attention. One of our favourites is Paint.NET (www.getpaint.net), which offers a host of powerful image-editing tools while its support for plug-ins allows you to add extra tools such as a Shadows and Highlights recovery tool (see http://forums.getpaint.net/index.php?showtopic=5578) or the BoltBait Plugins Pack (www.boltbait.com/pdn/).
View photos in style
It's easy to take Windows Explorer for granted. After all, it's basically the folder windows you use to browse your files and folders. Trouble is, even with customisable thumbnail sizes, it's not really the best way to view things such as photographs.
Google's Picasa (http://picasa.google.co.uk) is much more impressive. Its file browser makes it far easier to customise your viewing preferences and organise photos and videos, and there's seamless integration with some nifty photoediting tools. Picasa also includes a dedicated photo viewer, which offers an improvement in speed and usability compared with the version included with Windows.
Take screenshots easily
When it comes to capturing screenshots of your PC desktop, Windows 8.1 introduces new improvements – hold [Win] + [PrtScr] to save a grab to your Pictures\Screenshots folder. The Snipping Tool offers a few more options, but it's a faff to use.
Evernote users should take a look at Skitch (www.evernote.com/skitch), which dovetails perfectly with the note-taking app and functions as a serviceable screen capture tool in its own right. If you want more flexibility with your screen captures – such as being able to grab specific windows or parts of the screen, save images to a specific folder or edit your image after capturing it – then PicPick (www.nteworks.com/picpick/) is the tool to go for.
Record, organise and share notes
Got a great idea? Forgotten it a day later? Install Evernote (www.evernote.com) and you'll never have to worry about your sketchy memory again. This brilliant note-taking tool stores your notes securely in the cloud, so you can access them on the go from your mobile or any internet-connected computer's web browser.
Notes can consist of text, images and other file attachments, and can be tagged and organised into notebooks for easy retrieval. Install the web clipper plug-in in your browser to capture useful web pages, and even share your notes with friends, family and colleagues too.
Get productive with improved office apps
Getting a free alternative to Microsoft's Office package is never a bad thing. Windows comes with the WordPad app as standard, which sadly isn't much good if you're used to more comprehensive wordprocessing software.
If you're a fan of the ribbon-based interface found in Windows 8.1, then Kingsoft Office Free (www.ksosoft.com/product/office-free.html) gives you powerful, free alternatives to Word, Excel and PowerPoint.
If you need additional tools – including a database and drawing tool – and prefer the old menu-based interface of Office 2003 and earlier, then check out LibreOffice (www.libreoffice.org) instead.
Disc-o inferno
Writable CDs and DVDs are no match for a USB flash drive when it comes to carrying files and folders around, but there are times when you'll need to burn an audio CD, or even a replacement Windows installation DVD. But, Windows' own disc-burning tools are somewhat rudimentary.
Next time you need to make a disc, give ImgBurn a go (www.imgburn.com). It's a free, uncluttered tool that makes light work of burning all kinds of disc content. Check out the ImgBurn forums for detailed guides explaining how to get the best out of it.
Watch your favourite programmes on your PC
Once upon a time, Windows Media Center provided the perfect TV-friendly tool for browsing your media (music, photos or movies) and watching and recording live TV through your PC. Sadly, it's been dropped from Windows 8.1, but there's no need to shed a tear.
Instead, install Kodi (www.kodi.tv), which is a more than adequate replacement – you can alter its appearance to match your personal tastes and extend its functionality with add-ons, such as BBC iPlayer. Pair it with Next PVR (www.nextpvr.com) and a USB TV tuner (around £25 online) if you want to watch and record live TV through it – remember, you'll need a TV license if you're watching live broadcasts.
Zip it
When you're downloading files from the internet, sooner or later you'll come across a compressed file archive, commonly known as a ZIP file. However, there are many ways of compressing files together and compressing them for internet transfer, and not all forms can be extracted by Windows alone.
You'll need to upgrade to something smarter, such as 7-Zip (www.7-zip.org). This will extract files contained not just in ZIP archives, but also the popular RAR format, plus many other compression formats. 7-Zip will also allow you to zip up your own files, with the output archive often being compressed into a smaller space than Windows could manage.
Performance
Make sure you have the latest hardware drivers
Drivers are pieces of software that tell Windows how to communicate with each item of hardware in your computer, but Windows Update doesn't always give you the latest driver versions, so you might need to do it yourself.
You might also struggle to source drivers for older hardware too – often, drivers for older versions of Windows will work fine in Windows 8.1, just make sure you source the right type (32-bit or 64-bit depending on your current version of Windows).
If you're struggling to track down updates or even compatible drivers, employ the services of DriverEasy (www.drivereasy.com). The free version has all the functionality you need – make sure you choose 'Custom' during set-up to avoid any potentially unwanted programs being installed.
Free up space and resources by removing bloatware
Removing unnecessary software (known as 'bloatware' because of the effect it has on your computer) is a great way to free up precious power reserves for an instant performance boost. The 'Programs and Features' control panel is the usual port of call for uninstalling programs, but it sometimes leaves a few files behind. Not to worry, though, because Revo Uninstaller Free (www.revouninstaller.com) is a useful app that removes traces of software Windows might miss.
When you're looking through your PC for any programs to uninstall, unused web browser toolbars, expired antivirus trials and other freebie apps that came pre-installed on your computer should be at the top of your list. Don't worry if you mistakenly uninstall something useful, because Revo automatically creates a System Restore point when it removes an app so you can undo any mistakes.
Unleash ReadyBoost to give your PC more virtual RAM
Lower powered PCs – those with 2GB or less of RAM, and are not powered by a solid-state (SSD) hard drive – may benefit from this tweak. You'll need a spare USB drive to make it work.
The ReadyBoost feature stores frequently used files on the USB flash drive rather than your PC's hard drive, helping to speed up loading times. Not just any old flash drive will do, though – you'll need a fairly nippy one with a capacity of at least 256MB for ReadyBoost to work. To see if you've already got something suitably quick, make sure the drive is blank, then click 'Start > Computer' and right-click on the drive's icon. Select 'Properties', followed by the 'ReadyBoost' tab.
Defrag your drive for more speed
As files are copied, moved and deleted on your hard drive, they end up scattered about the drive. Defragmentation is the process whereby these files are then tidied up to improve performance and reduce wear on your hard drive.
The Windows defrag tool is more than capable of keeping your files in order, but if you'd like more options – such as being able to defrag individual files or folders – then check out Defraggler (www.piriform.com/defraggler). Note fragmentation has no effect on SSD drive performance, and defragging can actually reduce the drive's life, so never defrag your SSD drive.
Tweak the Registry for faster Taskbar previews
Let's reduce the delay between you hovering over a taskbar icon and a preview window appearing.
Click 'Start', type regedit in the search box and press [Enter]. Using the folder menu pane on the left, double click 'HKEY_CURRENT_USER', then select 'Control Panel' and click 'Mouse'. Now find 'MouseHoverTime' in the list displayed in the right-hand pane and double click it to reveal a new window. The number 400 in the 'Value data' box defines the delay until a preview window pops up, so decreasing this to 100 will speed things up nicely. Click 'OK', then restart your computer and things should be much snappier.
Partition your hard drive to protect your precious data
It's no substitute for storing your data on a separate drive to Windows, but partitioning your drive does add an extra layer of protection for your documents and other files.
While Windows is capable of constructing a partition, upgrading to a free app such as MiniTool Partition Wizard (www.partitionwizard.com) will make the job easier and give you more options to play with. Just be sure to back up any important files before you start the partitioning process, as messing with the layout of your hard drive does carry a small risk of potential data loss.
Download the all-in-one Windows repair gadget
Fill in the gaps with Windows' built-in repair tools with the essential Tweaking. com Windows Repair tool, which can fix both minor and major problems. It could speed up the time it takes getting your PC back into working order by saving you the time and hassle of a full-blown reinstall.
Download and install it from www.tweaking.com. A step-by-step tabbed interface guides you through initial scans and essential backups before proceeding to the Start Repairs tab. Review the list of available repairs by clicking on each one for a description, then choose those relevant to your problem before hitting 'Start' to set the wheels in motion.
Beat the heat by keeping fans and vents clear
You can upgrade Windows and your other software as much as you like, but it's important to also give your computer's hardware some love and attention from time to time. You don't necessarily need to throw money at it in the form of costly component upgrades though – all you really need is some common sense, and maybe a vacuum cleaner!
Excessive heat can slow a computer down and even damage its sensitive components, so try not to run your laptop nestled in a cushion or duvet where its air intake vents will be blocked. Likewise, it doesn't take long for the fans in a desktop PC to become clogged with dust, so it's worth vacuuming the dirt from its vents from time to time.
Downgrade appearance to upgrade performance
On the following pages you'll discover some clever ways to make Windows look more beautiful. That's all well and good, but older computers won't thank you for slowing them down with additional visual frills. In fact, if your PC is getting on in years, you're better off losing a some style to gain some speed.
Press [Win] + [Q], type windows performance and press [Enter]. Selecting the 'Adjust for best performance' option will disable all visual effects to give you the biggest performance boost. Click 'Apply'. If you come across something that looks a little too crude like jagged font edges, you can always return to this menu and readjust the offending the option.
Want your PC to perform even better than new?
Disabling speed-sapping features will help unleash a sluggish PC, but it may also be possible to give your computer processor a new lease of life using an advanced tuning process called overclocking.
This can be achieved via free desktop software or through the PC's BIOS, but it's not for the faint hearted and is unlikely to work with laptops. Alter the wrong setting or try boosting things too far and your PC could crash or overheat, and don't expect a warranty to pick up the pieces.
Research is essential for successful overclocking and to avoid damaging your PC, so for more information check out our sister website, www.techradar.com.
Customisation
Calibrate your monitor for better colour reproduction
Calibrating your monitor means adjusting its colour output so it's as accurate as possible. You can splash out big bucks on a special device to do the job, but Windows actually includes its own calibration tool. It's well hidden, though.
To find it, press [Win] + [Q], type calibrate and then click 'Calibrate display color'. Follow the simple wizard to adjust your monitor's brightness and contrast, plus the all-important colour balance.
Don't expect dazzling image quality improvements, but if you're a keen photographer and want to view your snaps at their best, calibration is essential.
Ditch the Taskbar for the dock
The Windows Taskbar is perfectly functional, but if you're yearning for something a little more dynamic and attractive on the eye, why not replace it with a dock? Winstep Nexus (www.winstep.net/nexus.asp) is one of the best free ones out there – it floats on top of the desktop, allowing you to place it anywhere on-screen and works in a similar way to the Taskbar with easy access to your programs, files and Taskbar Notification area. You can also populate it with widgets offering extra features such as clock, local weather forecast and network activity.
Add Windows 8.1 features to earlier versions of Windows
Still running Windows 7 or earlier? Wondering how Windows 8.1 might work, but don't want to upgrade just yet? WinMetro (free from www.iobit.com/iobit-winmetro.php) transforms your existing Start menu into something similar to the Windows 8.1 Start screen with just a few clicks.
Add News, Weather, Finance and Photos apps, which display live updates straight to your Start screen, or add search and social media web links. The only thing missing is Windows 8.1's dedicated app store, but that's easily fixed using All My Apps (http://allmyapps.com). Reverting back to the standard Start menu is easy too, so there's no harm in giving this upgrade a try.
Create a desktop slideshow
Windows allows you to replace your single desktop background with a slideshow of photos, but you need to provide the images yourself. Wally (www.becrux.com) is a free tool that allows you to pull images based on keyword searches direct from a variety of web services. Once installed, right-click its Taskbar Notification area icon to get started.
Select one of the online sources, such as Flickr, Yahoo or Google, then click the + button to type in your keywords. Wally changes the background every two minutes – use the 'Interval' settings to alter this. Click the 'Centred' button to tile or scale your images rather than place them centrally. Click 'OK' to transform your desktop.
Faster filing
Ah, filing. It's a chore in the real world, and not much fun in Windows either. At least MyFolders (www.coretechnologies.com/products/MyFolders) can simplify the process for you.
Install the app, then right-click on a file you'd like to organise and find the menu entry entitled 'MyFolders'. Click it to reveal 'Copy to' and 'Move to' options, from where you can specify the folder you'd like to shift the file to. It's also a good idea to accept MyFolders' suggestion to add this folder of choice to its favourites list, making it even easier in future to move files favourite locations.
Restore the Start menu
Frustrated Windows 8.1 users will be pleased to see that the Start menu is making a comeback in Windows 10, but you don't need to wait another minute to bring it right back now. Just download and install the Classic Start portion of Classic Shell (www.classicshell.net), and it'll give you a choice of Start menu ('classic' Windows XP or Windows 7), blended perfectly in with the new Windows 8.1 desktop style. And like all good apps, it's customisable to the nth degree – although in most cases the default settings will be perfect.
Copy files faster
Windows 8.1's file copy dialogue is a huge improvement on what went before – the ability to pause and resume file transfers being one obvious advantage. But there's still room for improvement, so if you want to take things to the next level, you need Copy Handler (www.copyhandler.com).
Advanced features include being able to queue up multiple file transfers, support for restarting file transfers after cancelling them (or even rebooting Windows), and the promise of faster file transfers, particularly when moving data between two partitions on the same physical hard drive. You can use it alongside Windows' existing copy tools for occasional use, or use it in place of the native tools.
Build your own Jump List
The Jump List is a great time-saving feature, giving you access to recently opened documents via application shortcuts on the Taskbar and in the Start menu. It's just a shame you can't build your own custom Jump List with all the apps and files you frequently accessed… Except you can, with Jumplist-Launcher (http://en.www.ali.dj/jumplist-launcher/).
Use 7zip to extract JumplistLauncher.exe to a suitable location, then launch the program. Right-click the new Taskbar icon and choose 'Pin this program to taskbar', then click it to start adding your choice of file or folder shortcuts (up to a maximum of 60), which can be organised into groups to make them easier to access.
One monitor, multiple desktops
Even with a well-organised desktop, you could still be struggling for space. If only there could be more than one desktop… Dexpot (www.dexpot.de) turns such a dream into reality by creating up to 20 virtual desktops!
Apart from customising each one with dedicated wallpaper and the icons of your choice, you can set certain programs to open in a particular desktop. It almost gives the illusion of multiple computers all hooked up to the same monitor, and is great for separating work and play. All it takes to switch between each desktop is a quick tap of a customisable hotkey.
Ultimate Windows Tweaker
What if you're not a fan of those minipreview thumbnails that appear whenever you hover over a taskbar icon, or you'd like more control over how Internet Explorer uses tabs?
Easy, just search www.thewindowsclub.com for Ultimate Windows Tweaker (version 3 for Windows 8.1, version 2.2 for Windows 7/Vista). Download the program and you'll be able to install and tweak settings like these and many more using one simple program. Many of these settings can of course be altered using the standard Windows Control Panel, but finding the right section can often be frustratingly slow. Although most tweaks can be easily disabled, steer clear of altering anything you're not familiar with.
Brush up on the basics
It's easy to overlook Windows's own customisation features. One of the most useful is Snap. Drag a window to the side of your screen and it'll expand to fill half the screen. Or drag it to the top to fully maximise the window. On the other hand, if you're swamped with open windows, give the one you'd like to focus on a quick shake by clicking and holding on to its uppermost title bar, and watch as the other windows minimise. Another shake will restore them to where they were before.