Gareth Davies, of UK educational electronics specialist 4tronix, was kind enough to send mean early version of his Pi2Go-Lite Raspberry Pi-powered robotics kit last year. Now Davies is back with anew kit, dubbed the Agobo, designed for minimal cost and footprint.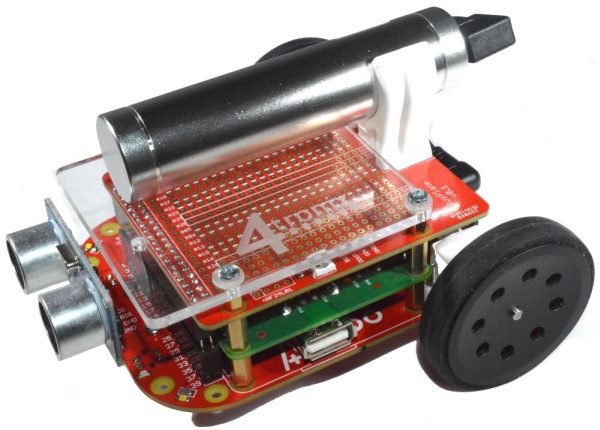 Unpacking the Agobo kit, you first notice that it's a lot smaller and simpler than any Pi2Go model. There's a single circuitboard, which is already assembled – requiring none of the soldering of the Pi2Go-Lite. That's a positive in terms of getting started quickly, but could be seen as an educational negative; thankfully, Davies has no plans to retire the Pi2Go family, though, so buyers still have a choice. There's another reason to keep both families around too: the small-footprint Agobo is designed exclusively forthe ultracompact and low-power Raspberry Pi Model A+, and will work with no other model.
The circuitboard may be pre-populated, but there's still some assembly required -and it's of the fiddly type that requires adult supervision. Two thin back wheels need to be slotted onto geared motors at the rear of the robot, while the front uses a ball-bearing assembly. This part needs smaller bearings balanced on top of a larger bearing, a lid put on the lot and then all the bits squeeze together while it's screwed to the PCB. It's a tricky enough process using the standard-length screws, but if you want to use the extended screws and spacers – designed to make use of the replicated general-purpose input-output (CPIO) header easier, or when using the optional PlusPlate prototyping board with the robot kit – be prepared for some serious frustration.
Thankfully, that's by far the hardest part of the process. The remainder includes a clip for the bundled USB-rechargeable battery, leading to longer runtimes and lower running costs than the AA batteries of the Pi2Go range. There's also a set of brass mounting pillars, and the optional but undeniably attractive protective acrylic plate. It should take no longer than a few minutes to fit these remaining parts, and the Raspberry Pi itself fits snugly and securely upside down on a set of female headers.
Davies describes the Agobo as a hackable robot, and that's undeniably true. There's a replicated CPIO headerfor connecting additional hardware, and the PlusPlate prototyping add-on for creating your own accessories. There's also a breakout serial console port and inter-integrated circuit (l2C) pins for adding sensors or the optional IP Display dongle, providing a handy way to find the Pi's IP address if you fit a Wi-Fi adaptor.
As supplied, however, the Agobo is pretty basic. The two N20-sized metal-gear motors are surprisingly powerful and individually addressable, as are the two LEDs located at the front of the board. Sensor-wise, however, there's only a pair of line-following sensors; an optional HC-SR04 ultrasonic distance sensor provides capabilities closer to that of the Pi2Go family at additional cost.
The downloadable software – also available to buy on a micro-SD card, pre-flashed and ready to go – provides examples of controlling the robot in both Python and Scratch, making it suitable for almost any age once assembled. That age range includes adults, of course: as with the larger Pi2Go, I took great joy in chasing the cat around the living room with the Agobo. Naturally, full source code is provided – hard to avoid in an interpreted language such as Python – giving even beginner roboticists and programmers a chance to see how to make the Agobo perform simple tasks.
The big selling point of the Agobo, though, is pricing. Where the Pi2Go-Lite costs £43 inc VAT and the full-fat Pi2Go £60, the Agobo costs £36 inc VAT, although this price increases to £38 if you add the same ultrasonic distance sensorthat's supplied with the Pi2Go-Lite.
Add £19 inc VAT fora Raspberry Pi Model A+, and you can have a fully functional linefollowing programmable robotforthe pleasingly repetitive price of £54.54 inc VAT That isn't a lot of cash, and while it would be undoubtedly cheaper to pick up some wheels, motors and an H-bridge controller, you would struggle to build a robot that was anywhere near as neat and tidy as the Agobo yourself – even if the bundled USB cable for the battery is laughably long, sticking out from the back of the robot like a white mouse's tail.
That's being picky though. In general, the Agobo has a well thought-out design, and I applaud the use of the rechargeable USB battery – a lipstick type that's easily purchasable at low cost from eBay, giving you the option of owning multiple spares for swapping out at will. If you specifically need Model A+ support or a small footprint, it's an obvious choice; if you have a bit more slack in your budget, though, you'll be better off buying the more feature-packed Pi2Go-Lite and a pack of rechargeable AA batteries.
The Agobo and all its accessories are available direct from the designer at www.4tronix.co.uk