4MLinux isn't unique in what it does, but rather how it does it. The distro will put an old PC back into active duty, and there are quite a few other distros that can do that. However, 4MLinux addresses the issue by breaking down every desktop use-case into four broad categories–Maintenance, Multimedia, Miniserver, Mystery (read: gaming) – and then stuffing the distro with programs to address them.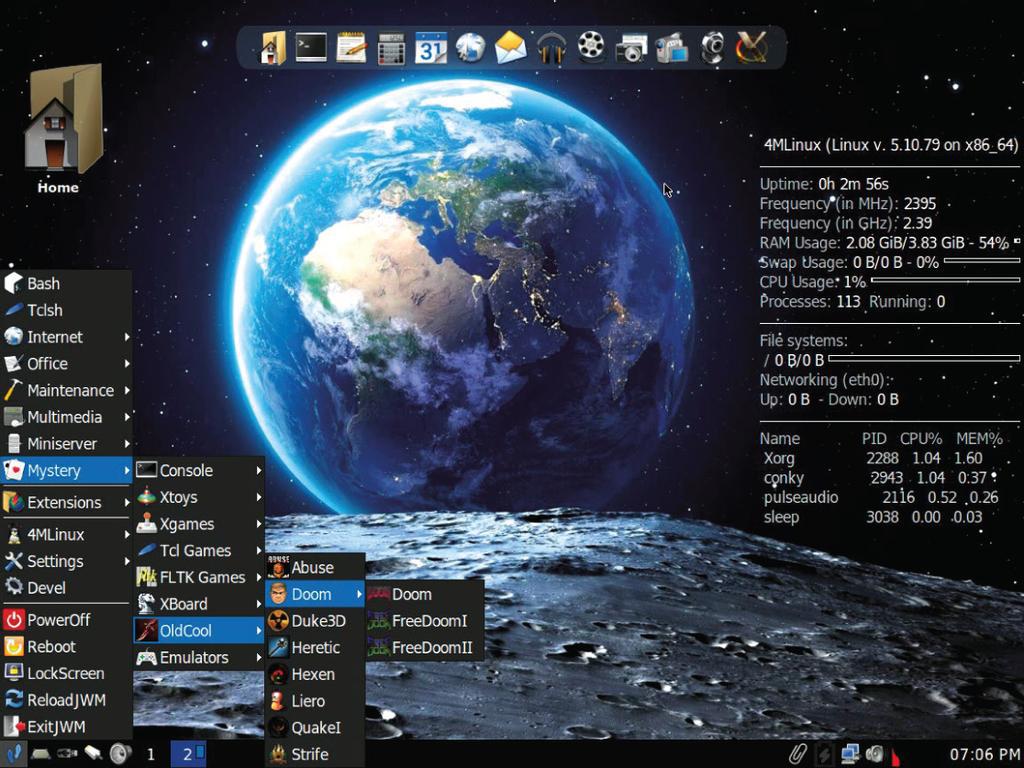 The tools are inside sub-menus, which is the next best thing in the absence of an application searcher in the application launcher, which has become a mainstay of the modern desktop environment.
For instance, the Maintenance menu has lots of system administration, monitoring and system rescue tools, categorised under sub-menus such as Backup, Recovery, Partitions and Monitoring. Similarly, it has a rich set of multimedia programs to record, play, rip, edit and mix all kinds of audio, video and image files.
The miniserver option is both intriguing and infuriating, in that the option doesn't seem to do much in the regular 4MLinux release. However, the feature gets a life of its own in the 4MLinux Server release, where it enables you to run a full LAMP server with Apache and MariaDB, as well as FTP, NFS, Proxy, and several others, with a single click. Furthermore you can also manage the servers with ease of the 4MLInux Server release, which also includes Webmin to help you manage the servers without too much fuss.
While the average desktop user might not care much about the Miniserver aspect of the distro, it's the distro's approach towards package management that'll surely turn some heads. Instead of relying on the regular package management tools, the distro has a concept of extensions, which are compressed archives that install programs with a single click. These add-ons are listed under the Extensions menu, and include some of the most popular open source Linux applications.
A highlight of the latest 4MLinux release is a new GamePack sub-menu, which includes over two dozen classic Linux games. These are in addition to the dozens filed inside the eight different submenus under the Mystery menu option.
4MLinux is fully usable irrespective of whether you're using it from a Live environment, or from one that's been anchored to your disk. The distro's installation is handled via a simple installation script that lacks any partitioning tool. Chances are a majority of 4MLinux target users would probably not mind letting the distro take over their entire disk, which would cover up for the rather simple 4MLinux installation script.
Once installed, the distro has a minimal memory footprint, thanks in part to its use of the lightweight Joe's Window Manager (JWM). The desktop doesn't look pretty, but the developer has done a commendable job to make it as functional as possible, with a panel, an applications menu, quick launchers, desktop icons, the wbar dock and the Conky applet.
All things considered, we'd say 4Linux manages to hit its mark. The project is developed by a single developer who's been churning out releases for over a decade now, and there aren't any glaring faults with the releases even after all these years. While the default selection of tools is tailor made for a resource-strapped machine, users can flesh their installations with mainstream programs with a single click.
A distro for underpowered machines, 4MLinux uses lightweight components so as to once again reinvigorate old workhorses into galloping stallions. You won't find any mainstream programs inside the distro, although there's hardly any desktop-use case that it won't be able to tackle.
Minimum
CPU: Any 64-bit processor
Memory: 128MB when installed
HDD: 4GB
Build: 64-bit only
DEVELOPER: Zbigniew Konojacki
WEB: https://4mlinux.com
LICENCE: GPLv3
FEATURES 8/10
PERFORMANCE 9/10
EASE OF USE 9/10
DOCUMENTATION 6/10
4MLinux does a whole lot of things in a way that makes it usable for a whole lot of users.
Rating 8/10