Endless OS is a unique learning-oriented distro that helps users stay productive with their computers even when they're not online. Version 4.0 introduces a plethora of changes, both in the background and on the desktop.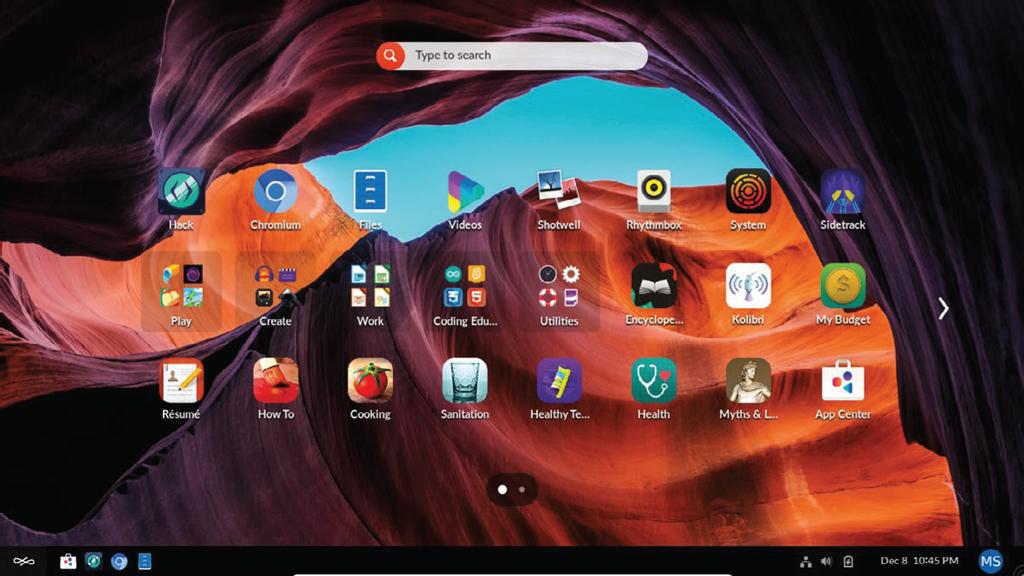 For starters, the developers have dropped building every single package on their own, and instead borrow a majority of them from Debian. There are still about 120 packages they build themselves, since they need to customise them for their purpose, but the change in approach has helped cut down the development time significantly.
Furthermore, Endless OS 4 is the first long-term support (LTS) release of the distro, which the developers plan to support for a number of years even after Endless OS 5 is released. Having an LTS release will complement the distro's purpose of making tech more accessible by elongating the life of existing PCs.
One of the unique aspects of the distro is its desktop environment, dubbed the EOS Shell, which is a heavily modified Gnome 3 desktop. In a departure from the traditional desktop metaphor, EOS Shell doesn't include an application launcher, and instead peppers application icons and groups on the desktop itself. Clickable arrows enable you to switch between pages of applications, since the earlier arrangement prevented many users from discovering the full distro's collection of programs.
Another difference is the shift to the open source Chromium browser, which now comes pre-installed with the distro, instead of the proprietary Chrome, which was fetched automatically once Endless OS had access to the internet, and caused some usability gotchas.
Talking of usability, one of the interesting aspects of the distro is its parental control functionality. In order to make it more usable and extend its area of influence, the developers have decided to pack in Flatpak versions of several programs, including Rhythmbox and Cheese. Thanks to the change, these applications can now be disabled or removed through parental controls.
In fact, Endless OS's developers are such big fans of Flatpaks that they've tweaked the Gnome Software tool to only fetch Flatpaks from the Flathub repository. However, while you can't tweak the repositories by modifying the settings of the graphical package management tool, you can use the apt-get package manager from the command-line to install applications from the Debian 11 repositories.
Endless OS is available in two flavours. In addition to the 17.1GB Full edition, there is also a Basic release that weighs in at a far more manageable 3.3GB. In addition to the desktop images, the distro also puts out ARM64 images for ARM-based single-board computers like the Raspberry Pi 4. Unlike previous releases, which only worked on the 2GB and 4GB variants, Endless OS 4 supports the 8GB variant as well.
Endless OS uses a custom installer that's designed to take over the entire disk. You don't even get to choose a custom layout or a partitioning scheme, which might not be appealing to advanced campaigners, but will simplify the process for the distro's primary audience.
Every aspect of the distro, from its reimagined desktop environment, to its collection of programs and educational material, to its locked-down approach that delivers a pre-cooked environment, is done after keeping in mind the sensibilities of Endless OS' intended users, and their shortage-fuelled use-cases, such as lack of internet or lack of technical dexterity.
And they've done a cracking job of it. Endless OS 4 is loaded to the brim, yet instead of bursting at the seams, it goes about its business rather gracefully.
The distro pitches itself as an all-inclusive solution for "autonomous learning," and includes tools, games and reading material to facilitate learning. The full editions of the distro can be used offline, and as well as educational programs, also includes programs for developers, in addition to the usual desktop productivity utilities.
Minimum
CPU: 64-bit
Memory: 2GB
HDD: 32GB (full version)
Build: 64-bit, arm64
DEVELOPER: Endless OS Foundation
WEB: www.endlessos.com
LICENCE: Various
FEATURES 9/10
PERFORMANCE 7/10
EASE OF USE 9/10
DOCUMENTATION 8/10
The comprehensive, well-designed, multi-lingual, multiplatform learning distro delivers on all its promises.
Rating 8/10