Despite the name, Calculate Linux isn't focused on complex numbers and calculations. And despite being Gentoo, using it won't necessarily imply hours of compilations because it uses binary packages. Yet it's entirely compatible with Gentoo. Its motto "Easy Linux from the source" might be a bit of a stretch, but it brings the power of Gentoo to those who might otherwise avoid it.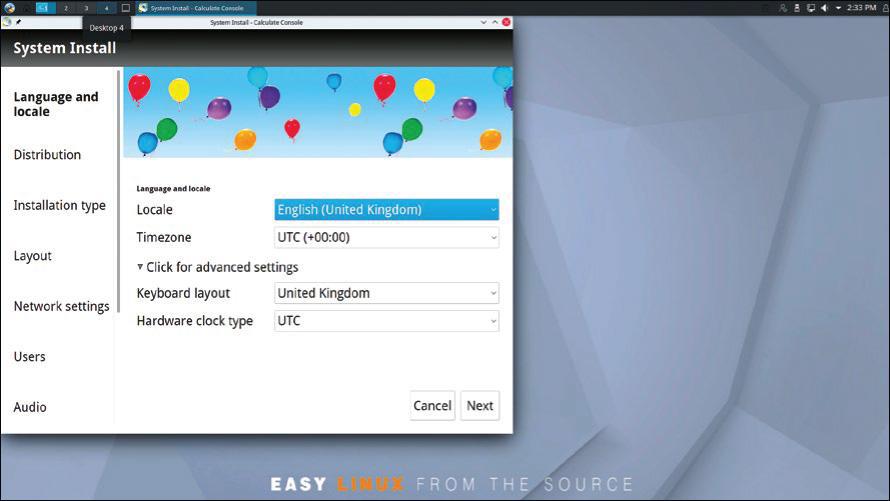 We were impressed with the speed at which Calculate booted into the live environment, and then impressed again with the beautifully crafted KDE Plasma desktop. It uses a panel on the top that includes the applications menu, and then a dock on the bottom for launching applications. Since the 'classic' application menu is used up top, we felt this gave a nostalgic Gnome 2 feel to a desktop that couldn't be further from the latter if it tried. Don't ask us. We just really liked it.
Calculate's installer is much more pleasurable than spending three days installing Gentoo, but we couldn't help but feel it was a little clunky. It's slightly unintuitive in parts too. For example, it offers to migrate the user account from the live session, which doesn't seem like a thing one would want. However, what one should do here is rename this account and migrate it. If one doesn't then, they end up with only a root user on the new install, from whence they must add a new account manually, carefully transcribing the long list of groups to which the user must belong to get a working desktop.
Calculate is a little larger than your average Linux. You can get away with installing it in a single 15-ishGB partition, but you can also give it partitions for data (mounted at /var/calculate), updates and swap. Bear in mind that if you decide to start compiling things (it is the Gentoo way, after all) this will impinge on disk space. The initial install includes some lesser-spotted applications from the KDE suite (for remote desktop and screen sharing) as well as Strawberry (a fork of the popular Clementine music player).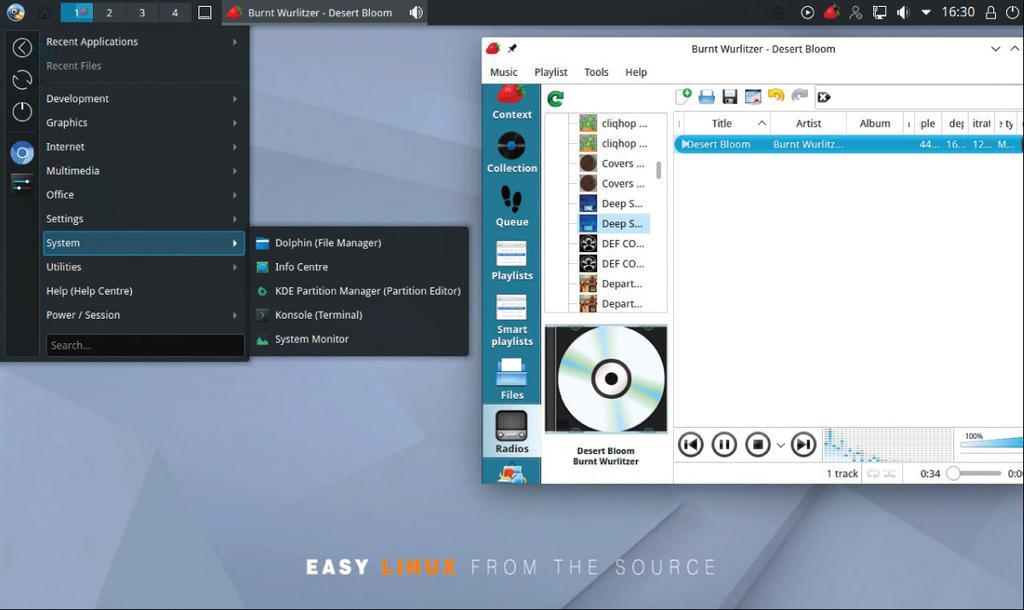 The Calculate Console administration tool can help you with anything from backups to bootloaders. By default the new PipeWire subsystem is used instead of PulseAudio, which worked well. But we imagine there might be situations where it doesn't. Console can be used to administer remote machines too, which might be ideal if you end up installing the server edition, too.
Gentoo's portage package manager is a thing of beauty, and comes equipped with the Eix cache helper (so that querying packages doesn't take forever). There's no graphical package management, but at least there is a GUI update tool. Measures have been taken to ease Gentoo's not-so-gentle learning curve. You don't have to compile your own kernel to get a working system, but if you want to then the Cl-kernel tool will help you. Likewise, you don't have to go messing with CFLAGS settings before you start compiling things, but if you want to try some optimised builds, Calculate will make that, as well as tidying up the mess.
A Gentoo-based distribution for everybody. Also available in Cinnamon, LXQt, Mate and Xfce desktop flavours. And a barebones 'Scratch' edition. Also Directory server and LXC/LXD containers. See also: EndeavourOS, NixOS, Gentoo.
Minimum
CPU: 64-bit, Intel Pentium 4, AMD Athlon 64
Memory: 1GB
HDD: 8GB
Build: 64-bit only
DEVELOPER: Calculate Ltd
LICENCE: Various
FEATURES 8/10
PERFORMANCE 8/10
EASE OF USE 6/10
DOCUMENTATION 7/10
A little rough in places, but an interesting effort. Newbies should look elsewhere, but this is great for everyone else.
Rating 8/10