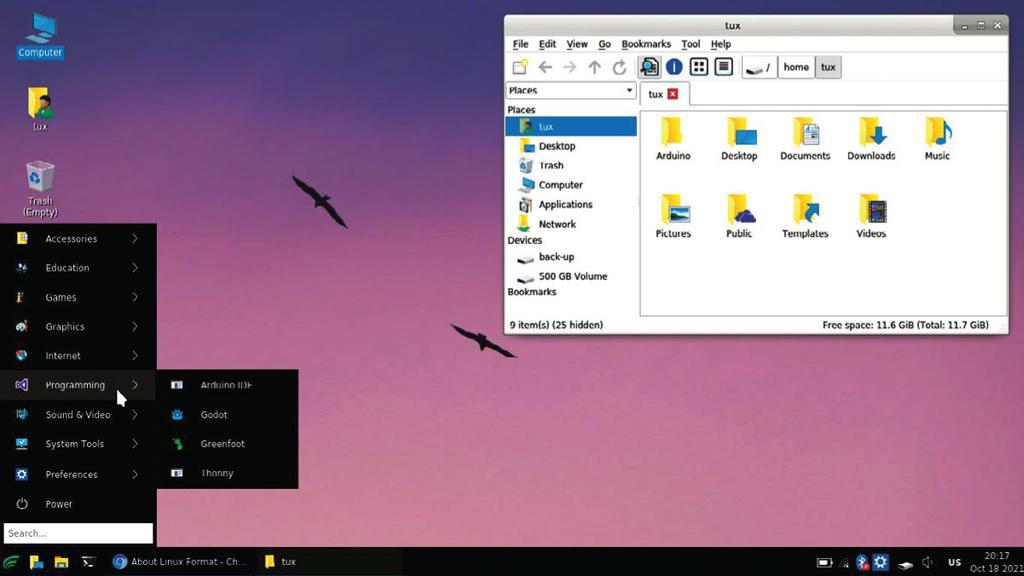 IN BRIEF
Zephix is a Debian-based, portable distro that's designed to be run from a DVD or a USB device. It describes itself as lightweight and modular, in that it ships with just the basics, and prompts users to install any additional programs as modules that can be downloaded and inserted into the distro.
SPECS
CPU: 1GHz
Memory: 3GB
HDD: N/A
Build: 64-bit only
Zephix belongs to the small minority of distros that's designed to be used from removable media, such as USB drives. In terms of features it can't match its established peers – Slax, Porteus and Puppy Linux – but it's not far from the mark, and does bring its unique touch to the field.
Like some of its peers, Zephix ships as an ISO, which you'll have to loopback mount before copying its contents on to an ext4 formatted disk, capping off the process by running a script from inside the USB drive to make it bootable.
The first signs of the distro's immaturity is its simplified boot menu, especially when compared to its peers. The distro, however, boasts the same modular nature, with just about everything available as an add-on module. The default image includes a fairly barebones graphical environment, and everything else from the web browser, and image editors, to remote desktop clients and IDEs is offered as a separate downloadable module.
One of the unique characteristics of the distro is its customised LXQt desktop that's been tweaked to mimic Windows 10. We're slightly biased against Windows-resembling customisations, not denying that there's a huge market for Windows-draped Linux desktops. However, Zephix has done a wonderful job and its Windows lookalike desktop not only looks inviting to Windows users, but also doesn't look alien to Linux users familiar with the traditional desktop metaphor.
Cutting down on bloat
Surprisingly, customisation is both Zephix's advantage and its Achilles' heel. While the desktop customisation works in the distro's favour, we aren't pleased with the process for customising the distro, and making the changes persists across reboots. To make any of your changes available to you on the next boot, you'll have to save them as a custom module. The distro comes equipped with simple-to-use and adequately documented command-line tools for this purpose, and they work flawlessly.
What annoys us, however, is the cumbersome process. After generating the custom modules, you'll first have to move them to a writable medium, such as another plugged-in drive, or across the network. Then shut down the running Zephix installation, mount the drive under another platform, and copy over the custom module along with the other modules.
You can now reboot Zephix and have your custom files and configuration changes available to you. While it doesn't sound like much, doing this for saving every change can get tedious, especially when compared to Slax, which offers persistence by default.
Another minor niggle with the distro is the use of the connman network manager. For starters, it isn't the most intuitive network manager out there, thanks primarily to its plethora of features. Second, it isn't integrated properly into the distro. For example, we had to manually edit and point /etc/resolv.conf to the correct nameserver, before we could use Zephix to browse the web.
Of course these are minor niggles that mostly bugged us because of how we used the distro. If you're coming from Windows and all you need is a zippy and modular distro that offers you all your favourite tools without imposing too much of an overhead, then Zephix in its current state offers everything you need.
In fact, our only real criticism of Zephix as compared to some of its peers is the process of making changes persist across reboots. But if you don't need to save changes on a regular basis, you should definitely take Zephix for a spin.
VERDICT
DEVELOPER: Robert Spiteri
WEB: https://zephix.rf.gd
LICENCE: GNU GPL
FEATURES 7/10
PERFORMANCE 9/10
EASE OF USE 5/10
DOCUMENTATION 3/10
Zephix is suitable for anyone looking for a modular distro. However, it needs to simplify its persistence mechanism.
Rating 6/10