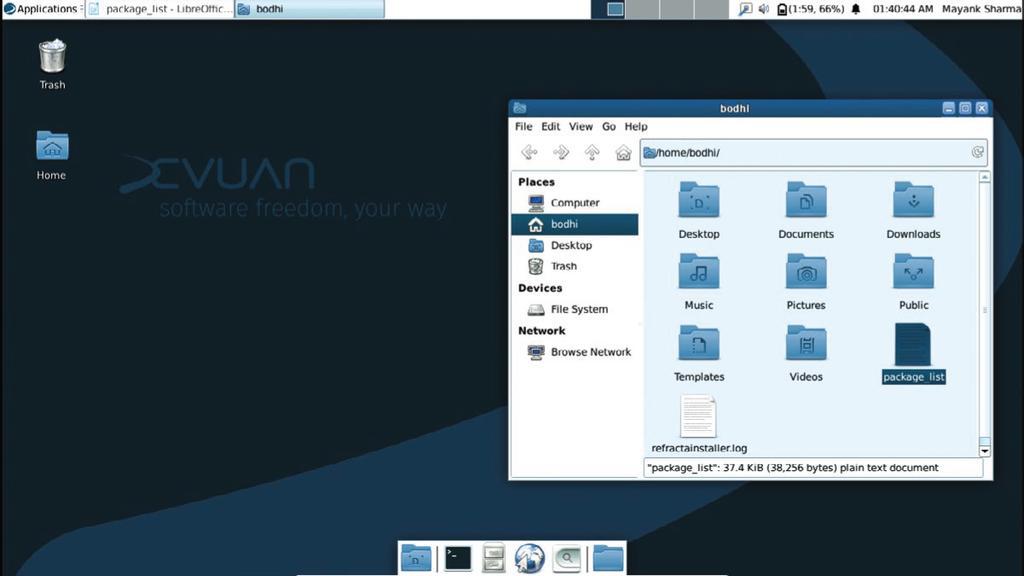 IN BRIEF
A Debian-based distro that came into existence as result of Debian shifting to Systemd. Not only has it spawned a new category of distros, it's also grown into a mature project that caters to several different use cases – much like its upstream distro.
SPECS
CPU: 1GHz Pentium class
Memory: 1GB
HDD: 10GB
Build: Available in both 32- and 64-bit variants
Debian's shift to a new system and service manager in 2017 instigated a long and much-publicised debate, which led to several Debian developers creating Devuan by swapping out the new Systemd in favour of the established sysvinit.
Devuan continues to be based on Debian, and the latest version of the distro, Devuan 4 "Chimaera" is based on the latest stable Debian 11.1 release.
One of the things Devuan inherits from Debian is the support for a wide range of hardware. In addition to being one of the few projects that still produces installation media for both 32 -and 64-bit machines, its community also builds images for ARMel, ARMhf and the IBM Power platform.
Devuan's claim to fame is its support for multiple init systems that aren't Systemd. The latest release offers users a choice between sysvinit, OpenRC and runit. As Systemd expands in its scope, the Devuan developers toil to ensure that none of it seeps into the distro. For instance, the inclusion of the udev device management daemon into Systemd saw Devuan switch to eudev.
A matter of choice
Devuan produces separate installation images for desktop and servers. Advanced users are also provided with a netinstall installation image to tailor their installation to suit their requirements, while desktop users have the option to take the distro for a spin using the Live installable medium.
Talking of installers, the distro strangely uses a couple of them. The install-only media use a modified version of the standard Debian installer, which is easy to navigate. However, the Live images rely on the Refracta installer, which is fairly cumbersome to operate. For instance, while its plethora of options would be appreciated by experienced campaigners, they'll probably just disorient the average Linux desktop user. You can use the default options with a majority of the settings and still end up with a usable installation, but the constant interruptions quickly get irritating.
The Live CD uses the Xfce desktop environment, and that's what it'll install when you anchor the distro to your disk. On the other hand, the installer on the install-only medium offers a choice of five desktop environments including Xfce, Cinnamon, KDE, LXQt and Mate. As expected, you can install others from Devuan's repositories post-installation.
Besides the choice of desktop, you also have the option to choose from one of the three supported init systems. However, neither of the installers give you the option to customise the selection of programs for your installation, although both will give you all the usual desktop productivity tools.
To help you flesh out your installation, Devuan relies on the Synaptic package manager and doesn't include an app store, much like its progenitor. Furthermore, while you can pull in support for Flatpak from the official repos, you can't get snaps to work on Devuan, since that particular universal packaging format relies on Systemd. On that note, Devuan hosts its own package repository, which mirrors the upstream Debian repositories, except for stripping away any traces of Systemd.
You can think of Devuan as essentially Debian without Systemd, but there's a lot of effort that goes into creating it. In fact, if you want to use Debian, and don't particularly need Systemd, we wouldn't hesitate to suggest Devuan. After all, it offers a choice of some of the leading desktop environments, support for multiple architectures, a comprehensive repository of packages, and images to cater to several use cases, from the desktop to the server.
VERDICT
DEVELOPER: Veteran UNIX Admins
WEB: www.devuan.org
LICENCE: GPL and BSD
FEATURES 8/10
PERFORMANCE 8/10
EASE OF USE 8/10
DOCUMENTATION 7/10
Devuan is best appreciated by those who know what it takes to give users choice, right down to the init system.
Rating 8/10