This is the board we used to do all of our benchmarking on, as it was first to land and Aorus have an excellent reputation for representing what a chipset can do. It's right in that sweet spot crowded by so many other boards, making it a hard sell amongst such a cluttered market How has Gigabyte, makers of Aorus products, managed to make this board stand out?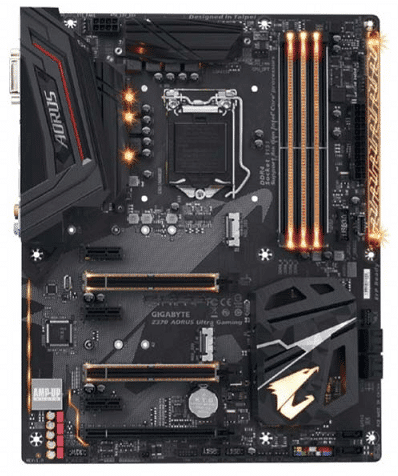 When it comes to RGB lighting, Aorus have totally gone over the top with this board. There are over six different RGB light zones, and they can each be programmed to have a unique color. Aorus calls its RGB solution 'RGB Fusion' and should work with the majority of RGB products on the market.
As a standard ATX board, the port design isn't crazy. We have three full length, steel-reinforced x16 physical slots, and three x1 physical slots. Gigabyte has a proprietary locking mechanism for each full length lane which it claims will hold cards more steady, but with the move to vertical GPUs in 2017 it's a bit of a moot point.
Storage whores will like the triple M.2 slots, each of which has heat shielding protection, though there are only six SATA 3 connections. We do love the various buttons on the board for rebooting, powering up, clearing the CMOS and such, which makes it about a gazillion times easier to work on in an open work bench environment.
Twin Gigabit Ethernet is also appreciated, though the lack of Thunderbolt 3.0 is a bummer. There is a header for it, but you'll need to buy the optional card to connect to this header. Once again we see the ALC1220 audio codec wheeled out for duty, with various upgrades basically identical to the competition. Aorus calls its solution the 'Amp-up' solution, yet lacks the ability to swap out amps like its higher range motherboards.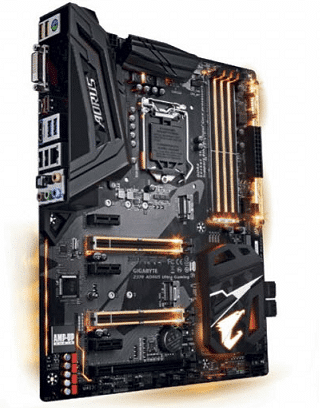 I/O options are thorough, with DisplayPort, HDMI, USB 3.1 Type-C and twin USB 3.0 Type A on the I/O panel. There's also five 3.5mm sound outputs if you're running something less archaic than an AV receiver through HDMI. Aorus' excellent graphical bios should make overclocking a breeze, and it rates the memory slots to DDR4-4333 MHZ+.

So once again we see a typical laundry list of features, interchangeable with basically every other z370 motherboard in this price range. It's not that this is a bad board whatsoever; it's that most other z370
when it comes to RGB lighting, Aorus have totally gone over the top with this board
boards in the same price range aren't either. It's not as feature packed as the ASRock board, but it does feel a little more sturdy. Ultimately though, your buying decision will probably come down to brand preference.
VERDICT:
Z370 Aorus Ultra Gaming Review
There's nothing here to make this stand out from the rest, making it merely average at best.
PROS
Lotsa lights!
Sturdy build
Add your review
Best Z370 Aorus Ultra Gaming prices ?

$

209.99
1 new from $209.99
in stock

MORE DEALS