What the?
As we've just seen, ASRock's Z370 Taichi, is a feature-packed board at a great price. Now we have the z370 Extreme, which is almost identically priced, and made by the same company.
It's nothing in the world of IT components, so what makes these two boards so different?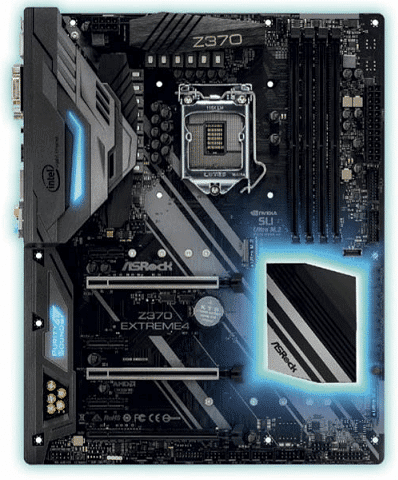 For starters, it simply feels more solid, as if the mainboard PCB was built from more layers. ASRock don't list this on their specs, so it's a guess, but it certainly feels that way. This is another ATX board, and ASRock has equipped it with three full length PCIe 3.0 x 16 slots and another three x1 slots. Only two of the x16 slots are reinforced this time around though.
Once again ASRock has gone for a lovely eight SATA 3 ports, yet there's only twin M.2 slot. What the?!?
And unlike competitors, there's no heat shield for either M.2 port, when we all know M.2 drives are susceptible to throttling under high load.
The design itself is rather plain as well, with a pure black finish over the board, nowhere near as striking as its predecessor.
There is limited RGB support, with three different lighting zones, but again that's not better than the slightly more expensive Taichi. Thanks to the 8th Gen core CPUs and z370's extra PCIe lanes, there's support for both SLI and Crossfire, but again this can be found on the slightly more expensive board. Like all boards these days, the I/O cover is built in, and it hosts built-in dual USB 3.1 (one type C, one Type A). There's also a single Ethernet port, compared to the Taichi's twin Ethernet connectors. There's also no Wi-Fi, unlike it's big brother, which is yet another disappointment.
Audio is identical, using the ALC1220- based 'Purity Sound 4 solution", which is enhanced with all the usual goodies and sounds just like every other board using this codec (except Asus, who have an enhanced version).
One thing we did love is the easy to use UEFI BIOS. ASRock knows how to make it easy to find just what you need, and they label everything clearly and simply. This makes hitting the DDR4- 4333MHz memory speed easier if you've got the right memory.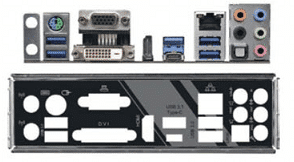 Unfortunately the ASRock z370 Extreme 4 is a prime indicator of the biggest issue with today's motherboards and graphics cards. They're all basically the same. We can't test them for longevity, ie run them for five years in a lab, so we have no idea about sturdiness apart from the physical feel. All we can judge these boards on is their feature
the design is rather plain, with a pure black finish, nowhere near as striking as its predecessor
set and price, and in this regard, the ASRock z370 Extreme 4 is a major failure, especially when compared to its brother.
Asrock z370 extreme4 Verdict
ASRock z370 Extreme 4 Review
This is a prime example of how competitive the motherboard market it, where brand is arguably more important than features.
PROS
8 x SATA 3 - Solid Audio
Feels sturdier
CONS
Less features at around same cost of other boards
Add your review
Best ASRock Z370 Extreme 4 prices ?

$

404.46
4 used from $229.99
9 new from $404.46
in stock

MORE DEALS