Sam Lewis
WINDOWS/BROWSER YOUTUBE Free / $14.99 (per month) | www.youtube.com TWITCH Free / US$5 (per month) | www.twitch.tv.com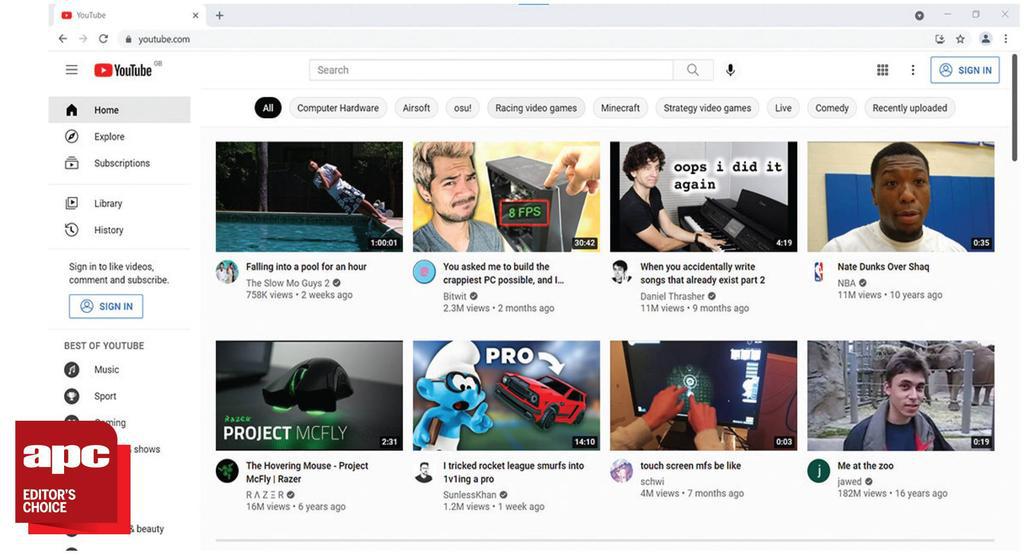 Video streaming can be split up into several different sectors: Most TV channels have an additional website for catch-up TV; there are subscription sites, such as Netflix, Amazon Prime, and Disney+, that charge a monthly fee to watch on-demand films and TV series: and then there are websites, such as YouTube and Twitch, that host unique content in the form of video clips or live streaming videos. These sites have helped the internet take over from traditional television as an entertainment medium. So, in this issue's head-to-head, we're going to focus on these two giants.
Now one of the main players in the online video industry, YouTube had humble beginnings. In 2005, Steve Chen, Chad Hurley, and Jawed Karim had the idea of a platform where people could share 'home videos'. These three ex-PayPal employees made this idea a reality and named it YouTube. Back then, the concept of an online space where people could find and watch unique content was revolutionary,
The first video on the site, called 'Me at the zoo', was uploaded by Jawed Karim on April 23rd, 2005 and was used to test the site. In May that year, the website launched as a beta and was soon racking up 30,000 visitors a day. By today's standards, that's tiny but back then, this was big news for a startup website. That figure soon rose exponentially, and by the time YouTube launched officially in December 2005, it was getting two million video views each day.
Some of YouTube's launch features are still fundamental parts of the website today. Video uploading and hosting, subscriptions, playlists, ratings, and full-screen mode were all available back then. Broadcasting content to the world gave everyone with a camera and a computer the chance to be a filmmaker and allowed people to become invested in the site.
By mid-2006, YouTube hit over 20 million monthly visitors, making it one of the fastest-growing sites on the internet. The technical demands of running a site this large meant more and more equipment and broadband connectivity were needed. On top of this, some of the content uploaded broke copyright laws. The owners looked to sell up and managed to hook a large buyer. On October 9th, 2006, Google bought YouTube for the tasty sum of US$1.6 billion.
The purchase brought security to the site and saw some big changes, one of the biggest of which was the introduction of adverts. As annoying as they were (and still are), ads meant that creators could earn money from the site. Without this, YouTube and internet video consumption would be a completely different experience today. It's fair to say YouTube has changed not only the internet but also the wider entertainment and media industries too. Competitors such as Twitch probably wouldn't exist if it weren't for YouTube.
Though both are video streaming sites, they differ in terms of their content. Essentially, Twitch is YouTube but with live videos. Twitch began in 2007 when creator Justin Kan made a rig from a webcam strapped to a hat and a laptop in a backpack. He started live-streaming his life 24/7 on March 19th, 2007 and this live stream grew in popularity until, with the help of fellow computer programmers Emmett Shear, Michael Seibel, and Kyle Vogt, it became a channel, called Justin.tv.
This video site was purely for people to upload live content, essentially the internet version of TV. Gaming was a big driver of traffic from the start and though the site branched out into areas such as sports and music, copyright issues with illegally uploaded content meant that those areas had to be restricted. Gaming remained at the core of the site and eventually, in 2011, Justin.tv was relaunched as Twitch.
Over the years, both platforms have had countless updates and alterations but the formulas have remained the same. Though the two sites are similar, they are different enough to have co-existed for the past decade. YouTube is for content that has been planned out and created, which makes it a great place to let your creativity flow and to build an audience through editing and content.
Twitch is more of a place where the creators' characters shine and where they can express their personalities. While both sites offer similar content, watching something live on Twitch gives it a greater sense of anticipation than you get from a YouTube video. In 2017, YouTube attempted to muscle in on Twitch's USP by launching its own section for live streaming.
As far as design goes, YouTube certainly paved the way for the sites that followed. YouTube's site formula hasn't altered too much over the years and it remains easy to use. On the opening page, at the top, there is a search bar, the main part has suggested videos or channels you are subscribed to. On the left is a tab where you will find the home, explore, subscriptions, library, history, watch later, and liked videos sections. As a Google product, it is clean and easy to navigate around.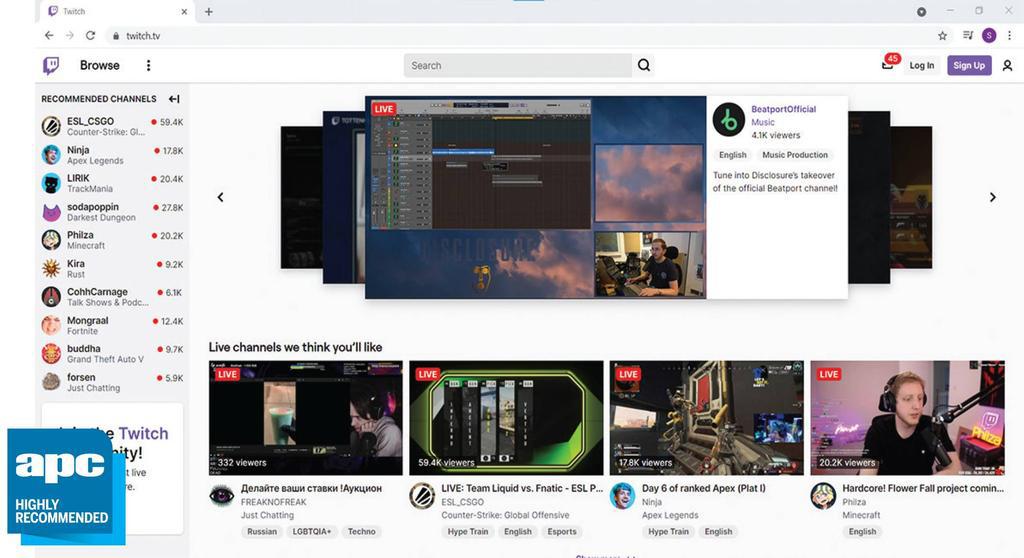 Though both are video streaming sites, they differ in terms of their content. Essentially, Twitch is YouTube but with live videos.
Unfortunately, the same cannot be said for Twitch. It's not exactly ugly, but it does look a little messy, particularly for the first-time user. On the left side of the website are your subscriptions and suggested followers. The main section of the site has a carousel with live streams, below that are your followed channels and categories. This is in view order and although it's a great way to see what is trending, it can get a bit crowded. Overall, YouTube is the better-designed site of the two.
But what about features? Since YouTube introduced a live streaming section, it has been a direct rival to Twitch. However, as a platform, YouTube doesn't prioritise streaming and its main focus is still non-live creator content. Twitch, on the other hand, is purely for live content and that remains its unique selling point.
YouTube is a more professional feeling platform with a much larger audience, but live streaming is better on Twitch. The communities built on the site are close to the creator and the interaction with your audience helps Twitch to be the best place to stream. Live streaming content on YouTube can feel lost and out of place.
The principles remain the same – if you want to watch videos, go to YouTube and if you want to watch live streams, go to Twitch. Even though YouTube has more features and is a more professional environment, YouTube's streaming section has yet to really challenge Twitch.
Overall, both sites have been a huge and vital part of the progression of the internet, with absolutely enormous catalogs of unique videos and billions of viewers, it's hard not to say that this new age of media consumption is gradually taking over.
YouTube takes the crown ahead of Twitch though. It is one of the biggest sites on the internet, it paved the way for video sites, and made a whole industry for creators to make money online. Although Twitch has followed a similar path and added live content to its platform, YouTube's extra features and better website design keep it ahead of its rival.
YouTube
Lots of great features, has changed video consumption, great for creators, though the live streaming aspect of the site isn't fully developed.
4.5/5
Twitch
Revolutionised live streaming and the industry, highly interactive. Slightly overwhelming design, focuses on live.
4/5