The release of Xubuntu 22.04 LTS on 21 April, 2022, brought a lot of … very tiny changes. In fact, this whole development cycle since the last long term support (LTS) release has seen very little new and I am going to make the case that that is actually a good thing that will please most Xubuntu users. Read our Xubuntu 22.04 LTS Review.
Being an LTS release, Xubuntu 22.04 LTS will be supported for three years, until April, 2025.
Xubuntu 22.04 LTS is also the 33rd release for Xubuntu. The first one was Xubuntu 6.06 LTS, made back on 1 June, 2006, which was sixteen years ago.
Xubuntu remains one of the few flavors of Ubuntu that has never changed its desktop; it is still using Xfce. That contrasts with Ubuntu which is on its third user interface, and Lubuntu on its second one. Xubuntu certainly has brought its users stability and that might be one reason why it has such a dedicated fan base.
Installation
I downloaded Xubuntu 22.04 LTS from the official website via BitTorrent and carried out an SHA256 sum check on it from the command-line to ensure that the download was correct.
Like Ubuntu and Lubuntu, Xubuntu 22.04 LTS has increased in download size by 500 MB since the last release, for reasons that are not clear. Xubuntu 22.04 LTS is a 2.5 GB download compared with 2.0 GB for Xubuntu 21.10.
I used a USB stick equipped with
Ventoy 1.0.73 to boot up Xubuntu 22.04 LTS. Ventoy makes the process really easy, just cut and paste the ISO file onto the stick and Ventoy takes care of all the unpacking at boot-up. It also allows multiple ISO files to be on the same USB stick, subject to space, and gives a choice of which one to boot to. It makes testing out multiple distributions an easy task.
System requirements
The minimum system requirements for Xubuntu have
been the same since Xubuntu 21.04, which was the first release in this development cycle. They remain:
1.5 GHz dual core processor
2 GB of RAM
20 GB of hard drive space
This means it can be run on early Vista boxes and later hardware.
New
Xubuntu 22.04 LTS uses the Xfce 4.16 desktop, with the GTK 3.24.33 toolkit. It has a new graphic wallpaper for this release, too, which is one of 20 wallpapers included. Six of the wallpaper designs are new scenery ones from the Xubuntu 22.04 LTS wallpaper competition, while many of the others are favorites from recent Xubuntu releases. You can always substitute your own wallpaper too, if desired.
The rest of the changes in this release are to applications, described below.
As noted, there is very little new in this release, and I think that is a good thing. Whenever I talk with Xubuntu users, they like it the way it is and don't see a need for much in the way of changes. The last major change was probably Xubuntu's move to make Whisker Menu the default menu system, and that was back in Xubuntu 14.04 LTS, eight years ago. Large scale changes are only going to make users unhappy.
Settings
This release continues with "Greybird" as the default window color theme. There are a total of six window themes provided: Adwaita,
Adwaita-dark, Greybird, Greybirddark, High Contrast and Numiux, as well as a choice of six icon themes. The choice of two different dark color schemes should keep dark theme fans happy.
Applications
Some of the applications included with Xubuntu 22.04 LTS are:
Atril 1.26.0 PDF viewer*
CUPS 2.4 printing system
Catfish 4.16.3 desktop search
Firefox 99.0.1 web browser** GIMP 2.10.30 graphics editor Gnome Disk Utility 42.0 disk space and health monitor
Gnome Disk Usage Analyzer 41.0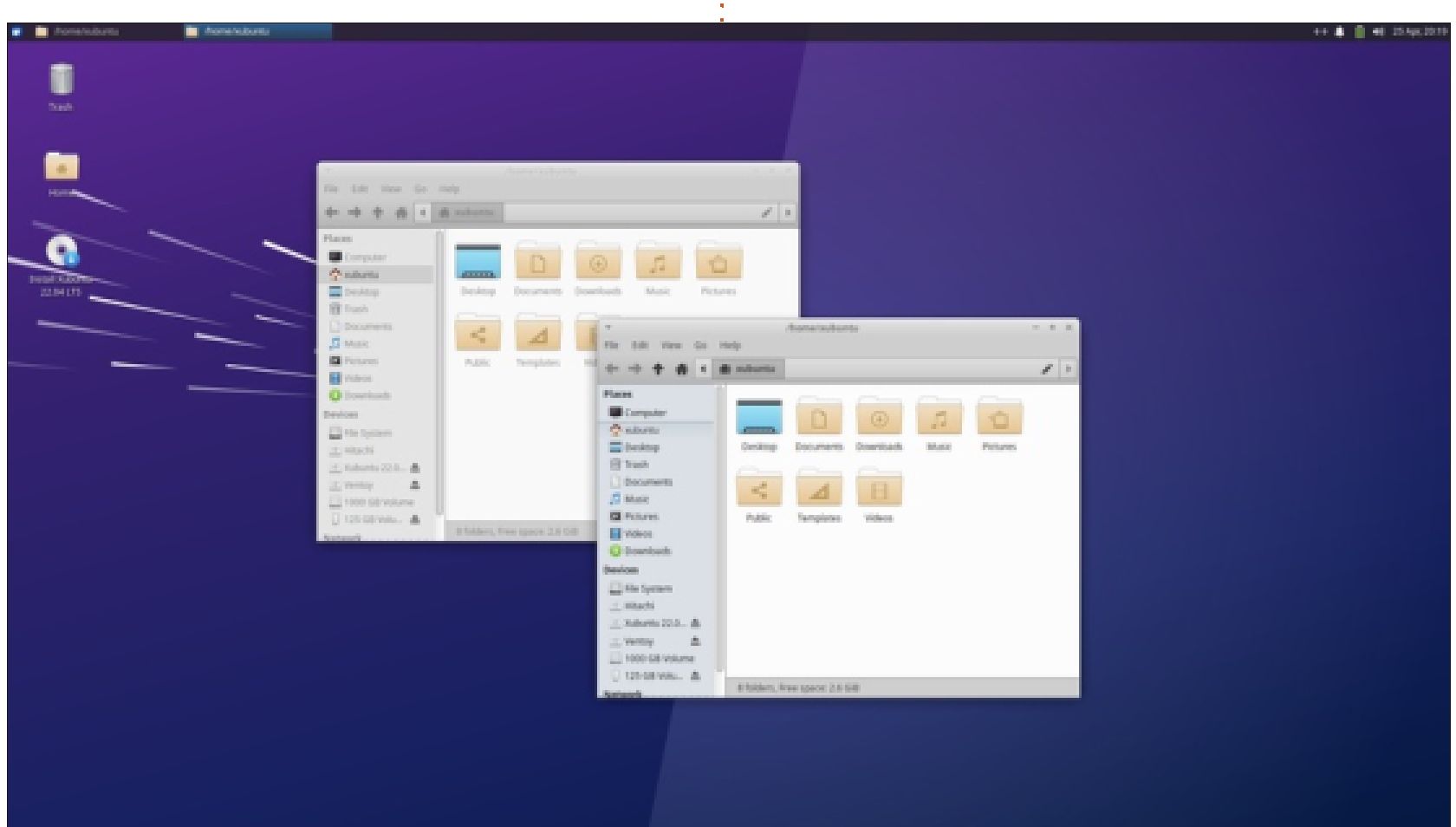 disk display*
Gnome Software 41.5 package management system
Gparted 1.3.1 partition editor Hexchat 2.16.0 IRC client LibreOffice 7.3.1 office suite Mousepad 0.5.8 text editor Parole 4.16.0 media player* PulseAudio 15.0 audio controller Ristretto 0.12.2 image viewer Rhythmbox 3.4.4 music player* Simple Scan 42.0 scanning utility (re-badged by Gnome as "Document Scanner")
Software Updater 22.04.9 (updatemanager) software update manager
Synaptic 0.90.2 package management system* Thunar 4.16.10 file manager Thunderbird 91.8.0 email client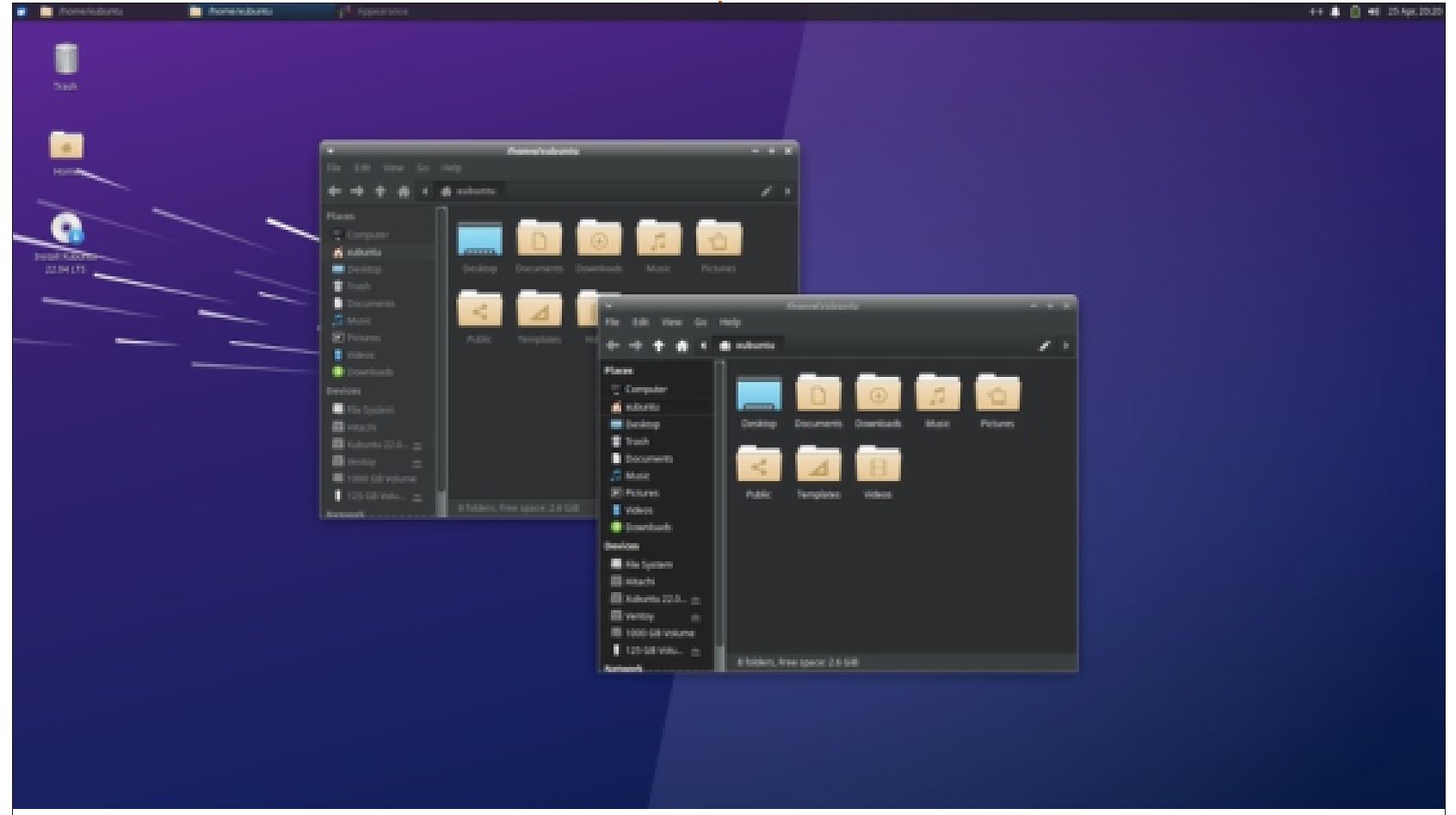 Transmission 3.00 bittorrent client*
Wget 1.21.2 command-line webpage downloader Xfburn 0.6.2 CD/DVD burner* Xfce4 Panel 4.16.3 desktop panel* Xfce4 Power Manager 4.16.0 system power manager*
* indicates same application version as used in Xubuntu 21.10
** supplied as a snap, so version depends on the upstream package manager.
Xubuntu 22.04 LTS is one of the few Ubuntu flavors to include a default graphics editor, in this case GIMP, and also a CD/DVD-burning application, Xfburn. Most other flavors, including Ubuntu, Kubuntu and Lubuntu, have now dropped
the CD/DVD burning application from the default list.
Xubuntu 22.04 LTS does not include a webcam application or video editor although there are several choices of each available for installation in the repositories.
This release has LibreOffice 7.3.1 and it is supplied complete except for LibreOffice Base, the database application. Base is probably the least used component of LibreOffice, but can easily be installed if needed.
Xubuntu 22.04 LTS represented a decision point for all the Ubuntu flavors on the question of Firefox as a snap package. At Mozilla's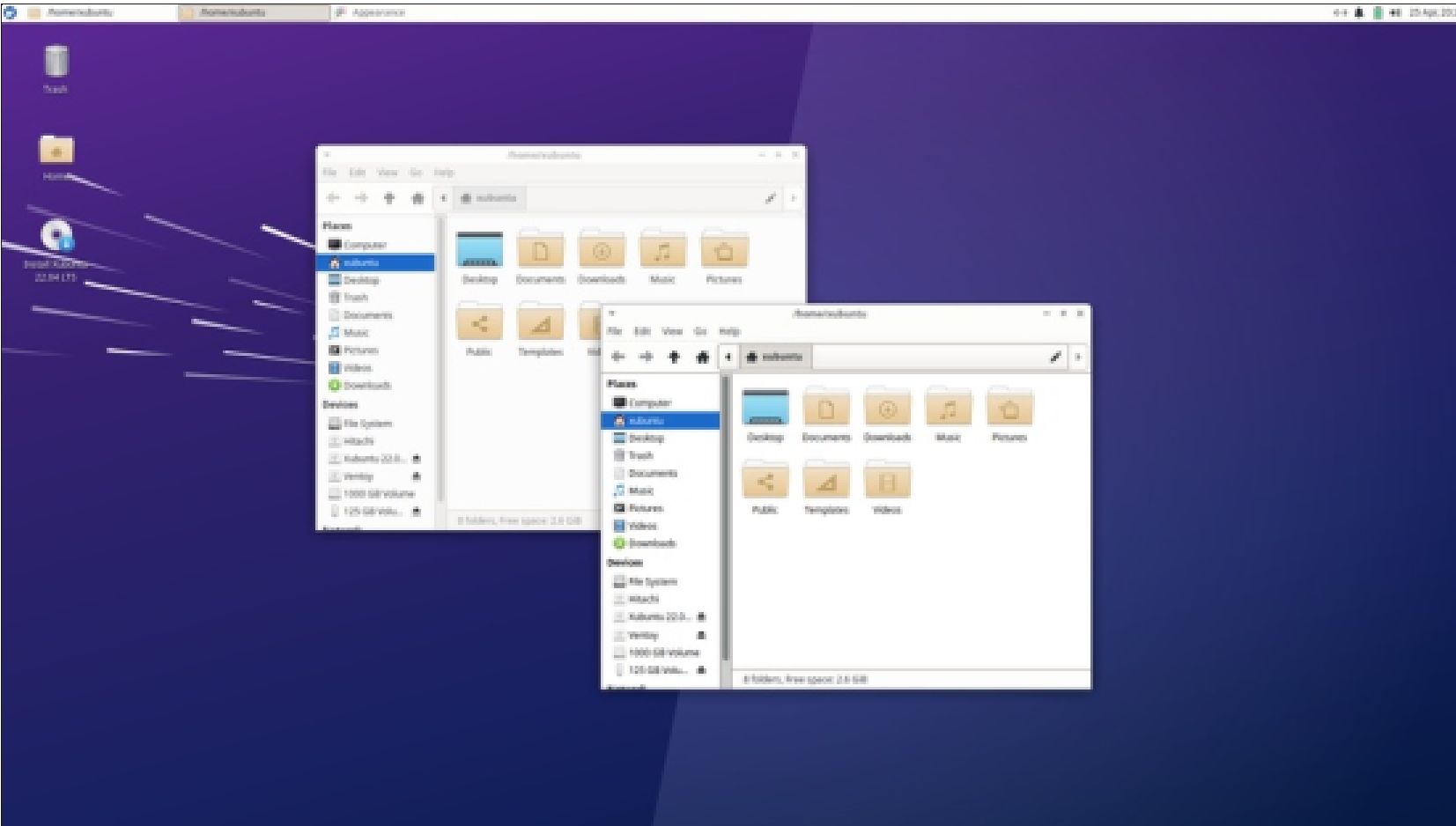 request, the Ubuntu developers moved to a snap version of Firefox in the 21.10 release, although the traditional .deb package was still available in the repositories for that one last release and the Xubuntu developers stayed with the .deb package for the 21.10 release.
Starting with the 22.04 LTS releases, Firefox is available only as a snap package, and that meant that the Xubuntu developers had to either switch to the snap or do something else, such as compile it themselves, or switch browsers. The release of Xubuntu 22.04 LTS solved the issue, as the Xubuntu developers have gone with the snap version of Firefox. They noted all the advantages of the snap version in the release notes, including that new versions are received more quickly directly from Mozilla, and better security, due to the isolation of Firefox.
The main complaints about snap packages are application opening time and inconsistent theme adoption. In my testing, I found that while the snap version of Firefox was slow to open the first time, subsequent openings were around two seconds, which is as fast, or faster, than the .deb version. On Xubuntu 22.04 LTS, Firefox took up themes fine, too.
In the other applications provided by default on the ISO, there have been some useful improvements. For instance, the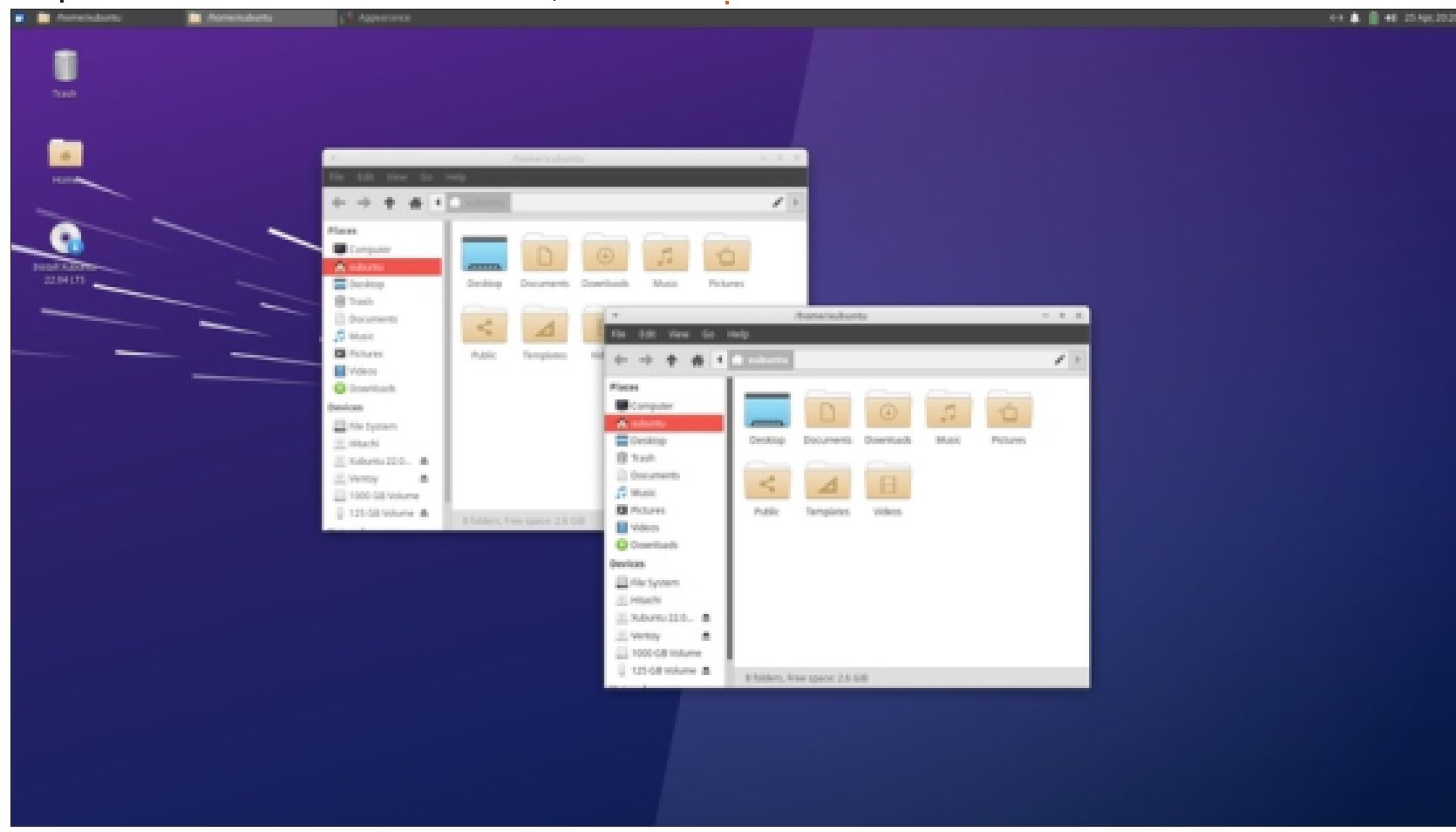 Mousepad text editor now includes a spell-checking plug-in that even provides for underlining spelling errors as you type, which is a welcome improvement. Mousepad also now has a session backup and restore feature.
The Ristretto image viewer now has improved support for thumbnails, and some performance improvements. The Whisker Menu Plugin 2.7.1 has added some new customization options for preferences and CSS classes -which should be useful to people doing their own theme development.
As always, the Whisker Menu is the most flexible and customizable
menu used in the Ubuntu flavors, allowing resizing among other features. It really sets Xubuntu apart.
Conclusions
Xubuntu 22.04 LTS is a very well-polished and mature distribution with no obvious drawbacks or flaws.
I think that Xubuntu fans are
going to be pleased with Xubuntu 22.04 LTS, mostly because very little has changed since the last LTS release. The Xubuntu users seem to like how Xubuntu looks and works, and don't see a need for big changes.
External links
Official website: https://xubuntu.org/