Editor choice
Wired2Fire Pyro Talon Review: Speed demon
Wired2Fire Pyro Talon Review
AMDs Ryzen series of processors may only be entering its second generation, while the rival Intel Core family is on its eighth, but AMD seems to have got the hang of it already. The six-core Ryzen 5 2600 at the heart of Wired2Fire's compact tower system isn't from the top of the range, but it's helped here by a modest overclock. If you've ever stood on a platform while an Intercity 125 blew past that wasn't planning to stop for another hundred miles or so. you'll have a fair idea how it felt running our usual performance tests.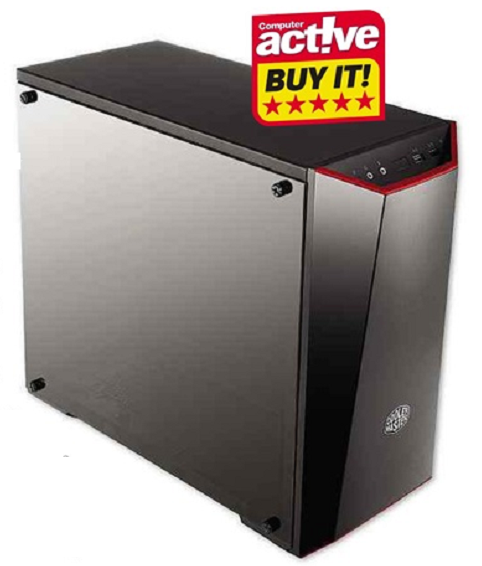 Clever component choices result in a fast PC at a modest price
Given that processor speeds usually tend to increase by increments, these are interesting times for PC buyers. To be fair, it's a few years since we pegged our 'midrange' score at the level of a current i5 system, but the Pyro Talon more than doubled those results, beating anything we've seen before at this price.
Like Chillblast with its pricier Fusion Titanium PC. Wired2Fire has made a very sensible calculation in the balance of processor and graphics card, which is that 3D gaming isn't everything and a slightly less advanced graphics card leaves more money in the budget for general processing power. In this case, the step down is from the popular 8GB GTX 1070 Ti graphics card to a 6GB GTX 1060. In our tests, we struggled to find a game that wouldn't run with smooth frame rates at Full HD on high graphics settings. Modest tweaks kept everything smooth at the higher 2560xl440-pixel resolution of some larger screens, and 4K was possible if we made more visible compromises. Its SteamVR score of 7.7 shows that you could run a virtual reality headset if you wanted to.
The 1060 can also provide hardware acceleration for creative software that supports it. You'd get a few more years of 3D gaming out of a more expensive card, but you wouldn't get a PC with the Ryzen 5 2600's all-round performance at the same time unless you spent a lot more.
To keep the system nippy. Windows 10 is installed on a Samsung 840 Evo SSD in the PC's single M.2 socket. You may recall we weren't too impressed with this drive in CCL's Reaper GT, but bear in mind that we were comparing it with the NVMe drives we've seen in systems. These take full advantage of M.2's high bandwidth to reach read and write speeds of up to 3GB per second – yes. that's gigabytes, not gigabits. But the Pyro Talon, and in this bracket the 860 Evo's read and write speeds of around half a gigabyte per second are fine, ensuring that noticeable delays are
SPECIFICATIONS
3.8GHz AMD Ryzen 5 2600 six-core processor • 6GB memory • 6GB GeForce GTX 1060 graphics card • 2TB hard drive • 250GB SSD • 2x USB 3.1 ports •   5x USB 3.0 ports • USB 2.0 port • Gigabit Ethernet •   HDMI, DisplayPort, DVI ports •Windows 10 Home •   381x208x456mm (Hx WxD) • Two-year warranty
kept to a minimum. The 250GB capacity is practical for a startup drive, and there's 2TB of hard drive on top of that for storing all your other files and programs.
Unlike the Fusion Titanium, the Pyro Talon comes in an appropriately sized case for its little Micro ATX motherboard, so you won't need to find too much room under your desk – or even on top of it. if the polygonal styling and bright red trim of Cooler Master's Master Box Lite case are to your taste. I here's modest scope for internal expansion, and although you don't get any ultra-high-speed external interfaces, there are plenty of ports, including a handy top panel with USB and headphone sockets.
VERDICT:
You might want to wait and see what other Ryzen 5 2600 PCs can deliver, but this one won't be easy to beat
5/5
Editor choice
Wired2Fire Pyro Talon Review
You might want to wait and see what other Ryzen 5 2600 PCs can deliver, but this one won't be easy to beat
Add your review
MORE DEALS

ALTERNATIVE:
Lenovo Legion Y720
Its first-gen Ryzen processor and RX570 graphics now look slower