Table of contents​ONE FOR RAW POWER – NETGEAR ORBI RBK50router and nodeONE FOR TECHNOPHOBES – GOOGLE WIFIthree nodesONE FOR KEEPING SECRET – UBIQUITI LABS AMPLIFI HDONE FOR RISKY CLICKS – TP-LINK DECO M5three nodesONE FOR LARGE HOMES – LINKSYS VELOPthree nodes
Mesh networking is the new hotness in Wi-Fi. Are you ready to take your network to the next level?
The days of the traditional router may be numbered.
We all live in complex homes. We all have those corners that stubbornly refuse to give up a decent signal. And most of us have to put up with an awkwardly- located central access point, which just makes solving the problem more difficult. There are options out there like powerline and Wifi repeaters, but mesh networks do it better: they send signal between individual nodes, usually using a dedicated radio channel, meaning you can place them in those murky areas of your home that really need the boost. Still got black spots? Then you can seamlessly add another. It's easier, it's faster and it's all app-controlled.
ONE FOR RAW POWER – NETGEAR ORBI RBK50
router and node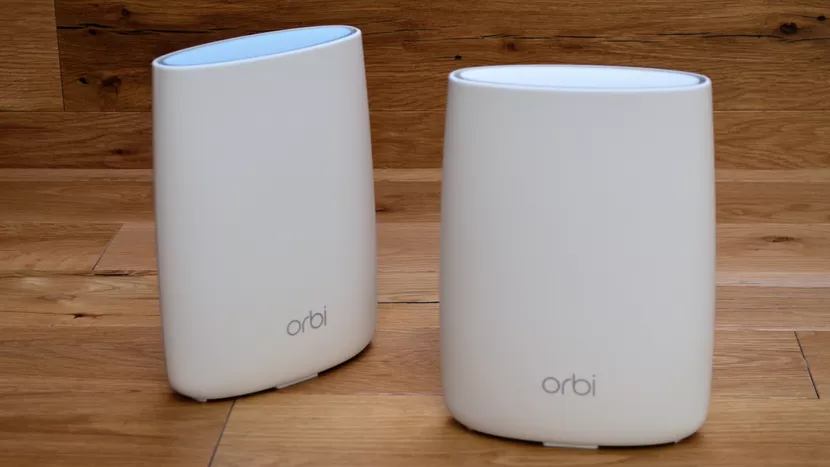 Netgear's high-end kit gets pretty much everything right when it comes to mesh networking. Perhaps its most notable advantage is its tri-band support. Where most mesh kits use the same radio channel for communicating between mesh nodes as they do for regular communications, the Orbi RBK50 has a channel devoted entirely to relaying data between the satellite(s) and router. That's a big deal, and it shows. Here, the router and satellite both have a generous collection of Ethernet and USB ports, and setup is very simple.
ONE FOR TECHNOPHOBES – GOOGLE WIFI
three nodes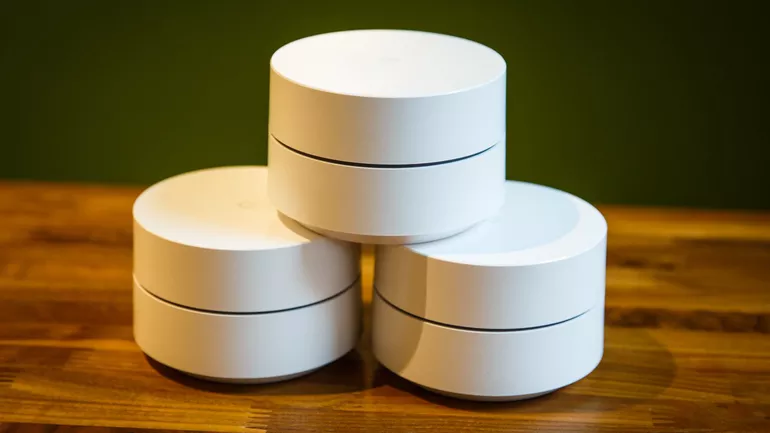 Google's marketing muscle fired up the mesh Wi-Fi revolution, and the product itself doesn't disappoint. Immensely simple to set up, it's USB-C powered for maximum flexibility, looks cute and features two Gigabit Ethernet ports. Google Wifi does a great job at shaping traffic for top speeds while streaming or gaming, and effectively filled our home despite its relatively low- power AC1200 signal. The accompanying app is a masterwork, making keeping tabs on your network and configuring individual devices an absolute breeze.
ONE FOR KEEPING SECRET – UBIQUITI LABS AMPLIFI HD
router and two nodes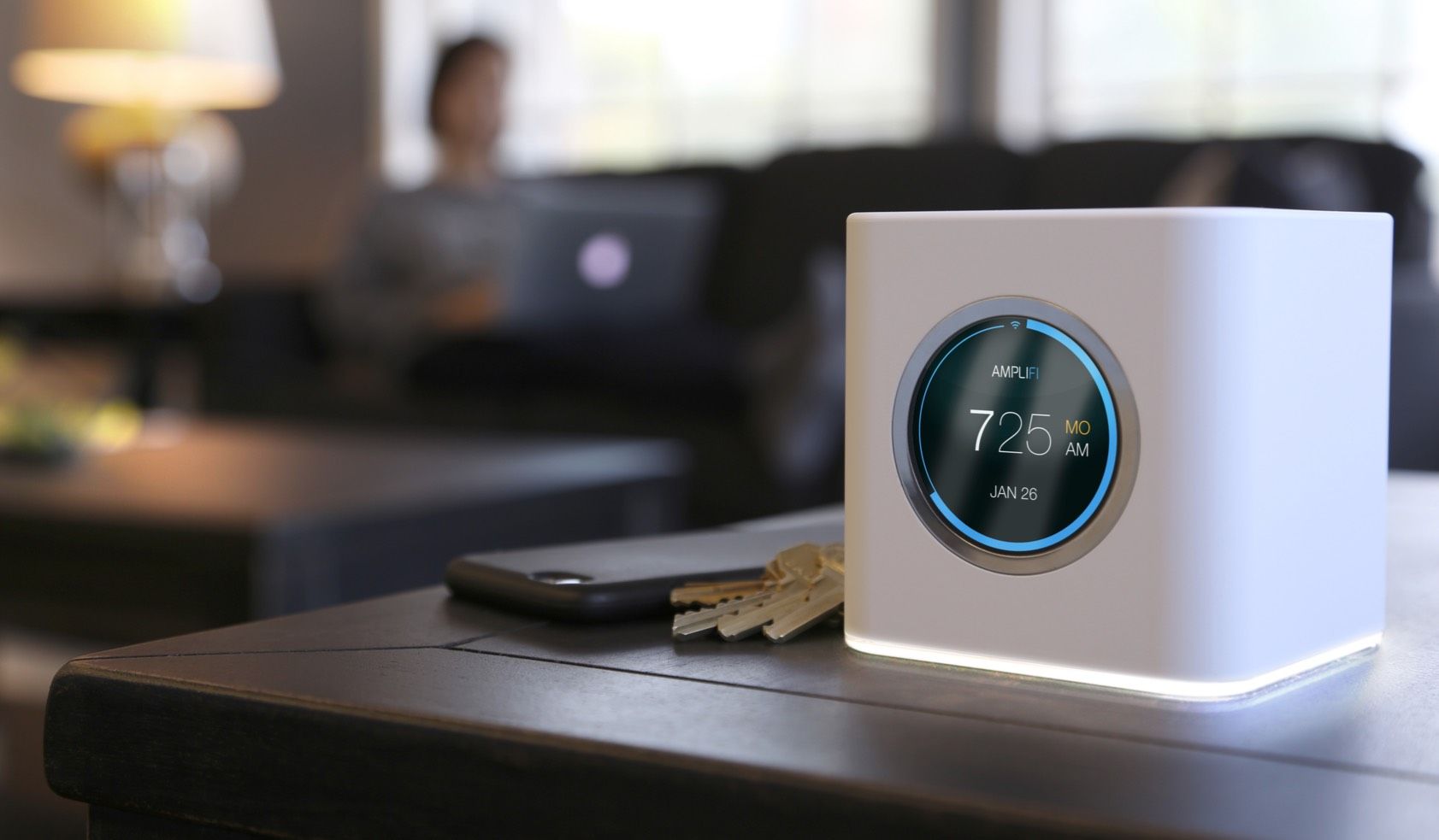 Amplifi doesn't expect you to reserve a precious surface in your home for a Wi-Fi module: its nodes are magnetically hinged onto plug sockets. Plug them in, angle them until the LEDs display the best signal, and you get nigh-invisible extension. The central router module, a neat cube with a circular touchscreen display, controls them all, offers an at-a-glance look at your network speeds (or a clock) and includes a four-port Gigabit switch. No dedicated interconnect radio means this isn't the fastest combo, but it's cheap and discrete.
ONE FOR RISKY CLICKS – TP-LINK DECO M5
three nodes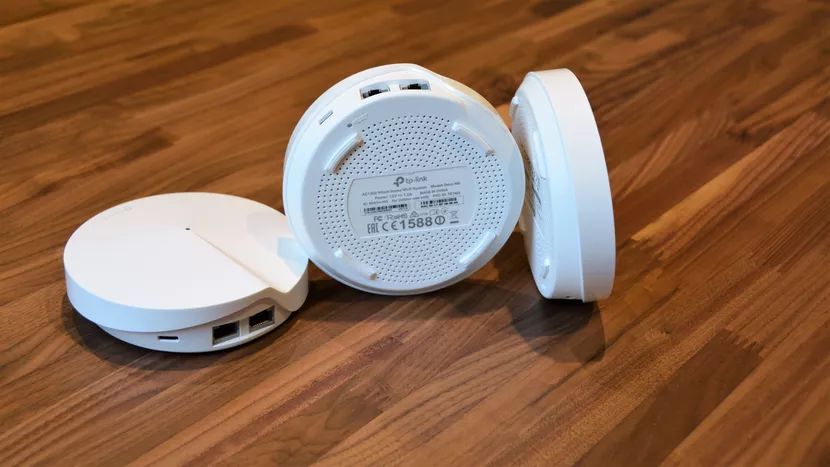 The Deco's nodes, far squatter than Google's with a twisty conical surface to discourage you from using them as a coaster, don't have quite the same broadcast power as some of the others on test, although this three-node collection is cheaper than most two-node packages. They're simple to set up, with an app that offers a good slice of peace of mind: built-in traffic-sniffing antivirus and web filtering, which you can activate and configure on groups of machines at once, gives supreme control over network activity.
ONE FOR LARGE HOMES – LINKSYS VELOP
three nodes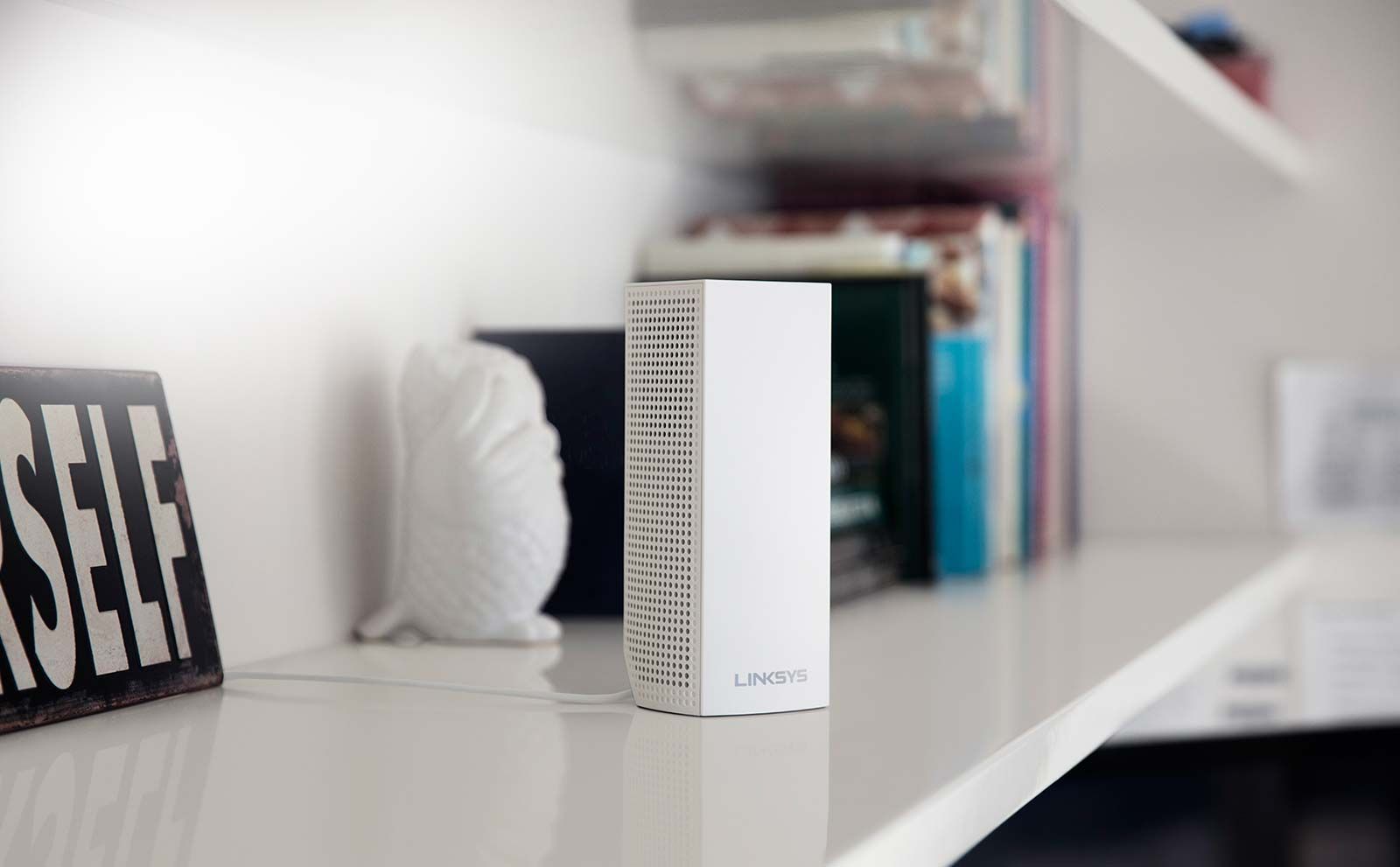 Parental controls are a common feature on modern Wi-Fi devices, but few do it better than Linksys in its excellent app. Filtering by device, temporarily activating guest access, cutting out certain kinds of content – it's easy. Set-up is similarly simple, just plug in, poke the app a little and go. Each unit packs a powerful AC2200 radio combination for an amazing signal, even when just running a pair of nodes. Adding an extra unit is costly, though, at an eye-watering, and three is probably overkill for a two-storey home.