D-Link DIR-842 review – These days most of us already have broadband, so we already have a Wifi router. The main reason to replace it is to improve speeds or reception – purposes very well served by the new mesh routers we've reviewed over the past year. If you happen to need a new Wi-Fi router but don't have a particularly big home nor require state-of-the-art features, D-Link's DIR-842 might fit the bill for under 50 quid.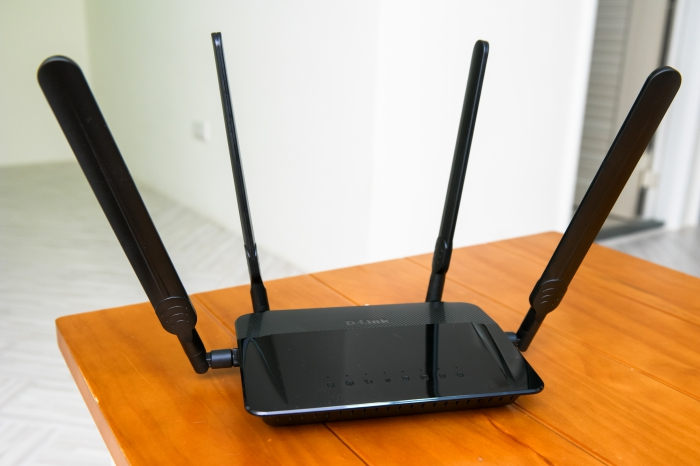 It's basic, cheap, and very effective at short distances
With its shiny black case and impressive-looking aerials, you wouldn't guess it was fairly rudimentary, even if it is compact.
You can sit it on a surface or hang it on the wall. Note that it's purely a router. If you currently have a router and a separate modem unit, you'll plug the DIR-842 into the modem's Ethernet port. If you're using a combined ADSL/VDSL modem-router, you'll need to add the DIR-842 on, which may require reading the manual.
There's no USB port to add a shared printer, and it's not compatible with You View services such as BT Sport (a common limitation). But the DIR-842 is a solid enough 802.11ac router, creating two networks, one for the old 2.4GHz band and one for 5GHz. You can also set up a guest network on each band, to avoid giving out your own password.
Setup is pretty simple, and options are then chosen via a web browser. Basic features like DHCP allocation, port forwarding and dynamic DNS. Web filtering can be set up, but it's fiddly. If you do want to try to block unsuitable
D-Link DIR-842 review: SPECIFICATIONS
Dual-band 802.11ac/a/b/g/n/ac • 4x Gigabit Ethernet ports • 1x WAN port • 38x190x133mm (HxWxD) • 288g • Two-year warranty sites, your ISP's options may be a better bet.
In our tests, the DIR-842 was just as effective at short distances as a typical mesh router. At the furthest corners of the house, though, we got much lower speeds or couldn't keep a reliable connection at all. Within its limitations the DIR-842 worked fine.
D-Link DIR-842 review: VERDICT
A single-box router can't compete with the latest mesh routers, but if you can live with its limitations, it's good value
D-Link DIR-842 review: ALTERNATIVE
TP-Link Archer C9
This adds USB sharing and extra performance tweaks.
Choose the D9 if you need an ADSL modem built in
Editor choice
D-Link DIR-842 review
A single-box router can't compete with the latest mesh routers, but if you can live with its limitations, it's good value
Add your review
|
Read reviews and comments

D-Link DIR-842 review: Accentuating the 'less' in wireless