Vivaldi 3.6
Will someone please stop Jonni Bidwell incessantly whistling the first movement of Four Seasons as he reviews this browser. Read our Vivaldi Review.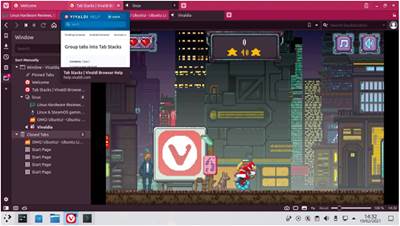 IN BRIEF
A web browser based on Chromium, but inspired by the original Opera. Chock-full of innovative and original features, but partly proprietary. See also Ungoogled Chromium and Brave.
We've really gone off Chrome and Chromium here at remote Top New Review Towers. Firefox has latterly become much more our cup of tea, and there's good reason for it to be yours, too.
However, there are other choices and if you were looking then you could do a lot worse than Vivaldi. It's based on Chromium, so you get the speedy Blink web engine plus the option to install extensions from the Chrome store. But it looks, frankly, much more interesting than either Google browser, and hopefully cares a little bit more about your privacy.
Why hopefully? Thing is, Vivaldi isn't quite open source. There are a few Ul features that Vivaldi Technologies has decided to keep to themselves, and that's fair enough. But it'll also stop a lot of people reading right about now. See ya then…
A night at the Opera
If you're still here, and you remember the Opera browser (we know, it's still going, we mean the OG Opera browser before it became a skinned version of Chromium, with the Presto interface and weird mouse gestures and such), you'll be pleased to know that Vivaldi's look is inspired by that minimal Presto layout. It also has a number of exciting modern features, which we'll get to.
Installing Vivaldi on your favourite distro is easy enough. There are DEB and RPM files available for download, but sadly no Snaps or Flatpaks. Besides the bold red titlebar (it mimics the palette of whatever web page you're looking at but you can, along with all Vivaldi's other cosmetics, customise this) the first thing we noticed was that the default search engine was Bing. How quaint. What's rather nice is that as well as changing the default to DuckDuckGo, you can use a single character prefix (helpfully listed when you click the dropdown box) to search with it any of the others.
There are all kinds of other keyboard shortcuts, by far the most awesome of which is Ctrl+. Which "stops the internet". Well, it pauses media, fades whatever you were looking at and encourages you to take a break and "focus elsewhere". Where Vivaldi excels is tab­management. New in version 3.6 is the double-decked tab bar, which not only enables you to have twice as many tabs visible, but further develops its Tab Stack functionality. You can group tabs together in a stack, and where previously you would switch between them using a tiny widget atop the stacked tab, now the sub-tabs are shown in the second row. Besides stacking tabs, you can also tile themes, which makes the browser act much like a tiling window manager.
While the browser is based on Chromium, the only communication it has with Google servers is to update safe browsing lists and components (such as the Widevine library for playing Netflix and such). There's a page full of privacy options (many of which are activated by default), and you can, of course, enable Do Not Track from here.
Vivaldi's other main feature is its sidebar, which we think does a great job of unifying access to bookmarks, history and downloads. It's also quite stylish in the way it smoothly reflows webpages out of the way of the left margin as it slides into view. You can rearrange everything in Vivaldi, so if you want to put the tab bar to one side and made the sidebar a top bar then you can. There are some nice themes too. from the ubiquitous Dark Theme to the fabulous Hot Pink. The browser can even integrate with the Philips Hue smart lighting system. Madness.
Verdict
DEVELOPER: Vivaldi Technologies
WEB: https://vivaldi.net
LICENCE: Freeware
If you don't mind a proprietary browser, this is much more interesting than Chromium and every bit as quick.
» Rating 8/10