Virtual Machine Sof tware
David Hayward looks at virtualisation
Virtualisation is the future." That was once the mantra that was driven into me on a regular basis by the head of an IT department some years ago. I used to take his prophetic ramblings with a pinch of salt, nodding and agreeing at the appropriate points in the conversation and trying to avoid eye contact. As it turns out, though, he was right.
Virtualisation in the server room is one of the biggest changes to happen in the last 20-odd years. While a new server instance would have once meant pricing up a physical machine, getting it ordered, having it arrive, then building, configuring, burn-in testing and configuring some more before aggravating your hernia by manhandling it into its allotted space within the actual server room, virtualisation could be done in mere minutes.
Imagine the scenario: the marketing department wants a server to centrally store all their contacts, spreadsheets and photos of the Christmas party. It has to be accessible externally, by on-the- road staffers, and the more sober of the team need to be able to administer it to a higher degree than usual. The solution these days is simple. Just create a new virtual OS in the cluster, call it Marketing and assign the admins.
The virtual server can be backed up easier, maintained easier and restored within seconds should something ever go wrong with it. Virtualisation is the way forward.
Thankfully, it doesn't have to be limited to the workplace; us mere mortals can enjoy virtualisation just as much as demi-god network administrators. Most of us already do, with a Linux test virtual machine within our usual Windows build- or vice versa. Anyway, let's have a quick look at a handful of virtual machine programs to see what's available.
VirtualBox
Oracle's VirtualBox has been available in one form or another for around eight years now. It started off as Innotek's VirtualBox, which was then acquired by Sun Microsystems, which in turn was bought by Oracle, and the rest is history.
It's an extremely easy virtual machine to use, set up and configure, and in most cases it's reasonably stable and powerful enough for the average user to enjoy the benefits of virtualisation.
More experienced or advanced users may find it a little limiting, in the way that it emulates certain hardware (if emulate is the right description). But VirtualBox prides itself on being more friendly than most of the competition.
It's free and is available at goo.gl/5JmhvO, together with the extra features and any documentation or instructions.
VMware
If VirtualBox is seen as the beginner's virtual machine software, then VMware is for the advanced and professional user.
VMware Player and VMware Workstation are used the world over by companies, training organisations and home users who want their operating system to run in as close a real-life environment as possible, while still having the benefits of being virtual.
The free solution, VMware Player is a cut-down version of the enterprise-powered VMware Workstation, but it's still an extremely capable virtual machine program. Setting up a virtual machine is easy enough, just as with VirtualBox, but behind the scenes you can do a whole lot more and tweak the machine.
For more information and to get hold of the downloads, go to goo. gl/RqanaX.
Parallels
Parallels isn't a virtual machine that many PC users will have heard of before, chiefly because it's designed for Mac users to run Windows on their wonderfully stylish and super-expensive machines.
It's a quick, easy and powerful solution for Mac users who need a copy of Windows at hand for testing, but it's also a lot more involved than most other, usual virtual machine programs.
The newest version, Desktop 10, allows Mac users to right-click a number in Internet Explorer within the Windows VM and call it via their iPhone. There's also iMessage and SMS text sharing from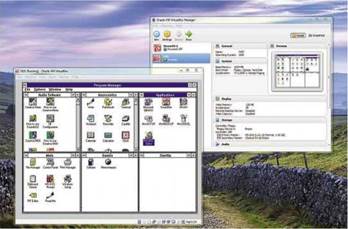 VirtualBox on Windows 7, running Windows 3.11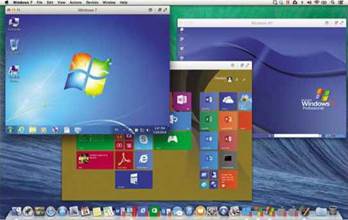 Parallels for the Mac, running multiple Windows VMs
Windows and support for iCIoud Drive and iPhoto Library interaction, and you can cross share files, images, video and just about everything else from the Windows VM to the Mac and its connect iAccounts and iWhatever else.
It's interesting stuff, but it's not free. However, more information can be found at goo.gl/4bSmNk.
QEMU
QEMU is an exceptionally powerful virtualisation tool, but it's not the easiest to get to grips with.
Its main use is within Linux, where it can be configured to emulate nigh on every platform imaginable. There are Windows-based VMs for QEMU, Mac VMs, even Android and other ARM-based VMs like the Raspberry Pi.
Getting a VM up and running can often be a hit or miss affair, and frustration levels do rise if a virtual machine refuses to load the way you expect. But perseverance is the key, and with some clever Googling and asking the right questions on forums, you'll end up with one of the most powerful and customisable virtual machines ever. Incidentally, we once managed to get Windows 3.11 and DOS 6.22 running in QEMU from a Raspberry Pi.
QEMU may not look as pretty as VirtualBox or VMware, but it allows you to push the limits of virtualisation and create VMs that behave how you want them to. For more information, take a look at the QEMU main page at goo.gl/XMGsCv.
Windows Virtual PC
Windows Virtual PC gets a lot of stick from the virtualisation community, which is a little unfair as it's actually quite good.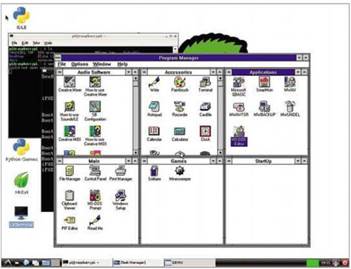 Windows 3.11 on the Raspberry Pi using QEMU, just for the heck of it
True, it's not designed to run a copy of Linux under Windows 7, nor will it allow you to tweak the guest operating system environment in the same way that the other examples we've looked at can. But for simply running an older version of Windows within a later version of Windows, which some people want to do, it's perfectly fine.
Windows Virtual PC has been freely available since 2006 and has evolved into its modern incarnation as a VM product that can run on Windows 7 PCs (Home Basic, Home Premium, Professional, Ultimate and so on) as the host machine, with guest operating systems that include XP, Vista and Windows 7, of varying service packs and editions.
It's pretty small and basic but capable. For more information and the download link, go to goo.gl/OJfQXy and have a read of what's needed.
Virtualising Everything
There are probably more virtual machine examples available, but since we're short on space, we'll let you explore the rest. Nevertheless, these five will take some time to digest and explore, mm
Windows Virtual PC details
If you're interested in exactly what Windows Virtual PC can be run on and with, here's some info directly from Microsoft:
"Windows Virtual PC is the latest Microsoft virtualisation technology. You can use it to run more than one operating system at the same time on one computer and to run many productivity applications in a virtual Windows environment, with a single click, directly from a computer running Windows 7.
Windows Virtual PC supports the following host and guest operating systems:
•        Host: Windows 7 Home Basic, Windows 7 Home Premium, Windows 7 Professional, Windows 7 Ultimate, Windows 7 Enterprise.
•         Guest: Windows XP Service Pack 3 (SP3) Professional, Windows Vista Enterprise Service Pack 1 (SP1), Windows Vista Ultimate Service Pack 1 (SP1), Windows Vista Business Service Pack 1 (SP1), Windows 7 Professional, Windows 7 Ultimate, Windows 7 Enterprise."
So now you know.