VIEWSONIC XG2703 – PURE GAMING PROWESS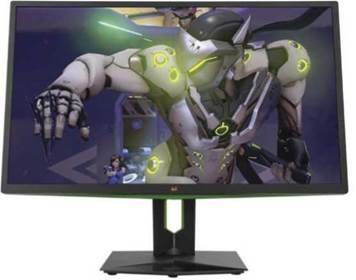 And now we come to our final display review, which tends towards the very high end of the spectrum. Designed first and foremost for gamers, it's packed with every feature that will give pro-gamers a grin. Sure, they're going to have to pay for it, but Viewsonic has included everything necessary to give serious gamers the edge they need.
First and foremost, it's got a seriously high refresh rate. It maxes out at 144Hz, but there's also a special overclocking option if you're feeling daring. Hit this button and the monitor reboots to a refresh rate of 165Hz. We tested it and actually hit 168Hz, without any issues at all.
The grey to grey pixel response time is just 4ms, so there's no concerns about motion blur.
It's also got the perfect resolution of 2560 x 1440, delivered via an IPS panel.
This means you get the benefits of a high refresh rate, plus better colors and wide viewing angles. Unlike every other display, the stand comes preassembled, making setup simple. Just take it out of the box, plug it into your graphics card and power, and you're good to go.
There are several pre-sets for different game genres, enhancing contrast and brightness depending on the genre, but we left it at normal mode. The panel also supports G-Sync and ULMB, the latter of which is like G-Sync but with lower brightness yet smoother motion.
It's not the most attractive display, with a thick bezel and
"You get the benefits of a high refresh rate, plus better colors and wide viewing angles"
plain stand, but at least the stand allows for full adjustability of height, tilt and rotation. Viewsonic claims a dynamic contrast ratio of 120,000,000:1, yet we tested with all dynamic modes disabled. In this case the display hit 1166:1, the second highest in the test. As for color accuracy, the Viewsonic came out in the middle of the pack. Again, this is nothing to be ashamed of, as today's displays are very accurate when it comes to colors.
One thing that is lacking is the number of inputs. There's just a single HDMI 1.4 and DisplayPort 1.2, though once again we see an abundance of USB ports, with five
Just one HDMI and DP input for this one…
in total. Two are USB 2.0 TYPE A, while another two are USB 2.0 TYPE B, with the last being USB 3.0 TYPE A.
If you need the ultimate in refresh rates over everything else, the Viewsonic XG2703 ticks the boxes. There are displays with higher refresh rates, yet the way they achieve this isn't exactly legit. We prefer the Samsung's colour reproduction, but the drop in resolution is a big disadvantage.
Best ViewSonic XG2703 prices ?
MORE DEALS

KEY SPECS
27in • 2560 x 1440 • IPS • 165Hz oc refresh rate • 4ms pixel response time grey to grey
---
ViewSonic XG2703-GS 27" 165Hz IPS WQHD 1440p G-Sync Gaming Monitor HDMI, DisplayPort, ViewSonic
Price History