Asus ROG Swift PG27VQ Review – 165Hz refresh rate plus 1ms latency equals the smoothest gaming monitor around
The Asus ROG Swift PG27VQ is, on paper, the perfect match for a fast GPU that spits out hundreds of frames per second at 1440p in your favorite games. But what's it like in practice?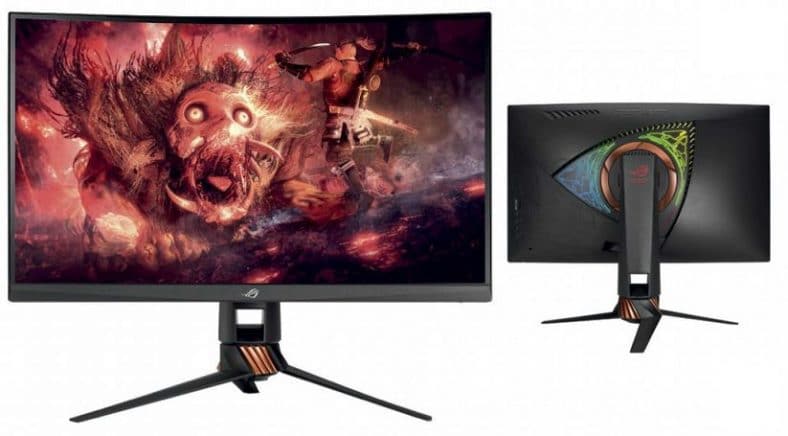 Inside is a TN panel that supports a 1ms response time for virtually lag free gaming. TN panels aren't as nice to look at as an IPS panel, but if you want low response times, TN is the only way to go. To Asus's credit, they've made a nice-looking TN panel, but the color gamut is average, with only 72% of the NTSC color space.
If you plan going multi-display, three of these units make a nice panoramic scene thanks to the gentle 1800R curvature and slim 8mm bezel. When placed together, they're ideal for racing simulators or cockpit-views in flight simulators. To make aligning your multi-monitor setup easy, there's a built-in alignment feature which adds guidelines to the edges of the display.
Overlays are activated by pressing a dedicated GamePlus button on the rear of the PG27VQ. Crosshair mode adds a persistent crosshair in the middle of the screen for pinpoint accuracy in first- person shooters. An on-screen timer lets you know how long until the next respawn, or simply how long you've been playing.
The PG27VQ supports Nvidia's G-Sync system to remove annoying blur, stuttering and screen tearing you experience when the frame rate of the video doesn't match the monitor's refresh rate. G-Sync adapts the monitor's refresh rate automatically to match your game's frame rate and the result is buttery smooth gaming that looks amazing. For games without G-Sync built in, there's also ULMB (Ultra Low Motion Blur) support.
Another feather in the PG27VQ's cap is Nvidia 3D Vision support. With optional stereoscopic glasses, movies and photos can be seen in 3D, at up to 120Hz. If you're an AMD graphics card owner, none of this fancy stuff works, so you should investigate another monitor for your setup.
The PG27VQ is the first monitor to be included in the Aura Sync family, with four lighting zones, including ambient lighting behind the monitor. The stand is fully adjustable, allowing modification of the angle, swivel and height of the display. There's a common 100mm x 100mm VESA amount on the rear for use on any standard monitor arm or wall mount.
Connectivity wise, there's all the ports you need, with HDMI 1.4, DisplayPort 1.2, a 3.5mm audio socket for headphones
if you're an AMD owner, none of this fancy stuff works, so you should investigate another monitor
and two USB 3.0 ports. The PG27VQ uses an external power supply, which is great as the power supply in monitors is often the first thing to crap out.
All up, if you've got rig with an Nvidia card capable of high frame rates, you won't be disappointed. 1ms response times will be appreciated by all and support for Nvidia's 3D vision is just the icing on the cake. For those already invested in the Asus ROG and Aura Sync system, the ROG Swift PG27VQ is a must buy.
ANTHONY AGIUS
Asus ROG Swift PG27VQ Review: VERDICT
If you're into high framerates, Nvidia cards and Aura Sync, look no further.

Asus ROG Swift PG27VQ Review
If you're into high framerates, Nvidia cards and Aura Sync, look no further.
PROS
1ms response time
Heaps of connectivity
165Hz
CONS
Expensive
Aura Sync adds price not performance
Add your review

27" WQHD (2560x1440p) 1800R curved panel with a 1ms response time and overclocked refresh rate up to 165Hz embraces ROG standards and design
ASUS Aura Sync RGB lighting provides a nearly endless spectrum of colors with the ability to synchronize effects across an ever-expanding ecosystem of ASUS Aura Sync enabled product
Last update was on: 2021-10-28 3:00 pm
27" WQHD (2560x1440p) 1800R curved panel with a 1ms response time and overclocked refresh rate up to 165Hz embraces ROG standards and design
ASUS Aura Sync RGB lighting provides a nearly endless spectrum of colors with the ability to synchronize effects across an ever-expanding ecosystem of ASUS Aura Sync enabled product
Flexible connectivity options with DisplayPort 1.2 and HDMI 1.4. Display Viewing Angle (CR≧10) : 170°(H)/160°(V)
Marathon ready with game-grade ergonomics such as tilt, swivel and height adjustments and ASUS Eye Care Technology to reduce eyestrain via blue light filter and flicker-free backlighting
NVIDIA G-SYNC ensures smooth gameplay by eliminating screen tearing and stuttering
Industry leading 3 years warranty with Rapid Replacement
Mounting type: VESA Wall Mounting : 100x100mm. 3D Technology

27 inch 1800R curved gaming monitor with ultra-fast overclockable 165Hz refresh rate designed for professional gamers and immersive gameplay
NVIDIA G-SYNC Technology for no-tearing visuals and lightning-fast 1ms response time for blur-free graphics
Last update was on: 2021-10-28 3:00 pm
27 inch 1800R curved gaming monitor with ultra-fast overclockable 165Hz refresh rate designed for professional gamers and immersive gameplay
NVIDIA G-SYNC Technology for no-tearing visuals and lightning-fast 1ms response time for blur-free graphics
ASUS Aura Sync lighting technology provides the ambient lighting to achieve perfect synchronisation with Aura-enabled components and peripherals
3 Pin Plug is present at the bottom of the box. Physical dimension with stand(WxHxD):614.5 x (422.2~522.2) x 268.7mm, physical dimension without stand(WxHxD):614.5 x 370.3 x 113.8 mm
VESA Wall Mounting : 100x100mm