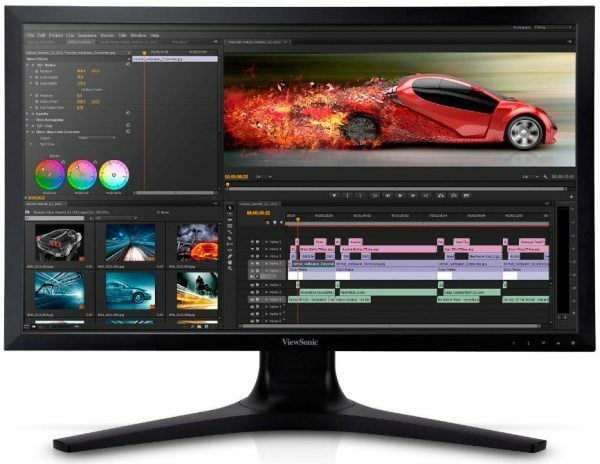 ViewSonic tries to muscle into the professional market with a new 4K screenNot long ago, I covered ViewSonic's VX2880ml, a 28″ 4K screen for less than £500. The problem with that display was that it only supported 30Hz in 4K resolution, making it less than optimal for gamers.Learning from those lessons clearly, the VP2780-4K is a marginally smaller 27″ panel that can deliver 60Hz operations at full resolution, even if it's really built for CAD engineers and photographers.
Monitors that start with VP from ViewSonic are part of its professional range, and for that sector the price of less than £ is something of a tease, to people used to paying double that.And unpacking this for the first time, the design certainly looks the part. It comes pre-attached to a chunky support arm that offers plenty of vertical travel, enough to spin the screen into portrait mode when required. As it's built on IPS technology it features 178° viewing angles in both horizontal and vertical, making it ideal for rotating.To retain stability while the screen moves, the front feet of the support are widely placed, but without this design choice it would be generally unstable when at maximum vertical positioning.The support stand provides a strong and stable base, and the input port options are equally impressive. You get two DisplayPort inputs, one each of full size and another mini-DP option, and no less than three HDMI ports. One of these HDMI ports is the new 2.0 spec with 10-bit colour support, and the other two are the lesser MHL 2.0 standard.My first reaction was to wonder in what situation you might need five potential inputs. However, it transpired that ViewSonic's picture-in-picture (PIP) technology actually allows you to use the 4K resolution to display four 1080p sources at any one time. And for good measure, it also has a four-port USB 3.0 hub built in.But the real party trick of this design is its colour presentation, because according to ViewSonic, the panel in the VP2780-4k can deliver 100% sRGB, and 80% of Adobe RGB definition with a colour variance (Delta-E) of less than 2.While to most people the colours just 'look good', these are the sorts of specifications that make those working with colour professionally swoon. As a reviewer, my problem is that my colour calibration hardware just isn't up to the job of demonstrating this level of quality, and the human eye can only detect a Delta-E of 1.0. Across the majority of the ViewSonic VP2780-4k's colour range, pixel colour variation is more subtle than that margin and therefore beyond a human's ability to appreciate.There is only one slight fly in this multi-spectral ointment, and that's a slightly inconsistent backlight. It's definitely brighter at top centre than the corners, but only by a degree that would be noticed by professional designers. That's a minor shame, because in almost every other respect the VP2780-4k is a very classy act indeed.It needs to be stated that colour accuracy is often held hostage to fortune by the actual environmental lighting that designers work in, and unless it's tightly controlled, any discrepancy exhibited by this screen will be a significant factor.For those who aren't diagnosed as pantone positive, this display delivers a very rich gamut that brings photographs, videos and 3D games alive. There isn't much movie or TV content available at this resolution, but what I could find looked stunning and oddly 3D, in a way that stereo separated imagery fails noticeably to successfully convey.The question that needs to be asked is whether you could use this at home. If you have the cash, then I don't see why not, unless you're a frame-rate obsessive wanting the almost lag-free refresh that only TN displays can deliver. But as IPS and 4K screens go, there's surprisingly little input lag or lack of response at 60Hz, amazingly.These idiosyncrasies aside, this is a remarkably high-quality screen that ViewSonic currently offers with a zero dead-pixel warranty. And at this quality level, the price is a snip even if it might seem excessive for most consumers.There are still ongoing issues using a 4K screen for the Windows desktop and in games I've noticed, but these are likely to be addressed as products like this one become more commonplace.In the meantime, if you'd like decent 4K panel but refuse to pay silly money, then the ViewSonic VP2780-4k is a very plausible option. Mark Pickavance
A 4K display that play and work equally well.
• 27" 4K UHD IPS monitor with 100% sRGB and 99% EBU for CAD/CAM, video editing, photography• Natural resolution of 3840 x 2160• 1.07 billion colours with Delta E<2 for accurate colour performance• HDMI 2.0, dual DisplayPort, MHL 2.0, 4 x USB3.0 ports• Multipicture support for viewing up to 4 video sources• Fully ergonomic stand with pivot, height adjustment, swivel and tilt