Dual-band Wireless Routers
Trendnet AC1750 Dual-band Wireless Router
DETAILS
Manufacturer: Trendnet
Website: goo.gl/m8smQ4
Requirements: Separate ADSL modem, any modern browser for administration
This is the second Trendnet product to feature in this group test, and it would seem that Trendnet has tried to raise the bar somewhat with this example.
The AC1750 dual-band wireless router is a pretty impressive looking box that measures 72 x 151 x 191 mm and comes with a vast range features. First off, there's the dual-band technology, with 2.4GHz and 5GHz support for 802.1 1a/b/g/n/ ac through a pair of powerful internal antennas.
The rear of the router has four gigabit Ethernet ports and a single gigabit WAN port, along with a USB 2.0 port, power and power button and a WPS button. The front of the router has a simplified two LED arrangement, indicating power and internet connectivity; there's also a pin-hole reset located at the base of the device.
The design is quite impressive, with it being finished in a matte black and constructed from a lightweight plastic. The sides boast the Trendnet logo on top of a brushed aluminium effect panel, and there's a glossy black base to finish things off nicely.
There are plenty of features available with the Trendnet AC1750, such as advanced traffic shaping, traffic mapping, an isolated guest network, parental controls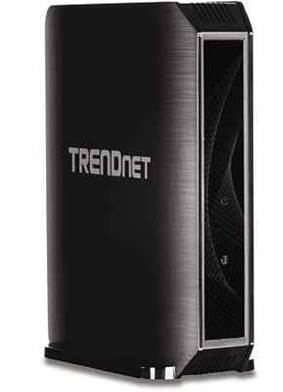 The Trendnet AC1750 looks and performs exceedingly well
and targeted beam forming for directing stronger wireless signals to a specific location. However, chief among the features is the Qualcomm StreamBoost technology.
The Qualcomm StremBoost technology essentially prioritises traffic flow for gaming, media and voice data in a more aggressive quality of service fashion. Although we didn't specifically measure the throughput of the router, we did find that our attached devices seemed to behave and navigate better through gaming and media content than with the other routers on test. And to add to that, the Skype call we conducted on the wired network didn't have quite as many jumps in video or momentary losses in voice as with the other routers.
You'll also find IPv6 support, two additional SSIDs per band, a Samba and FTP server and port forwarding for special applications and games. Needless to say, there's everything you could possibly ask for from a modern router within this single unit.
There was one problem we had with the software side of things, however. While easy to use, we did find the navigation of the web administration a little clunky and prone to not loading menu and image holders at times. A quick page refresh usually cured this, but navigating through the menus did seems very slow in comparison to the other Trendnet router we tested for this group.
Overall, we found the Trendnet AC1750 dual-band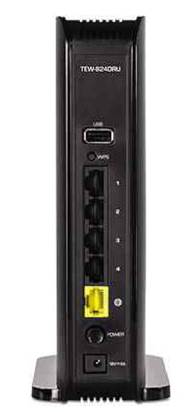 However, the web-based portion did feel a little clunky at times
wireless router a pretty solid and speedy network device.
It may lack USB 3.0 and an ADSL port, but if your ISP is set up to take it and you want a router with gaming, media and voice/video prioritised traffic, then this is certainly one you should be looking into. It's priced reasonably well too.
Best Trendnet AC1750 Dual-band Wireless Router prices ?

$

167.88
1 used from $64.97
1 new from $167.88
in stock

MORE DEALS