In the good, old fashioned world of high street shopping, I can be pretty sure that I've bought a hedge trimmer, a cinema ticket or groceries without having given the retailer permission to hound me on the phone or post a brochure through my door on a daily basis. But is the same true in the world of digital sales and goods? Sadly not. and it all comes down to the tricky tickbox.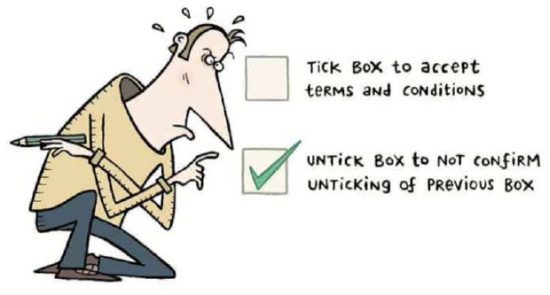 You'll find it lurking somewhere on the checkout page. Sometimes it says something simple: 'tick here if you want to receive further offers by email'. At other times, though, it says 'tick here to opt out of' the same. To make it worse, you might get one box saying 'tick here to opt out of receiving further offers from carefully selected partners', followed by another that says 'tick here to receive further offers from us'.
You may have to tick a box that says 'I accept the terms and conditions', but not tick the box that says (and I'm paraphrasing) 'please clog my inbox with spam'. You'll even find sneaky variations on a theme, such as 'tick here to opt out of our mind-blowing offers, like the miserable git you are' beneath 'tick here to receive more offers, because you like saving money and you're surprisingly good looking too'.
Sometimes the tickboxes are lurking at the bottom of the web page, beneath the point where most of us care to scroll. At other times the text is padded with nonsense and rendered in some ludicrously illegible font: the digital version of the classic small-print trick. Either way. the blasted tickboxes seem hellbent on befuddling those with poor vision, poor judgement, poor concentration or – in my case – all of the above.
If you're lucky, you'll end up with weekly or daily emails alerting you to the existence of people you don't know, events you don't care about and products you don't want. If you're unlucky, you'll end up with those things, plus cold callers and unwanted texts. But the tickboxes I hate most are the ones you get when you install some apparently useful bit of software, asking you to opt in or out of some hideous, malware-crammed browser add-on. A moment's inattention can be disastrous, and instead of getting Google, I get some homepage full of dodgy security tools.
Unsubscribing to an email newsletter is a painful process, but uninstalling software can be a darn sight worse. I like to think I know enough to spot what's happened then go and fix it, but how many people end up living with a toolbar or homepage they don't want because they are missed that crucial tick? These evil tickboxes prey on our inability to focus on the small print, and while the authorities occasionally make an effort to put a stop to their confusing practices, the bad guys always seem to keep one step ahead. All we can do is double-check each tickbox, and make damn sure we know exactly what it means.
Tickbox tv complaints
Can Sky refuse to fix my faulty TV box?
In March 2010,1 took out a Sky TV package, but now the HD box is faulty. Sky says it won't repair it and I've got to pay for another. I can't access Sky without it, so what are my rights?
John Robertson
Sadly, John doesn't have any rights. Once a customer's initial 12-month Sky subscription ends, the set-top box becomes their property, not Sky's. The company still remains responsible for fixing inherent faults, as required by the Consumer Rights Act (introduced in 2015) or in John's case the Sale of Goods Act. But this protection lasts for up to six years only, so the deadline has passed.
John's no longer tied into a subscription, so we suggested he talk to Sky. If it wanted to keep his business he could try asking for a discounted replacement set-top box. But Sky wouldn't budge on the price and John wasn't interested in having the company's new Sky Q box.
So we looked for alternative solutions. We came across quite a few sellers of second-hand and refurbished Sky boxes on Amazon Marketplace and eBay. One online retailer, Richard Adoof of Chigwell Satellites, told us that John shouldn't have a problem using one of these devices. It's legal to use a second-hand box as a Freeview tuner or to access Sky channels you subscribe to.
However, Richard said that buyers should make sure they aren't buying a fake box, and that they legitimately own their existing box (ie, that their initial contract has ended). He also mentioned that Sky sometimes makes it difficult if you ask it to 'pair' a current viewing card with a replacement box, but you can do this yourself.