Asus BW-12D1S-U External Drive
DETAILS
•    Manufacturer Asus
•    Required spec USB 2.0/3.0 port Windows, Linux, Mac USB enabled TV.
Where the traditional manufactures have opted for a classic optical drive design, Asus has decided to go one better when it comes to producing an external Blu-ray drive.
The Asus BW-12D1S-U is a startling looking drive that's close to looking like a nettop computer rather than a dedicated external Blu-ray optical drive. It can handle BD-R/ RE/ROM/R (dual layer) and ROM dual-layer read speeds of 8x, DVD Rat 16x, DVD RW at 12x and BD-R at 12x, BR-RE at 2x and CD-R at 40x, among others.
This is a USB 3.0/2.0 drive, so when hooked up to the right connection, it performs magnificently. But there's a lot more available in this package than just decent connectivity. Behind the packaging you'll get the drive itself, a small power brick, a USB 3.0 cable – which is a decent length, thankfully – and a suite of CyberLink goodies, which comprise Power2Go 8, PowerDVD 10 with Magic Cinema, PowerBackup 2.5 and InstantBurn 5.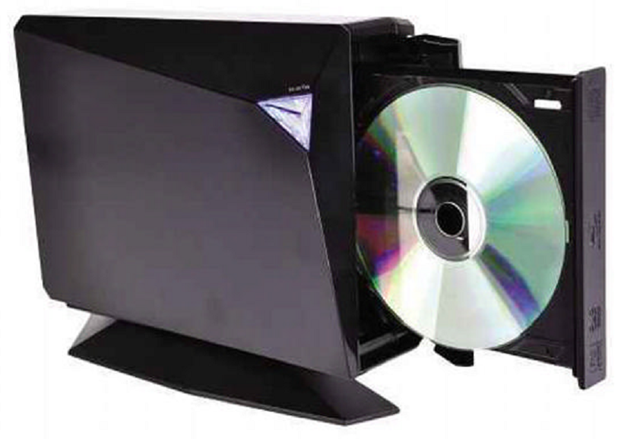 As well as that, you also get a pair of 3D glasses. However, these are the red-and-blue, cardboard-framed variety, so the chances are they won't last very long.
Dodgy 3D glasses aside, the drive is very appealing. The odd, angled design finishes to a blue LED diamond point that conceals the eject button. The chassis can be sat flat horizontally on the rubberised feet or vertically placed in an accompanying cradle with easy access to the USB port, power and the touch-sensitive power switch at the rear. Either way is perfectly fine for the reading and writing of Blu-ray, DVD or CDs.
Accessing the drive took mere seconds, from both a PC and a USB-enabled TV. The content on the Blu-ray disc played without any problems or the kind of bottlenecks you would normally associate with transferring all that data through a USB cable. Even after the tested pause for five minutes, the content sprang back into life within a second or two without any glitching.
Every optical disc we burned succeeded without any coasters being created, and it was done remarkably quickly and without too much noise or vibration.
In fact, aside from the disc spinning up, there was very little noise at all, and vibration was virtually nil. The only thing we did discover was that the casing was a little warm to the touch after playing Blu-ray content, and the same can be said for the small power brick too.
The Asus BW-12D1S-U therefore is now our most favourite external Blu-ray drive. Not only does it look very good (a must have aspect for some people who want this on show with their media centre build), but it also performs excellently and offers all the advantages that Blu-ray and Blu-ray 3D media has to offer.
The glasses might be a bit of a joke when compared to the rest of the well-presented package, but on the whole this is a great external drive, regardless of the Blu-ray reading and writing abilities. Mind you, this level of presentation and performance doesn't come cheap.