What you need: 7, 8/8.1, 10
A more powerful alternative to Windows Mail, Thunderbird remains a popular choice for those who prefer to access their email on their PC desktop rather than via a browser. Mozilla, the developer, has given Thunderbird's appearance a makeover, bringing it in line with its latest Firefox browser. The tabs along the top are now square, and you can hide the main menu bar to free up more space for your email (click View, Toolbars, then Menu Bar to do that).
A new menu item, 'Add-on Options', provides quick access to any extensions you have installed. Mozilla says that compatibility problems with some add-ons are to be expected, but we haven't noticed any. In fact, any extensions not marked as compatible with this version will be disabled by default. You can re-enable extensions manually by clicking Tools, then Add-ons, but if you've got any you can't do without we'd recommend contacting their developer to make sure they are compatible before upgrading.
One common complaint with email software is that you can't change the order of attachments when sending an email – they're usually stuck in the order that you attached them. Thankfully, Thunderbird 60 addresses this.
Once you've inserted all your file attachments, simply drag them up and down to change the order. This lets you ensure the email recipient sees the most important attachments first.
The calendar tool in Thunderbird also gets a few new features, including the ability to better manage recurring appointments – you can now copy or delete individual appointments or an entire sequence.
It's good to see Thunderbird is still getting updates – its future was in doubt only last year (see www.snipca. com/28885). Our only gripe is that, despite the new design, it's interface still looks a little dated.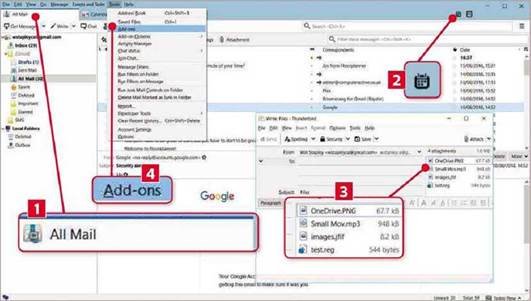 1 Thunderbird's interface includes new icons and square tabs, similar to the Firefox browser. You can also now hide the top menu bar (it will reappear when you press Alt).
2 The Calendar, accessed via this shortcut button, now lets you edit recurring appointments more easily and copy events to different calendars.
3 Attach files to your emails by dragging them into this section. Then you can change their order by simply dragging them, ensuring the recipient sees them in the order you choose.
4 Add-ons that aren't marked as compatible with this version of Thunderbird will be disabled by default, but you can reactivate them in this menu option.