Record or stream games and other software from your desktop. Read our best free software record screen.
OBS Studio Review
If you're a gamer, OBS Studio is easily the best screen capture software for you. Unlike FRAPS (which only lets you record for 30 seconds at a stretch unless you've bought a license), OBS Studio is open source, and completely free.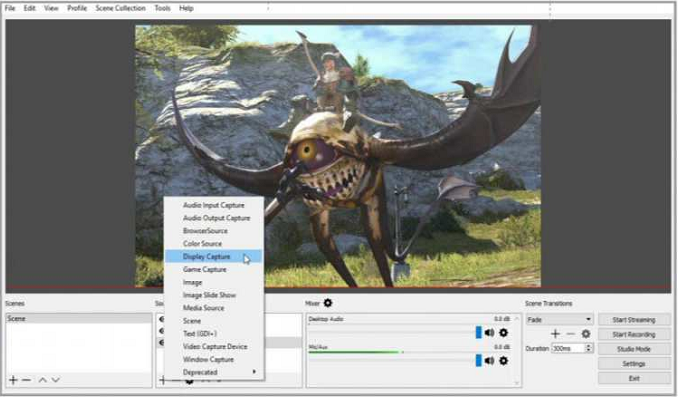 OBS Studio supports both streaming and recording in high definition, with no limits on the
With OBS Studio you can record from multiple screens, or stream games live.
number or length of your creations. You can stream live to Twitch or YouTube gaming, save projects and come back to them later, or encode your footage in FLV format and save it locally.
Because OBS Studio can record directly from your graphics card, it can capture games running in full-screen, with customisable hotkeys to control the recording. OBS Studio can also make full use of multi-core CPUs for improved performance, and can record at 60fps (or even higher).
OBS Studio is by far the best screen recorder for gamers.
5/5

Flashback Express Review
www.flashbackrecorder.com/express/
OBS Studio is our top choice for recording from a desktop or webcam, but Flashback Express comes an extremely close second. Despite being a free version of a paid program, FlashBack Express won't put ugly watermarks over your recordings or impose time limits, and it has features and tools that rival many premium apps. Its interface is less intimidating than OBS Studio, so if you've never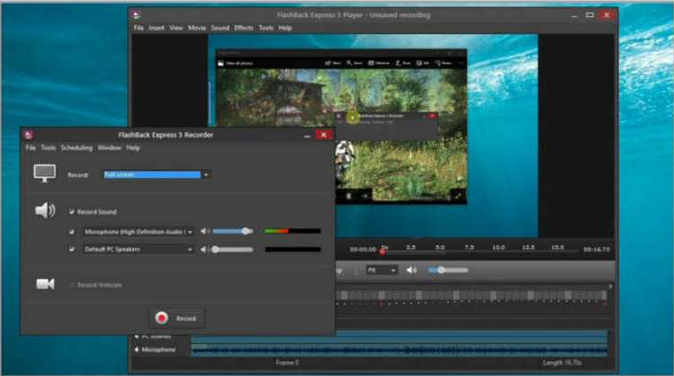 Flashback Express is a brilliant screen recorder that's surprisingly simple to use.
used a screen recorder before, it's an excellent choice.
You can record from your whole screen, a window, a selected area, or a webcam. Once you have finished, your recording will appear in a simple editor, where you can edit it to suit your needs, then export it to YouTube, an FTP server, or your PC.
That's all fairly standard fare for a free screen recorder, but dive into Flashback's advanced options and you'll find a wealth of thoughtfully designed settings that will make your desktop recordings look truly professional.
4/5
Apowersoft Free Online Screen Recorder Review
www.apowersoft.com/free-online-screen-recorder
Whether you want to record a presentation, software demo or tutorial, Apowersoft Free Online Screen Recorder is worth a try. It's a browser-based tool, which means it's not suitable for games, but for any other tasks it's ideal.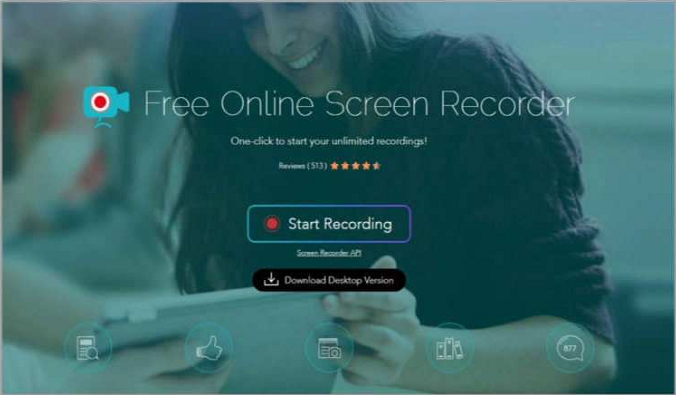 The first time you use Apowersoft Free Online Screen Recorder, you'll be prompted to
The online edition of Apowersoft is more powerful than many desktop apps.
download a small launcher application. You'll then be provided with a control bar packed with more options than found in many screen recorders.
Apowersoft Free Online Screen Recorder also offers customisable keyboard shortcuts for speed and convenience. You can choose whether or not to include the cursor in the recording.
You can also edit clips. Selecting to do so downloads an additional component – Apowersoft Video Editor – which lets you make adjustments before exporting your video in your preferred format. A truly exceptional tool.
4/5
TinyTake Review
TinyTake is a free screen recorder designed to grab webcam and desktop footage, not in-game action. Starting a recording is simple – just click the button, then select an areas of the screen and tap [Ctrl] + [R].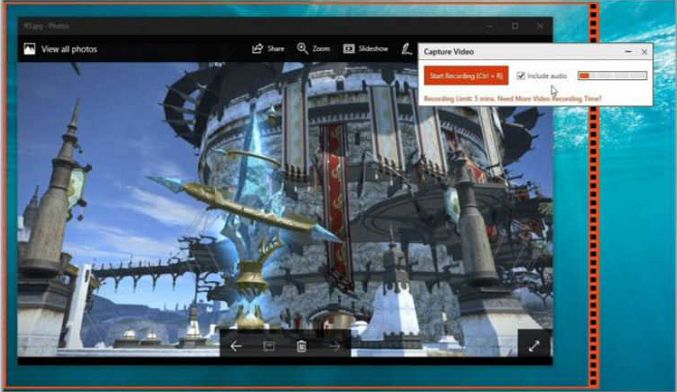 Your recordings won't be watermarked, but you're limited to five minutes of footage at a time.
TinyTake is incredibly easy to use, and is ideal for webcam and desktop footage.
That might not sound like much compared with some of the free screen recorders here, but it's plenty for a YouTube tutorial.
Once you're done, you can preview your video and export it to your PC, to YouTube, or to TinyTake's cloud storage service, which gives you 2GB for your clips.
Other tools, like annotations, are exclusive to the premium versions of TinyTake, which is designed for commercial use.
TinyTake is a lean, streamlined screen recorder, but the lack of editing tools is a shame, hence its fourth place position in our test.
RATING 3/5