Manage all your emails, calendars and contacts
eM Client Review
www.emclient.com
eM Client has been around for almost ten years now, and its long development time means it has evolved into the best free email client for Windows.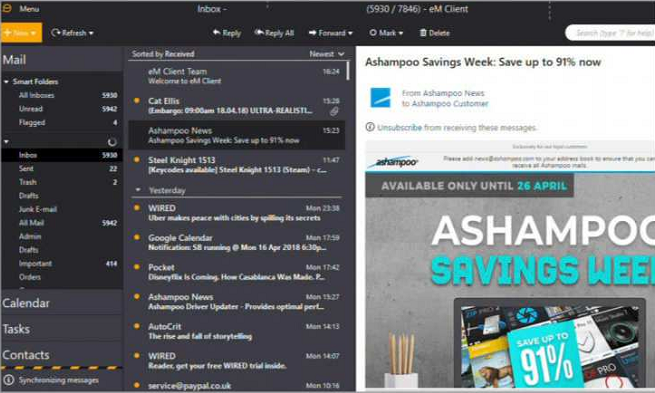 eM Client makes it easy to migrate your messages from Gmail, Exchange, iCIoud and Outlook.com – enter your email address and the client will adjust
eM Client supports a huge range of email providers, text chat and simple migration.
the appropriate settings for you. eM Client can also import your contacts and calendar, if you wish.
There's an integrated chat app too, and the search function is far superior to those you'll find in webmail interfaces.
Unlike most free email clients, eM Client is packed with advanced options like automatic translation, delayed send and encryption. It's a remarkable set of tools, and for managing two email accounts, it's ideal. If you have more accounts, upgrade to eM Client Pro. This lets you connect an unlimited number of accounts, and has VIP support.

5/5
Mailbird Lite Review
www.getmailbird.com
Mailbird Lite isn't just an email program – it's a complete communication platform to which you can add apps for scheduling, chatting, file syncing, team-working and more.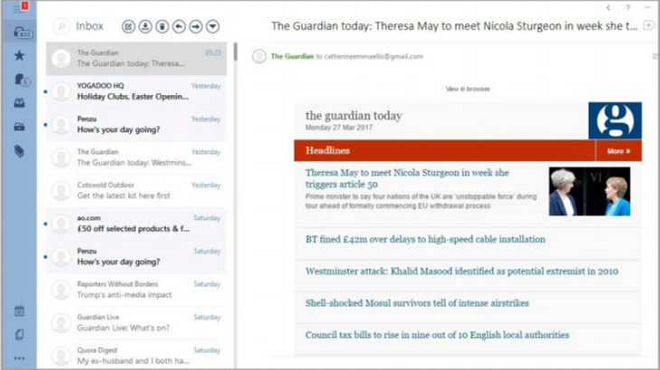 Free users do miss out on features such as speed reading, email snoozing and attachment previews, but Mailbird Lite is still an excellent choice. The Lite version only lets you connect one
Mailbird Lite if a great-looking client which can connect all your social apps.
email account, but it's optimised for speed, and looks great to boot.
Setup is simple; enter your email details and Mailbird Lite will find the necessary POP or IMAP settings automatically, then get to work importing your messages. It offers to connect with your Facebook account, so it can liven up your inbox with your contacts' profile photos, and Mailbird can also link with WhatsApp, Google Calendar, free task manager Moo. do, and teamworking app Asana. Exploring the Apps menu provides a raft of other options, including Twitter, Trello and many more.
4/5
Mozilla Thunderbird Review
www.thunderbird.net
Thunderbird is a free email client from the Mozilla Foundation, the same organisation behind the completely revamped, and fast, Firefox web browser.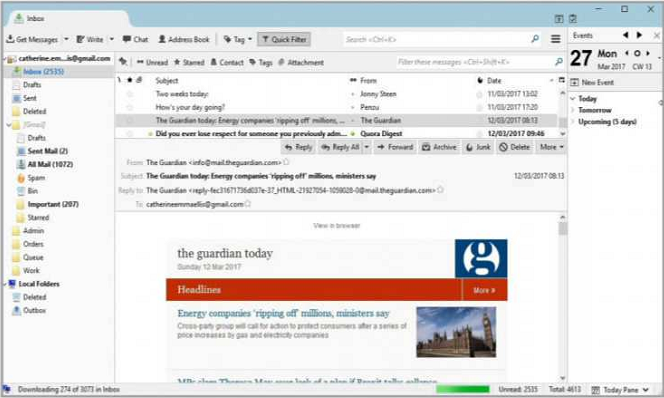 Just like Firefox, Thunderbird's features can also be extended and enhanced, thanks to a huge range of third-party add-ons, although it has many excellent features of its
Thunderbird has plenty of features and extensions – as you'd expect from Mozilla.
own including the ability to link files that are too big to email, plus an RSS reader for news feeds.
Setting up Thunderbird is simple if you use one of the bigger email providers – type in your address and the app will pick the appropriate settings. Adding other accounts isn't as straightforward, but once you've connected them, they'll all appear neatly organised into folders that you can open and collapse as you see fit.
Adding a Google calendar to Thunderbird is easy too, but you'll only be able to view events – not edit them, or create new ones unless you use a suitable add-on.
4/5
Opera Mail Review
www.opera.com/computer/mail
Opera Mail is a free email client originally bundled with the Opera web browser, but is now in development as a standalone project. It's a great tool for keeping multiple email accounts organised, avoiding the need to open multiple browser tabs. It also stores an offline backup of your messages so you don't need to
Opera Mail is an open source client from the team behind the Opera web browser.
worry about accidentally deleting your messages.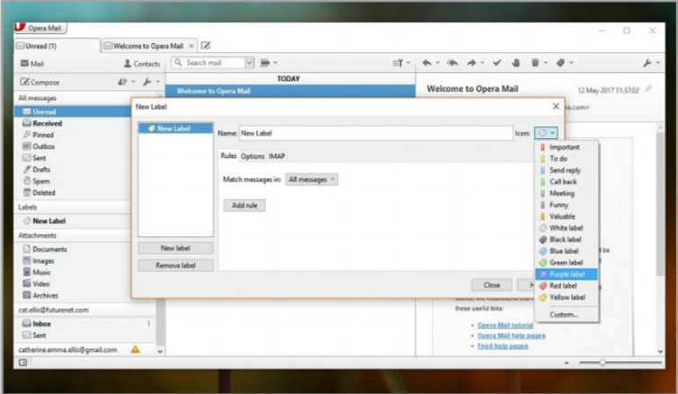 Setting up an email account isn't quite as straightforward as it is in eM Client or Mailbird Lite, but it's still fairly easy. There's also the option to use a secure connection – something that's missing from most email clients.
Further options are available once the account has been set up, including a low-bandwidth mode, which doesn't load attachments.
Opera Mail also includes message templates, message filtering and sorting, and a wide range of customisation options.
3/5