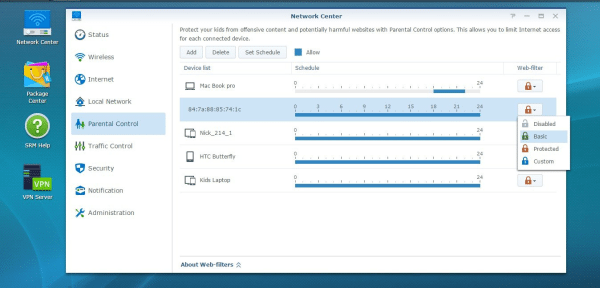 Will SRM change the way we use routers?
It's not often something interesting happens in router technology, so when Synology – the much admired NAS maker – announced it was releasing its own router I sat up and took note.
The fact the RT1900ac is an 802.11ac-compatible router with a USB port wasn't remarkable, as there's a lot of them about. What is remarkable is that the router runs Synology Router Manager (SRM), a desktop-style operating system that's similar to the Synology DiskStation Manager (DSM) OS that runs on Synology's NAS enclosures.
SRM really is like a desktop operating system, and anyone who's used Windows, Mac OS or a Linux window manager will have no problem getting to grips with it. Users have a desktop onto which SRM's apps and utilities can be placed, and users can pick and choose what apps are present. Otherwise, apps and utilities are accessed via a menu button, and can be pinned to the SRM taskbar for easy access.
Apps and utilities include Network Tools, which lets users ping other devices on the network, trace the route of network traffic to a URL with the destination being shown on a Google map, and allow certain network devices to be awoken by LAN. Another app is Storage and Printer, which lets users set permissions for using attached devices, index media on attached storage, enable AirPrint and Google Cloud Print, and format attached storage, among other functions.
One of the best apps for those who want to make sure their router is as secure as possible is Security advisor. This scans all the settings of the RT1900ac, tells users which settings could be putting their router and network at risk and then gives information on how to put things right. Users can create custom settings lists so that Security Advisor doesn't keep nagging them to correct something that needs to be set a particular way for a particular environment. It's a great app that both casual users and professionals will find useful.
Sadly, SRM isn't as feature-rich as Synology Disk Manager (DSM), which is the equivalent OS used for Synology's NAS units. There are only a handful of apps that users can download, for instance, and users can't create widgets that can be viewed on the SRM desktop at all times, which is something that they can do in DSM. It'd certainly be good to have a widget that would allow viewing of network traffic, CPU and RAM usage and the devices connected to the RT1900ac's network, for instance.
Still, it's worth remembering that it's early days yet, and SRM is still being developed. Both Synology and third-party developers will create more apps and utilities for the RT1900ac over time.
DS Router App
While many users will prefer to use SRM via a web browser, users can also use the DS Router iOS and Android app to perform many simple administrative tasks, and view the status of the system. DS Router lets users administer the firewall, control the quality of traffic to and from specific devices and employ parental controls, such as preventing a specific device, perhaps a child's tablet, from accessing adult websites. The app is easy to use but limited in scope, and I preferred to use the regular SRM web interface via a web browser.
Network Attached Storage
One of the big selling points of the RT1900ac is that users can benefit from Synology's extensive NAS experience without having to buy a fully-fledged NAS unit. All users have to do is attach a USB hard disk, SSD or flash storage and users can access it over the network via SMB, FTP and a host of other methods. Users can also set access permissions, create shared folders and format the storage. The RT1900ac can act as a DLNA server, which means that videos, photos and music can be accessed through a DLNA client such as a smart TV, games console or a PC application.
The NAS functionality isn't as featurerich as with a proper Synology NAS units, but they're more than enough for storage attached to a router, and it's a brilliant means of accessing media across a network. Other routers also provide NAS features and have done for a long time, but SRM's accessibility and ease of use that elevates it above the competition.
Synology provides a number of iOS and Android apps to access files and media, such as DS audio, DS Video and DS photo, but at the time of writing only the FileStation app works with the Synology RT1900ac. This is because certain apps have to be downloaded and installed on the RT1900ac in order to use the iOS and Android apps, and only FileStation is available at present.
Again, this is something that Synology will hopefully soon fix, but it's worth noting that music, videos and photos can all be accessed, viewed and played via the FileStation iOS and Android apps, along with other documents such as PDFs. Another app that we'd like to see is the iTunes Server app, so that media can be viewed and accessed by iTunes running on a PC.
Streaming performance is good, and I had no problem viewing a mixture of 720p and 1080p videos on two PCs, an iPad and an iPhone simultaneously, even with two of the machines playing the same 1080p file.
Printer Management
As for printing, the RT1900ac worked brilliantly with an OKI B431dn printer connected to its USB port. It was even possible to print to the B431dn using AirPrint, which is something you can't do ordinarily. Users can also register the printer with Google Cloud Print. SRM has instructions for setting up the printer for use with a Windows PC too, which is handy because it requires some printer setup know-how that casual users may lack. Users may run into compatibility problems, though, so it's worth checking the Synology website to see if your printer is supported.
The OKI B431dn isn't on the compatibility list, for instance, even though it worked with our RT1900ac test unit. When tested with a HP Deskjet F2180, however, we could print to it via a Windows PC but not via AirPrint.
External Access
Users can connect to their RT1900ac via the internet when out and about in two ways. The first is to set up a Synology account and create a QuickConnect ID. This lets  users access their RT1900ac via web browsers and Synology mobile apps by entering their QuickConnect Id and a password. Users can then use the FileStation app on their tablet or phone to listen to their music while commuting, or show loved ones holiday photos by streaming them from their RT1900ac at home.
The second method is to configure dynamic DNS (DDNS), and the RT1900ac requires a DDNS service provider such as DYNDNS, hostname and username and password to hook up with a user's DDNS account. Both methods are handy, with QuickConnect providing a more convenient method of external access for home users and DDNS being a great option for power-users who are already well versed in accessing their home network from remote locations.
It's worth remembering that the speed at which data is streamed from the RT1900ac is dependent on the user's home broadband speed. Simply put, faster connections providing faster streams.
SRM Verdict
Right now, SRM is good, but it can become excellent if Synology supports it and keeps improving it. At the present time, SRM doesn't provide the user with enough information about what it and the router are doing. Other than a spike in CPU usage, it's not clear if it is still indexing files, formatting attached disks, creating thumbnails or trying to send a test print job to an attached printer.
While there's an option to clear the print queue for an attached printer, it isn't possible to see the contents of the print queue, so it isn't clear if this has happened, or if  here was anything in the queue in the first place. Feedback needs to be improved when running background tasks so that users know if the job has started, is underway or has finished, preferably through use of a percentage or progress meter.
The use of widgets would be a big help here. Configurable desktop-based widgets are one of the most convenient features of DSM, and it be good to see them in SRM.
Is SRM revolutionary? Not really in terms of features right now, but most definitely in terms of future potential. Routers have a privileged position in our homes and businesses. They're rarely switched off, have the ability to communicate and serve many different devices and are unobtrusive in our daily computing lives. The ability to run server software that can be accessed on a local network or remotely, even if it is smallscale at the moment, will be a boon to business and home user alike. There'll be no need to run a less energy-efficient computer 24/7 to perform routine server tasks such as fielding an intranet, managing documents and undertaking network maintenance jobs.
Who knows? Maybe future SRM-based routers will employ some parallelism to share computing load between two or more routers on the same network, further increasing computing performance without sacrificing energy efficiency. In effect, this would allow homes and businesses to set up their own grid computing network.
Of course, all this thought of future applications is a flight of fancy on our part, and the market will decide if SRM is to live or die based on the number of Synology's router units sold. However, SRM takes a step in a good direction, and I hope Synology continues to develop it and produces packages that prove its worth in any network.
SRM Packages
Users can download a number of packages to extend SRM's functionality, but none are particularly exciting at the moment. The most essential package for the vast majority of users will be Media Server, which lets DLNA-compatible devices and programs stream video, music and photos from the RT1900ac.
Another handy package is Download Station, which lets users search for and download files to attached storage, and automatically unzip them. Users can select a number of different files to download and then leave the router to get on with downloading them, which is handy if you want to set up a download queue during the day for the router to download overnight. Download Station lets users download via BitTorrent, FTP, HTTP, NZB, Thunder, FlashGet, QQDL, and eMule.
Other packages include a VPN server, A RADIUS server to allow authentication, authorisation and accounting over wireless networks, and a DNS server. It'll be interesting to see what gets added in the next few months, and if Synology can convince third-party developers to publish applications for SRM.