Three different predefined modes, Performance, Endurance and Ultra, and a Custom mode. Read our Suunto 9 Review.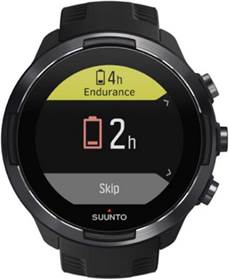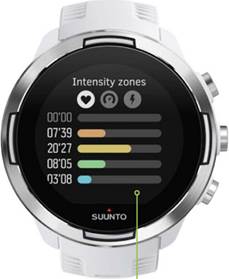 Suunto's Take on Health Measurement
The Suunto 9 is a sports watch designed with over 80 sport modes including predefined intelligent battery settings that can last through prolonged usage. The watch is also equipped with FusedTrack technology which has a more accurate tracking data in the event of a weak GPS signal It features nifty tricks up its sleeve to accurately measure and track your exercise routine. We had a watch in our office to take for a spin.
True Suunto DNA in Design
The watch measures 50mm in height and in width, with a thickness of 16.8mm and weighs 81 g. It is big, thick and certainly has some weight to it thanks to the construction of the case made from glass fibre- reinforced polyamide with a stainless-steel bezel around the sapphire crystal glass screen. There are three buttons to navigate the watch's user interface. The touch screen has pretty good outdoor visibility and doesn't require the LED backlight to illuminate it unless the surroundings are not very well lit. All in all a sturdy design.
Battery to Last Through Your Exercise
Suunto features an intelligent battery mode feature in this watch. There are three different predefined modes. Performance, Endurance and Ultra, and a Custom mode. Each predefined mode allows the battery to last for at least 25 hours and not more than 120 hours from a full charge. The GPS tracking is most accurate in Performance mode and least accurate in Ultra mode. The barometer can detect the drop in atmospheric pressure, which is a sign for a possible storm, and sound the storm alarm if it's activated.
Touch screen with good outdoor visibility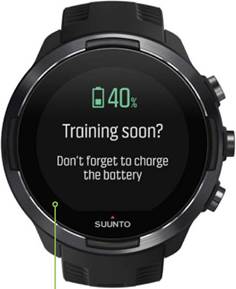 Good battery life for prolonged usage
Connect to Your Health
The Bluetooth connectivity allows you to pair to a smartphone, sensors and PODs such as the Suunto Foot Pod Mini. The Suunto app is available for download from Google Play and App Store to sync the watch and keep logs of training, daily activity and sleep. In addition to that, the watch can receive incoming call alerts and mobile notifications. However, you can only dismiss the notification using your smartphone and can't attend to calls from the watch despite having a built-in speaker.
The Gold Standard in Health Watches
The Suunto 9 could use a better calibration process of the GPS and optimization on the user interface for a smoother experience. It also is a little on the heavy side, which will make your arm feel weighed down. On the other hand, features like the magnetic charger port with 4-pin contact points and two deep grooves that help align the port to the charge head, are much appreciated since it can take a fair amount of effort to charge the watch. The watch is available in black and white.

Suunto 9 Review: VERDICT
Suunto 9 Review
"The flagship health watch for those who need the best" - Lingez
Add your review
Best Suunto 9 prices ?
MORE DEALS

Suunto 9 Review: Specs
Dimensions: 0 x 17 mm, bracelet 24mm, Screen 320 x 300 px
WEIGHT: 81 g
BATTERY LIFE: 120 hours
Connectivity: iPhone, Android, PC, Bluetooth wireless data transfer
See also: LG G7 ThinQ Review: Bright ideas