STUDENT LAPTOPS – Whether its school, sixth form, college, university or home study, these are the best laptops for learning
The top contenders for the best student laptops put value over having the top-of-the-line processors and graphics cards. And yet, they still have enough juice to get you through your demanding workload at school – as well as let you partake in some post-school entertainment like light gaming and Netflix.
In fact, some of our picks for the best laptops for students are among the most wallet-friendly devices on the market. But make no mistake: just because they're very affordable, doesn't mean they look cheap. In fact, they also exude style, tout power and offer portability, all without breaking the bank.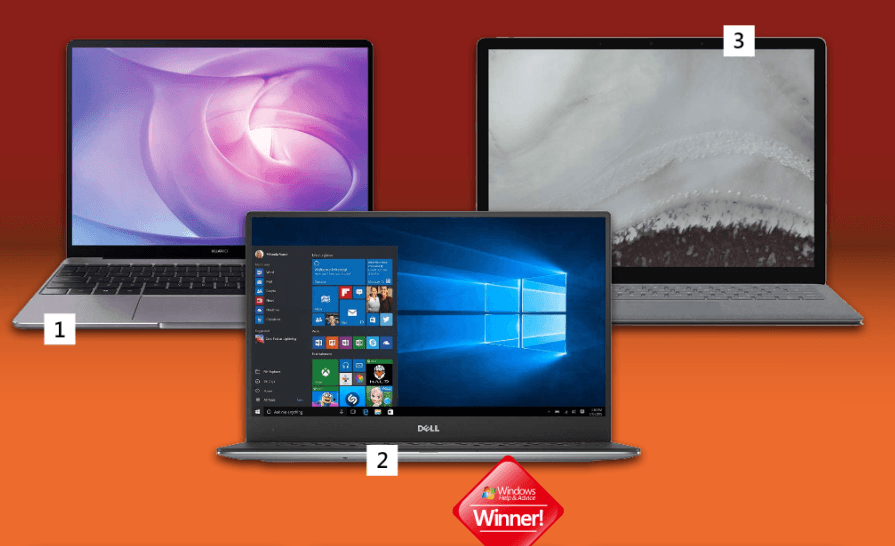 Hauwei Matebook 13
Available for much less than its RRP online, the MateBook 13 comes closer to striking that perfect balance of price and performance than anything else in 2019 so far. It's light and compact, perfect for stowing it in your backpack as you hurry from class to class; and it's fast and affordable as well. Sure, you'll need to keep that charger on hand, as the battery life is underwhelming, but there's still no doubt that the Huawei Matebook 13 deserves its lofty spot on this list.
5/5
Dell XPS 13
Dell's flagship laptop has always been rated as one of the best machines for professionals and casual, everyday users. The XPS 13 2019 brings back the entry-level model, making it cheap enough for college students once again. Dell has also fixed our biggest issue with the XPS lineup – the webcam, which has finally been moved back above the display where it belongs. This means that your family and friends won't have to stare up into your nostrils when you're video chatting ever again.
5/5
Surface Laptop 2
Microsoft's original Surface Laptop was held back by its below average performance, a lack of ports and Windows 10 in S Mode. The Surface Laptop 2 significantly improves on this – with the exception of the ports. It's now packed with 8th-generation Intel Kaby Lake Refresh processors, full-fat Windows 10 Home and a black colour option. It omits USB-C and Thunderbolt 3, but that doesn't change the fact that you will get all your tasks done in style with this laptop with little to no effort.
4.5/5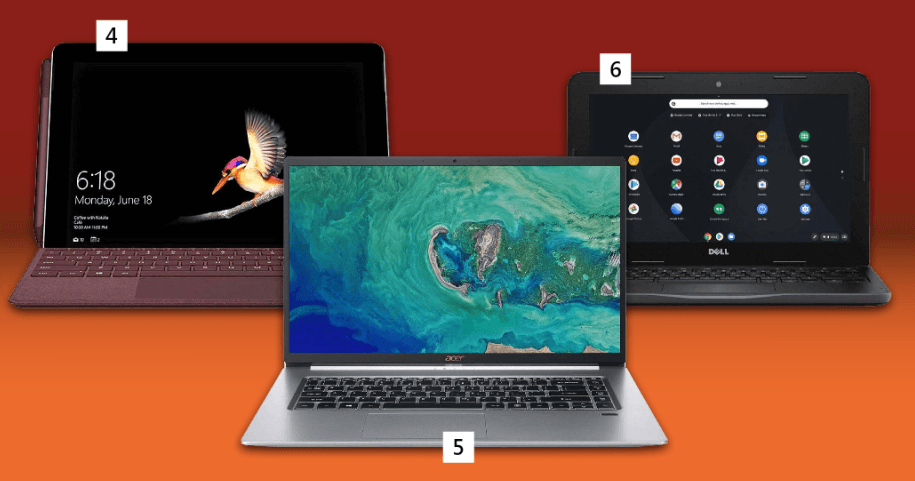 Microsoft Surface Go
When you're shopping for a laptop for school that strikes a balance between cost and performance, a bit of style can't hurt. The Microsoft Surface Go isn't just one of the best Windows tablets, but it's also one of the best student laptops, especially from a value perspective.
Don't be duped by the tow-power components, as Microsoft engineered this tablet to take on all your general school work and more without breaking a sweat. You'll need to add the cost of a keyboard to the price, though.
4/5
Acer Swift 5
For school you don't need designer catalogue looks, you need a device that's going to get thejob done, and going by that condition, the Acer Swift 5 should be near the top of anyone's list. This affordable ultrabook is packed with the latest 8th-generation Intel processors, not to mention enough RAM and SSD storage, to take on pretty much any homework or project. It's not the most amazing looking laptop in the world, but with that price and spec, looks hardly matter.
4/5
Dell Inspinon Chromebook 11 2-in-1
Most schoolwork can be done on a Chromebook, which could save you hundreds of pounds. If you want something that will help you do all your research, type up essays, and nothing else, the Dell Inspiron Chromebook 11 2-in-l might be the perfect fit Being a Chromebook, it won't be able to handle much heavy lifting, but at £ it doesn't need to, and the convertible form factor makes it pleasant to work with. Great for students on a strict budget.
4/5