Paint

Many Windows users are very fond of Paint, as Microsoft discovered in 2019 when it faced a backlash for planning to remove the graphics program from Windows 10. It changed its mind and also made Paint available as a Microsoft Store app. An updated version is available in Windows 11, while its successor – the less popular Paint 3D – is still installed on many PCs.
Although it's handy to have a simple tool to hand for basic image edits and artistic doodles, there are better free options than Paint, albeit without the accompanying sense of nostalgia. Even the Windows 11 app only has a tiny set of tools, and its brushes and shapes are geared more towards touchscreens than mouse work.
What to use instead
Paint.NET
www.snipca.com/45617

As Paint.NET was conceived as an advanced replacement for Paint, it's the most obvious free alternative, and version 5 of the program – released in January – makes it too good to ignore.
This major update switches to using your PC's graphic processor to make the software faster, and adds a host of effects and adjustments that previously required you to install plug-ins. These include a Bokeh effect that lets you blur the background of photos while keeping the subject in focus. Paint.NET has also added 'pressure sensitivity', which lets you draw with natural-looking brush strokes using a stylus pen or graphics tablet.
It's a much more sophisticated program than Paint, but it's still simpler than the likes of Photoshop and GIMP, especially when working with Layers (see screenshot below left), which let you 'paint' complex images by stacking multiple elements.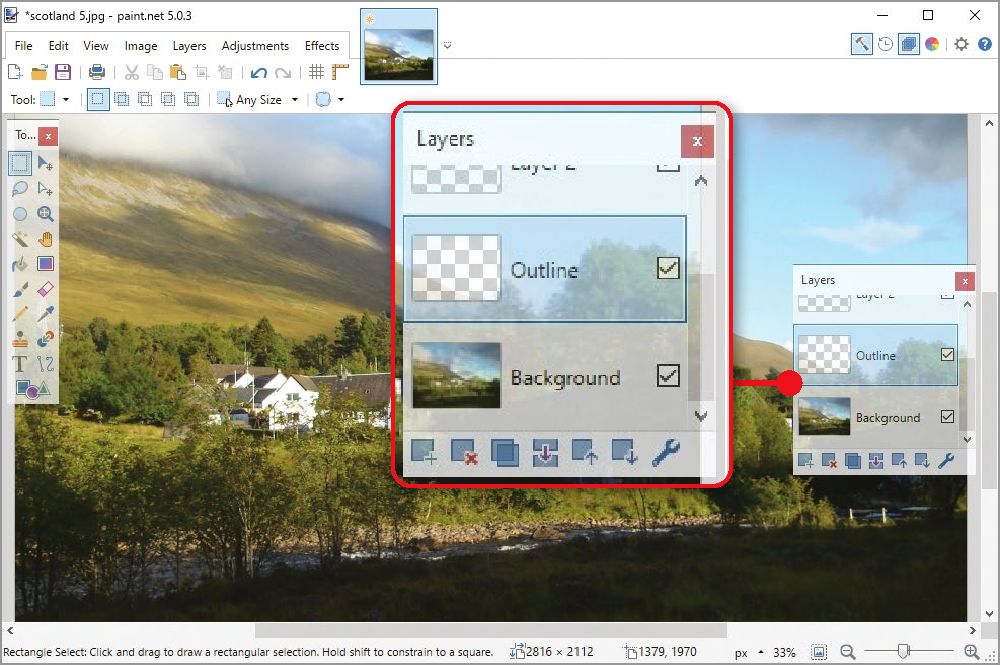 Paint.NET is a free sophisticated, feature-packed alternative to Paint that uses Layers to stack multiple elements
IrfanView offers a speedy way to view and edit your photos and includes effects such as Sepia
Make sure you download the desktop program rather than the Microsoft Store app, as the latter costs £.
Microsoft Photos
Like Paint, the Photos app in Windows is great for simple tasks such as viewing, organising and performing basic edits to your pictures, and also offers filters and adjustments, including red-eye removal.
In Windows 10, it includes a video editor, which lets you turn your photos into short films, complete with captions, music and 3D effects. This feature has been dropped in Windows 11, with video-editing moved to Microsoft's Clipchamp app and more emphasis now placed on viewing images.
Sadly, both versions are slow and use a lot of resources, and though some users may find the integration with OneDrive useful, it's also rather pushy on Microsoft's part.

What to use instead

IrfanView. This versatile free program is
IrfanView
www.snipca.com/45618
For a lightweight image viewer that also offers lots of editing options, it's hard to beat speedy to use, lets you convert and rename large batches of photos in one go and – unlike Photos -presents all its tools in logically organised menus so they're only ever a couple of clicks away.
Options include colour correction, frames, red-eye reduction, watermark and effects such as Blur, Oil Paint, Sepia (see screenshot above right) and Insert Speech Bubbles. Many
more are available by installing the Plugins pack from www.snipca.com/44509. You can also run IrfanView from a USB stick to edit your photos wherever you go.
For an even simpler solution in a more Photos-like interface, we like the new Icecream Photo Editor (www.snipca. com/45546) – see our Workshop, page 38.
Media Player
After burying Windows Media Player (WMP) in Windows 10 (it's no longer listed in the Start menu, but is still installed if you search for it), Microsoft has now revived it in Windows 11 to replace the little-loved Groove Music app. However, the new app is nothing to get excited about. Although its interface looks clean and modern, it lacks most of the features that made the old WMP appealing, such as skins and visualisations, and is slow to import audio and video files. The only interesting new feature is the ability to play and rip audio CDs, which the Windows 7-era Media Player did anyway.

What to use instead
SMPlayer

www.snipca.com/45621
VLC Media Player is the most popular free alternative to Windows Media Player, but SMPlayer is just as powerful and uses fewer system resources than either of those programs. It can play virtually all video and audio formats, including CDs, DVDs and Blu-rays, without needing any extra codecs, and can also stream content over the internet.
SMPlayer includes an equaliser and audio filters, so you can get the sound of your media playback just right; options for adjusting the playback speed, importing subtitles and grabbing screenshots from films; and the ability to bookmark long files so you can jump straight to specific moments. It can also be customised with a choice of attractive skins.
Best of all, SMPlayer offers a YouTube browser that lets you watch videos on the service without opening your browser. Download and install the SMTube plug-in (www.smtube.org), then click View and select 'YouTube browser' (see screenshot right) to search for a video. Click 'Proceed' to link the program with YouTube, and play the selected clip.

Notepad
There's nothing really wrong with Notepad, the simple text editor that first appeared in MS-DOS in 1983 and has been in every version of Windows since. Indeed, it's one of the rare examples of Microsoft adopting an 'if it ain't broke, don't fix it' approach. Even the Windows 11 redesign has improved rather than ruined the app by adding a new dark mode, multi-step Undo function and tabbed browsing, as well as combining the View and Format menus. However, envious Windows 10 users -and Windows 11 users seeking more options – should consider the following alternative.
What to use instead

Notepad++
www.snipca.com/45620
Notepad++ has long offered tabbed browsing and a dark mode, along with dozens of other useful features. It's primarily aimed at programmers, and its interface initially looks intimidating, but you'll soon find it a much more flexible way to take notes than traditional Notepad.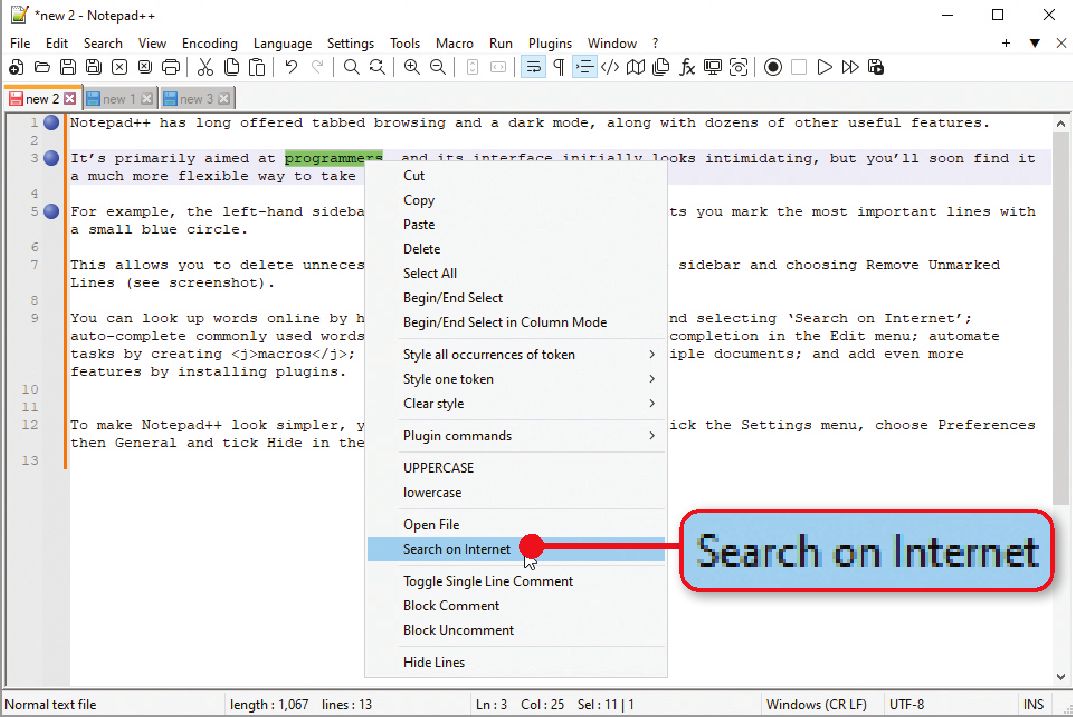 Notepad++ includes everything you get in Notepad and dozens of other useful features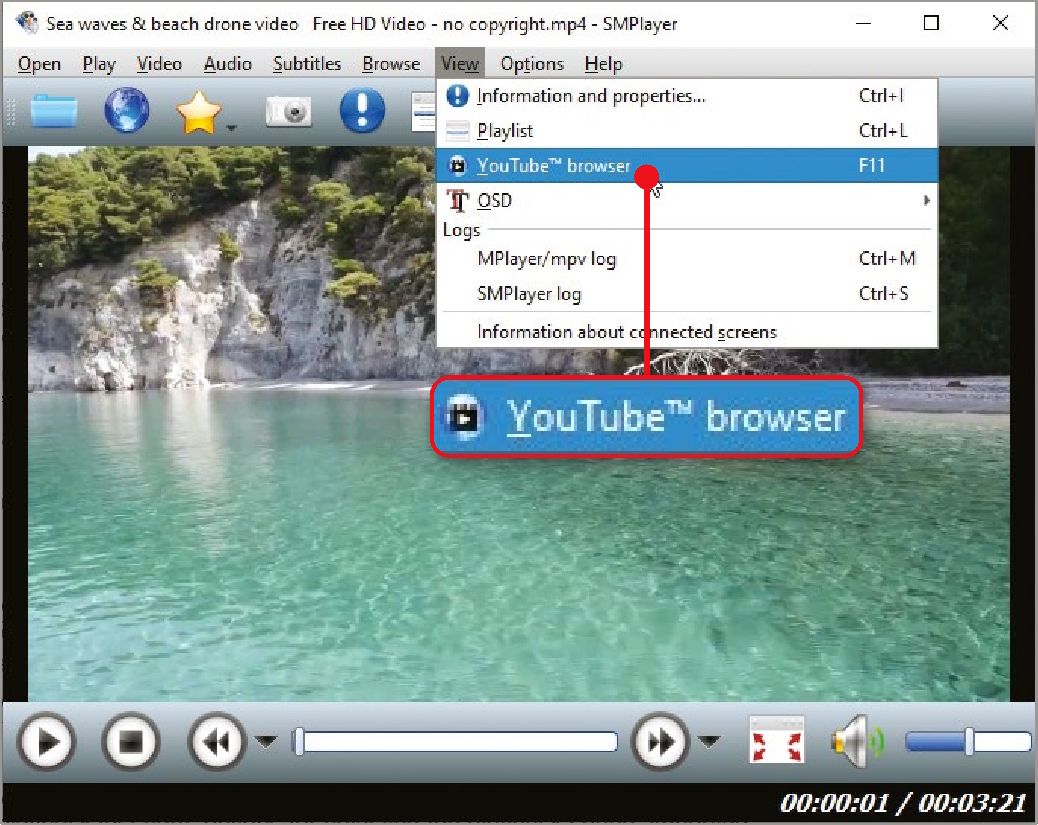 SMPlayer supports nearly all media formats and lets you browse and watch YouTube videos
For example, the left-hand sidebar numbers each line of text and lets you mark the most important lines with a small blue circle. This allows you to delete unnecessary content by rightclicking the sidebar and choosing Remove NonBookmarked Lines. You can look up words online by highlighting them, right-clicking and selecting 'Search on Internet' (see screenshot below); autocomplete commonly used words and phrases by switching on Auto-completion in the Edit menu; automate tasks by creating macros; find and replace words across multiple documents; and add even more features by installing plug-ins.
To make Notepad++ look simpler, you can hide its toolbar. Click the Settings menu, choose Preferences then General and tick Hide in the Toolbar section.
Mail

The built-in Mail app in Windows 10 and 11 suffers from being both basic and bloated, which means you have to wait for it to load but then can't do much with it. For example, there's no option to create rules to filter messages into specific folders; you can't send emails in plain text; and clicking 'Switch to calendar' opens the separate Calendar app, which is also slow to load. It's no wonder Microsoft is now encouraging Windows users to try its new Outlook app, which will be free to use when it launches soon, unlike the previous Microsoft 365 version – rather than stick with Mail.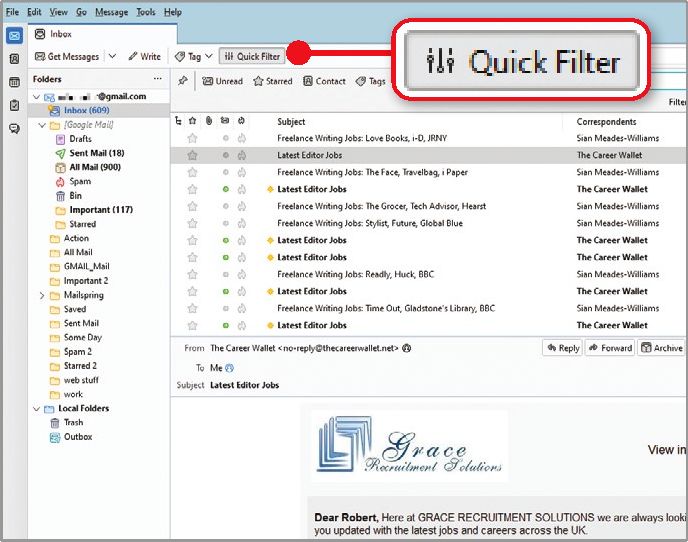 Thunderbird makes it easier to search your inbox than the Windows Mail app
What to use instead
Thunderbird

www.snipca.com/45622
Since it was redesigned last year, Thunderbird has been our favourite free email client, combining the simplicity of a webmail service with the features of a desktop program. You can import your messages and contacts from Gmail, Outlook and other providers; switch between multiple emails using tabbed browsing; and find messages easily by typing words into the Quick Filter search box (see screenshot above).
As well as offering reliable junk-mail filters, Thunderbird protects you against phishing scams and blocks hidden trackers in emails. It lets you send large files faster by sharing them through your preferred online storage service and customise how it looks and works by adjusting its layout, applying themes and installing hundreds of add-ons.
Unlike the Windows Mail app, Thunderbird's calendar is fully integrated with the program and it's constantly being updated with new features. Also, in contrast to Microsoft's new Outlook app, it doesn't display ads in your inbox – or anywhere else.