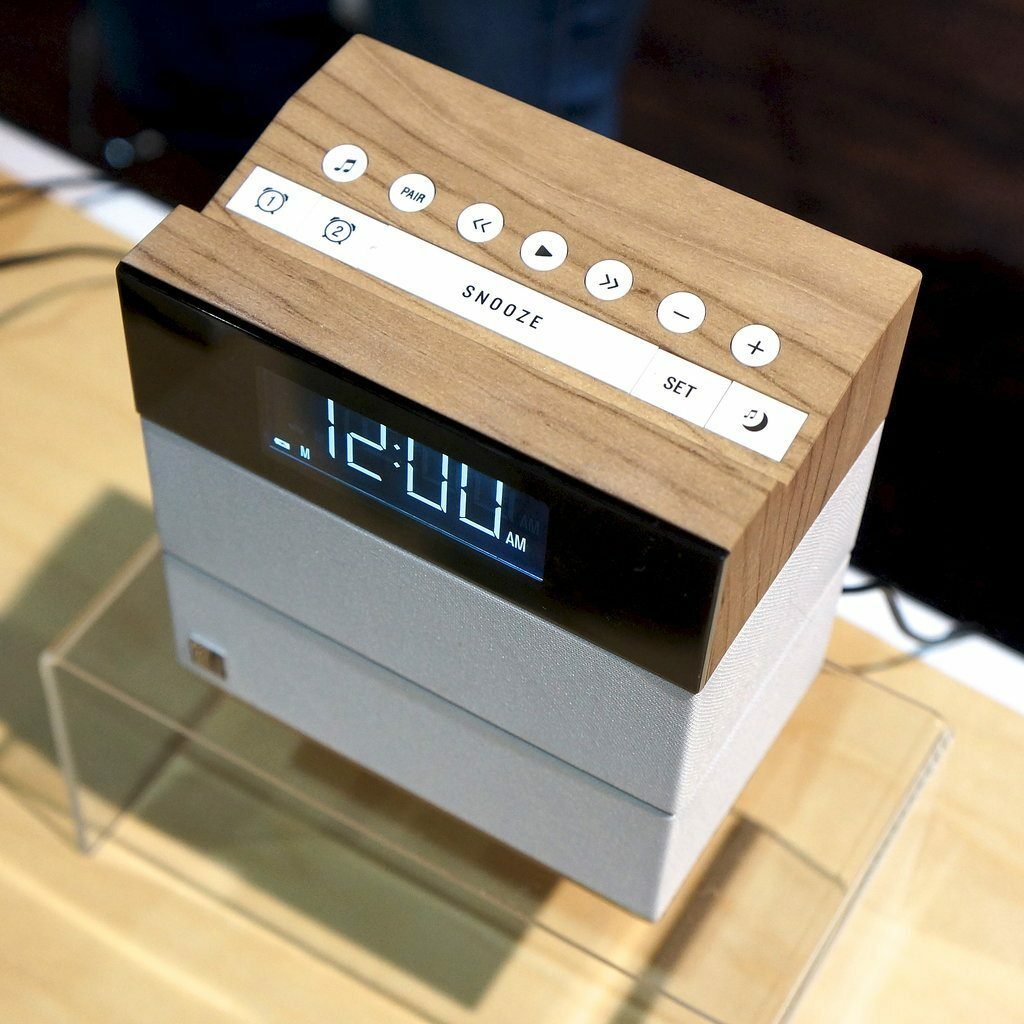 We wake up to modern connectivity and our own choice of music
Soundfreaq exactly a household name in the UK, but it is popular among audiophiles the world over, and for good reason, if the Sound Rise Wood is anything to by.
This is a modern spin on the radio alarm clock and one that offers Bluetooth connectivity, a USB port for charging your phone, and the usual features you'd expect.
As an alarm clock, it's a tasteful and elegant wood device which will look good on any bedside cabinet. A grey speaker cloth in two removable sections covers the single 2? speaker at the front of the unit, with a decent-sized LCD readout above detailing the current time, connectivity and alarm times.
The top of the Sound Rise Wood is angled to a near-'V' shape cutout, with the main controls for the clock recessed into the wood frame, along a light-brown coloured strip. The rear of the Rise Wood is finished off with the plastic backing that the speaker cloth frame attaches to, and at the bottom is where you'll find the USB port, power, aux-in, antenna port for FM radio, and dimmer and tone buttons.
The operation and setup of the Sound Rise Wood is extremely easy. Connecting via Bluetooth to another device is as simple as pressing the pair button on the top control strip. Likewise, setting up the dual alarms can be achieved by pressing one of two alarm icon buttons and adjusting the time – with weekday and weekend settings too.
The sound quality is very good, considering it's a single speaker housed in a 14.2 x 13.2 x 8.3mm box. Naturally, it's not going to replace your hi-fi, but if you're after reasonably loud and stylish alarm clock, they you can forgive the lack of ear-bleeding volume levels. It's also worth mentioning that the aux port makes this an interesting PC speaker or stand-alone speaker for connection to any 3.5mm audio source.
As this is Bluetooth enabled, you could essentially set the alarm to a selection of music from your NAS drive, charge it up overnight via the USB port, and wake up to whatever you want, instead of the usual ramblings of the local morning DJ. The controls along the top of the Sound Rise Wood also allow you to skip forward and back through your track listings too, so you don't need to reach for the phone to enjoy a track before you drag yourself out of bed.
The Soundfreaq Sound Rise Wood is an excellent alternative to the kind of standard DAB radio alarm clocks you'd pick up from high-street electrical shops. It's stylish, functional and discreet enough to blend in with the other bedroom accessories. The problem now, though, is actually getting out of bed. David Hayward
Looks great and sounds great too..