Sony's Dolby Atmos AV receiver debut is no phantom menace, reports Steve May. Read our Sony STR-DN1080 Review.
Seven-channel Dolby Atmos/DTS:X AV receiver
The flagship Sony model in the UK
Peers: Yamaha RX-A670; Onkyo TX-NR575
SONY'S FIRST AVR to support Dolby Atmos has arrived, and it's been worth the wait. The STR-DN1080 may ostensibly look like just another entry-level immersive amp, but there's some clever engineering at work here which sets it apart from rivals.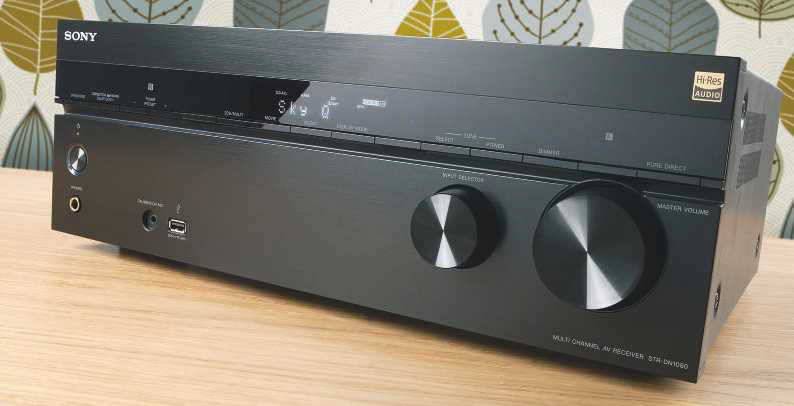 Admittedly, at just under 10kg, it won't bow your flatpack AV furniture, but the build quality is smart enough to impress. Personally, I think the fascia still looks over-busy (despite a clean-up) with its reams of words, two rotary knobs, a full-size headphone jack, setup microphone input and USB port, but the hairline front-panel finish is suitably premium.
In contrast, the back panel is relatively spartan, although all the good stuff is here.
We get six HDMI inputs, all of which are HDCP 2.2 enabled. There are also two HDMI outputs which can be switched or run simultaneously, plus – surprisingly – a full set of pre-outs.
The remote control is a streamlined IR offering, which feels good in the hand, but seems to require an inordinate number of button presses to achieve results.
And using the AVR proves a little different to the norm. It relies on its graphically rich user interface more than many rivals, which I found a bit of a bind everyday.
Ghosts in the machine
The STR-DN1080 is a seven-channel design, which translates to 5.1.2 Atmos/DTS:X. But that's not the whole story. What makes this model rather special is the provision of phantom rears. This means you can run twin height channels but still benefit from the sense of a flat seven-channel array.
Once calibrated using Sony's auto EQ function, you need to locate those phantom channels. There are two options – each intended to complement the position of your physical speakers – plus filtering: Full Flat, Engineer or Front Reference. Post-calibration, the Engineer filter demonstrated an edge to dialogue that borders on spitchy. The Full Flat filter had a better balance, helped along with a little tweaking of the onboard EQ. You're also given the option of adjusting the wavefront output from the main stereo speakers, said to give a wider sweet spot and 'more natural' sound effect.
This isn't a warm receiver. It won't welcome you home with a hug and mug of cocoa after a hard day's work. But it is utterly immersive. When John Wick checks out of the Continental (John Wick: Chapter 2, Blu-ray, Dolby Atmos), the score builds in intensity as phones ring around New York, and Keanu is forced to demonstrate just how deadly he is with
SPECIFICATIONS
DOLBY ATMOS: Yes
DTS:X: Yes
THX: No
MULTICHANNEL INPUT: No
MULTICHANNEL PRE-OUT: Yes. 7.2
POWER OUTPUT (CLAIMED): 7 x 165W (into 6 ohms)
MULTIROOM: Yes. Zone 2
AV INPUTS: 3 x composite; 2 x digital audio (1 x optical and 1 x coaxial)
HDMI: 6 x inputs; 2 x outputs (all v2.0)
VIDEO UPSCALING: Yes. 2160p
COMPONENT VIDEO: No
DIMENSIONS: 430(w) x 156(h) x 331(d) mm
WEIGHT: 9.7kg
FEATURES: Ethernet; Wi-Fi; Bluetooth with NFC/LDAC; USB; media file playback includes 192kHz/24-bit and DSD (to 5.6MHz, multichannel); phantom rear processing; Auto Room Calibration with D.C.A.C EX; Chromecast built-in; Spotify Connect; AirPlay; 2 x subwoofer pre-outs
a pencil. The soundfield is awash with precision-placed thuds, shots and squelches.
Game Of Thrones episode Blackwater (Blu-ray, Atmos) is similarly enveloping.
Before Tyrion signals for the single arrow which ignites the Wildfire holocaust in King's Landing bay, the Sony crafts a distinct wraparound clattering of wooden bows.
I was firmly in the thick of the action.
The subsequent explosion is fast and deep.
Of course, there are benefits to Atmos beyond portraying native object-based audio. The system's Dolby Surround upscaling can be wonderfully effective in extending a soundstage. In Game of Thrones' season seven episode The Queen's Justice (Sky Atlantic HD, Dolby Digital 5.1), when Jon Snow first lands at Dragonstone he's greeted by Tyrion Lannister on the beach. The upscaled mix has the sound of sea crashing around, seagulls squawking overhead, with dialogue kept locked to the centre channel.
It's naturalistic and effective.
So what of those phantom rears? It might be easy to dismiss the technology as a gimmick, but I found Sony's post-processing engine actually has a profound effect on the soundstage and fundamentally separates this receiver from straight 5.1.2 models. With 360-degree panning effects I was distinctly aware of sonic movement behind my head; fleeting steerage seems real not imaginary. The end result sits somewhere between basic Dolby Atmos and the nine-channel deployment found on high-end models – add in its power and precision, and panache with music material, and the STR-DN1080 can be considered a stonking home cinema buy.
Verdict
Sony STR-DN1080 Review
Not just another entry-level Atmos AVR, this Sony innovates in surprising ways and delivers a brilliantly immersive experience.
Add your review
Best Sony STR-DN1080 prices ?
$

1,008.82
2 used from $999.98
in stock

MORE DEALS