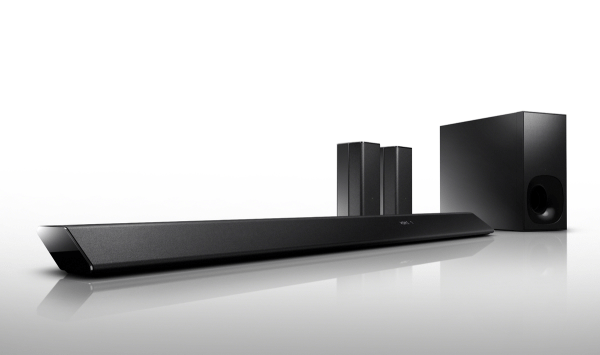 Sony reimagines a home-theatre-in-a-box system for the 2010s
The idea of a soundbar accompanied by surround speakers and a subwoofer is a bit of an odd one. The huge success of soundbars has been based on people's distaste for multiple boxes – those who fell out of love with all-in-one systems. Now the clutter is piling up again. I, for one, couldn't be happier.
Sony's RT5 system imitates last year's Philips Fidelio B5 by offering not just a soundbar and subwoofer, but surround speakers too. Yet while Philips chose to have the surrounds battery-powered (charged by attachment to the main 'bar), Sony's additional cabinets plug into your mains. Okay, so this means they aren't technically wireless, but the important thing to consider here is that there's no speaker cable to feed around skirting boards or under rugs.The soundbar is a lean-back design, with its drivers (there are left, right and centre channels here) hiding behind a black cloth grille. The styling and shape means it's successful at not drawing attention to itself, and the overall length provides a decent cosmetic match to a 55in/65in TV. It'd look a bit unruly with a 42in screen, though.
The subwoofer is a bit less distinguished, as it majors on gloss black plastic. Frontporting its 6.25in woofer means you can place it close to a wall, though. Like the surrounds, it connects wirelessly to the soundbar, with nothing in the way of setup required.
As for the 'extra' speakers, these are of a decent size and promise to do more than just pay lip-service to multichannel sound. They stand vertically, with a front-mounted LED glowing red or green to illustrate whether they're in use. A switch at the rear turns them on or off.
The soundbar houses all the system's connections. There's USB and Ethernet (plus Wi-Fi) for file playback and online sources, as well as three HDMI inputs and an ARC output. The HDMIs are 4K capable and I was able to passthrough HDCP 2.2-protected footage from BT's Ultra HD sport channel.
Connect the RT5 soundbar to your TV via HDMI and there's an onscreen user interface. This greets with a panel-based home screen displaying sources – HDMI inputs,  Bluetooth, USB, etc. It's reasonably good-looking but a bit utilitarian.
As with Sony's previous XT3 soundbase, you'll need to access this menu so you can go into the setup sub-menus. So while the bar can be fed from your TV via a digital optical output, HDMI is the way to go.
There are usability flaws to report. The manual is fairly sparse, and it took me time to get to grips with the various soundfields on offer. Normally, I'm not that concerned with the minutiae of what soundbar presets are attempting to deliver as I tend to ignore most of them, but with these extra speakers in play it becomes important.
If you're inputting a multichannel soundmix, you want to make sure that's what you're getting rather than some matrixed confection. So go with the ClearVoice+ mode which outputs the inputted signal. If you're running stereo, but want to use those extra channels, this will also do the job. In fact, seemingly every soundfield made use of the surrounds, even Standard when given a stereo signal.
After some experimentation, I discovered there is actually a two-channel stereo mode, which switches off the subwoofer and centre channel, but it can only be selected from the UI (rather than the handset). It's for music purists, I suppose. In practice, it doesn't sound very good – maybe that's why it's hidden away.
On the road again
Mad Max: Fury Road has a clanking, snarling Dolby Atmos soundtrack, and with the RT5 outputting the core TrueHD mix through its 5.1 speaker battalion, it retains much of its charms. During her escape from Immortan Joe, Furiosa's truck is assailed from all angles. There's a real sense of an effects maelstrom in evidence here, with spears and arrows whipping through the air. In truth, it's not the smoothest, most enveloping soundfield I've ever heard – the surrounds don't have the scale or wide dispersion to really encase you – but in the enjoyability stakes it still knocks regular 2.1 into a cocked hat.
High frequencies come across as a little soft and indistinct, limiting some of the edge-of-your seat impact that George Miller's road-racer can offer, but it's not a weak performance by any means. And there's enough midrange punch to ensure that Furiosa's airhorn cuts through the melee with impressive body, while dialogue, given a bona fide centre channel, is well-presented. An AV sync feature is on-hand to correct any latency issues.
As expected from a system of this ilk, the subwoofer is vital. There's a direct level adjustment on the handset that allows easy tweaks of its level from 0-12 – set it to around 9 or 10 and it holds your attention with juicy bass thuds that bring cinematic drama to proceedings. It's not an LFE behemoth, but it's not prone to rattling cabinet tantrums either.
Sicario's brooding score and considered sound design shows the RT5 can build an atmosphere, too, and a helicopter flypast in Chapter 4 provides a decent test of Sony's Cinema Studio 9ch mode, which has ninechannel (front height and rear surround) aspirations. Comparisons with the standard 5.1 presentation do actually show an increased sense of height cooked up by Sony's DSP – the chopper seems to have more of an in-room presence. Yet later on in the movie, when Josh Brolin's black ops team becomes engaged in a firefight, I found the Cinema mode took some of the fizz away from the sound steering.
Other soundfield modes are Movie, Music, Game and Music Arena. The last of these is quite pronounced, adding reverb and a tangible midrange boost to proceedings. Yet ClearVoice+ again was my preferred option, as it took some of the rough edges off low-bitrate music streams. That said, with the different demands of music, the RT5 is less of a hit overall. Listening critically, I felt the timing wasn't quite locked down, leading to tracks – particularly up-tempo rockers such as The Rolling Stones' Rocks Off – sounding a tad unrhythmical. It fared better with a less-frantic DTS-HD MA 5.1 recording of Joe Bonamassa (An Acoustic Evening At The Vienna Opera House), with his acoustic guitar sounding nicely balanced against the percussion section.
Atmos around the corner
Counting against the HT-RT5 are some future arrivals from Samsung and Philips that feature upfiring Atmos drivers and decoding of the next-gen format. Having embraced the idea of a breakout soundbar, wouldn't you want to go the whole hog? So while cutting-edge in one regard, the RT5 is in danger of looking a touch old-fashioned.
Another consideration is that having these extra speakers brings in a level of system setup that soundbars aren't known for. Owners of a standard model can place it below a TV and go and put the kettle on. To get the very best from the RT5's 5.1-channel charms, careful placement of the rears is required, particularly as they are quite narrow in their output. There's a basic calibration procedure on offer here, with a dinky boomerang-esque mic that plugs into the bar's rear, but it got through the test tone analysis so quickly I doubt the effectiveness of its subsequent tweaks.
Counting in this package's favor, though, is its welcome simplicity. All you need do is plug in a BD deck and link it to your TV and you're set for 5.1 cinema sound. And  while it doesn't sound consistently brilliant, it still sounds good, with some impressive DSP to play with. Overall, it's fun, and I enjoyed having it around.
Specifications
DRIVE UNITS: 3 x midrange drivers; 2 x tweeters (soundbar); 2 x full-range drivers (surround speakers)
AMPLIFICATION (CLAIMED): 550W
CONNECTIONS: Optical digital audio input; 3 x
HDMI inputs; 1 x
HDMI (ARC) output; 3.5mm audio input; Ethernet; built-in Wi-Fi; USB
DOLBY TRUE
HD/DTS-HD MA: Yes/Yes
SEPARATE SUB: Yes
REMOTE CONTROL: Yes
DIMENSIONS (SOUNDBAR): 1,080(w) x 560(d) x 128(h)mm
WEIGHT (SOUNDBAR): 3.8kg
ALSO FEATURING:
ClearAudio+, Game, Movie, Music, Standard, Music Arena and Cinema Studio 9ch modes; Google Cast and Spotify Connect streaming; auto-calibration via supplied microphone; Bluetooth (transmit/receive); wireless subwoofer connection; wireless surround speaker connection; DLNA media playback.