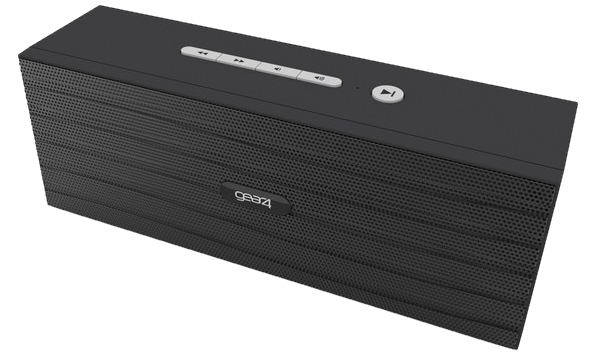 Cheap portable sound that resonates with our reviewer
I recall the first Bluetooth speaker I reviewed and it cost.
These days, you can find them much cheaper, like Gear4's new Soundwave. It's one of many Bluetooth speakers Gear4 makes, but it's at the most affordable end of its extensive range.
While not exactly feature rich, the Soundwave contains the critical functionality that most people need in a highly transportable package. At just 22.5cm long, it's small enough to travel in a bag with a beach towel. And at less than 600g, it's light enough for prolonged summer treks.
That low weight is even more impressive when you realise that the Soundwave contains a rechargeable battery capable of powering it for up to six hours.
Outwardly, the soundwave is riffing on the theme of black. Gear4 used a soft rubberised coating to deflect some abuse, but how much is hard to determine.
The audio connectivity is either through Bluetooth or a 3.5mm jack that Gear4 provides a cable to use.
The only other accessory included is a USB micro-B cable for charging, as it assumes you have either a phone charger (or PC) for that purpose.
Using the speaker for the first time in Bluetooth mode, it automatically enters pairing mode when powered up, and once connected to your phone/tablet, there are five buttons on the top that allow you to control the volume, pause/play and skip tracks. Obviously, if you use the audio jack, these buttons are entirely redundant.
In terms of sound, there are obvious limits to what two relatively small drivers and a passive bass structure can achieve. But unless you push the volume too high, it's relatively clean, if somewhat bass biased.
Gear4 seems coy about what the wattage output exactly is, though frankly it's enough to fill my office, and better than the audio I get out of most monitors.
As with most speakers using this tech, the Soundwave works much better in an outdoor environment than indoors, where the maximum range is often less than the quoted 30ft.
If you want the very best results, however, I'd use the 3.5mm jack, because the direct line input doesn't introduce any unexpected distortions into the audio stream.
These are Bluetooth technology issues and not anything intrinsically wrong with the Soundwave implementation, I might add.
My only criticism of the device is that the charge amperes are only 500mA as per a phone charger, where quicker charging would have been available if it could handle the greater 900mA of USB 3.0 or the 1500mA that some tablet chargers can generate.
For this level of cost, I defy you to be disappointed with the Soundwave. It does what it says on the box, within the confines of the physical scale and technology used.
It comes down to how much you're prepared to pay and what you expect from wireless speakers. At this cost, these are actually better than I was expecting and in line with the majority of Bluetooth speakers costing up to three times as much. Mark Pickavance
An inexpensive and portable way to boost phone audio..