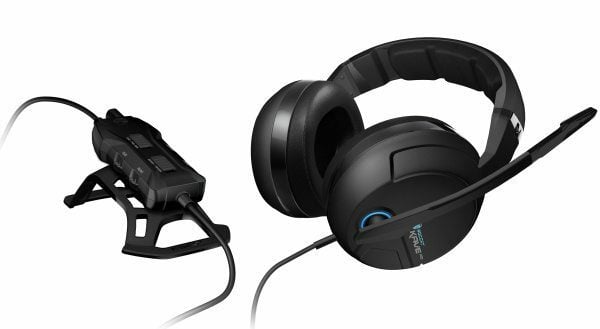 Become completely surround in sound
Roccat has had a good run of decent gaming peripherals of late. The Tyon mice range and Ryos keyboards have all scored highly in both the eyes of reviewers and gamers alike.The same can be said for the headsets on offer, in particular the Kave range. We've reviewed a Kave headset from Roccat in the past and found it to be a great addition to the gamer's arsenal. Now, though, we've managed to get our hands on the higher end of the Kave scale, the Kave XTD 5.1 Analog.
The Kave XTD offers a 'real' 5.1 surround sound setup thanks to three main drivers in each ear cup. There's a pair of 40mm drivers covering the centre, front and rear, with a third 30mm vibration driver that gives quite an explosive level of bass.The left ear cup houses a detachable, omni-directional microphone with excellent noise cancelling technology – complete with a mute LED quick recognition notification on the mic's tip. It's a small enhancement, but one a lot of avid headset-wearing gamers are keen on having.There's a long, three-metre, tangle-free cable with a dualmode remote located roughly halfway along. The remote is a pretty solid affair and features a number of controls that are easy to reach without fumbling around. From it you can alter the volume levels of each driver (front, centre, rear and sub) and switch between movie and game preset modes, as well as turning the mic on or off. You can either clip the remote to your shirt, or you can clip it in a Desktop Mode to an included bridge that will sit near your keyboard or mouse.The cable terminates with a USB connection and four 3.5mm audio jacks. Naturally, you'll need a soundcard setup that can accommodate the four audio jacks. If you do, then you're in for a real treat, as the sound quality from the Kave XTD 5.1 is absolutely superb. Every detail of each audio range is picked up with near perfect clarity. Gaming sounds superb, but also films and music have extra depth and come alive once you put the headset on.In terms of comfort, the ear cups and headband are extremely well padded and can be worn for a length of time without any signs of discomfort. There's also a higher than normal amount of noise cancellation thanks in part to the cushioning and padding on the ear cups, but also due to a Zero Noise Interference Isolator Roccat has installed in the headset. This innovative piece of technology apparently cuts out any electromagnetic interference from other components. As to how much it actually does cut out we're not sure, but suffice to say we were cocooned in a shell of near silence when we wore the Kave XTD.The Roccat Kave XTD 5.1 Analog headset is an excellent buy for the avid gamer and audiophile, but at £ or thereabouts, it's quite pricey. But you get what you pay for, and in this case it's an extremely good headset with superb 5.1, hardware-driven surround sound. David Hayward
Excellent quality headset, although a little expensive.