It's one of few gaming laptops we've seen with a mechanical keyboard, and Scan reckons it's slimmer and lighter than any rival too. Read our Scan 3XS LG15 Vengeance Pro Review.
It's also the first Coffee Lake laptop we've seen, with the Core i7-8750H offering six Hyper-Threaded cores, and its base speed of 2.2GHz can boost to 3.9GHz on all six cores and to 4.1GHz across one or two cores.
Previously, the quad-core Core i7-7700HQ was the usual gaming mobile CPU of choice, as found in the Dell Inspiron 15 7000 Gaming, which has a maximum turbo speed of 3.8GHz.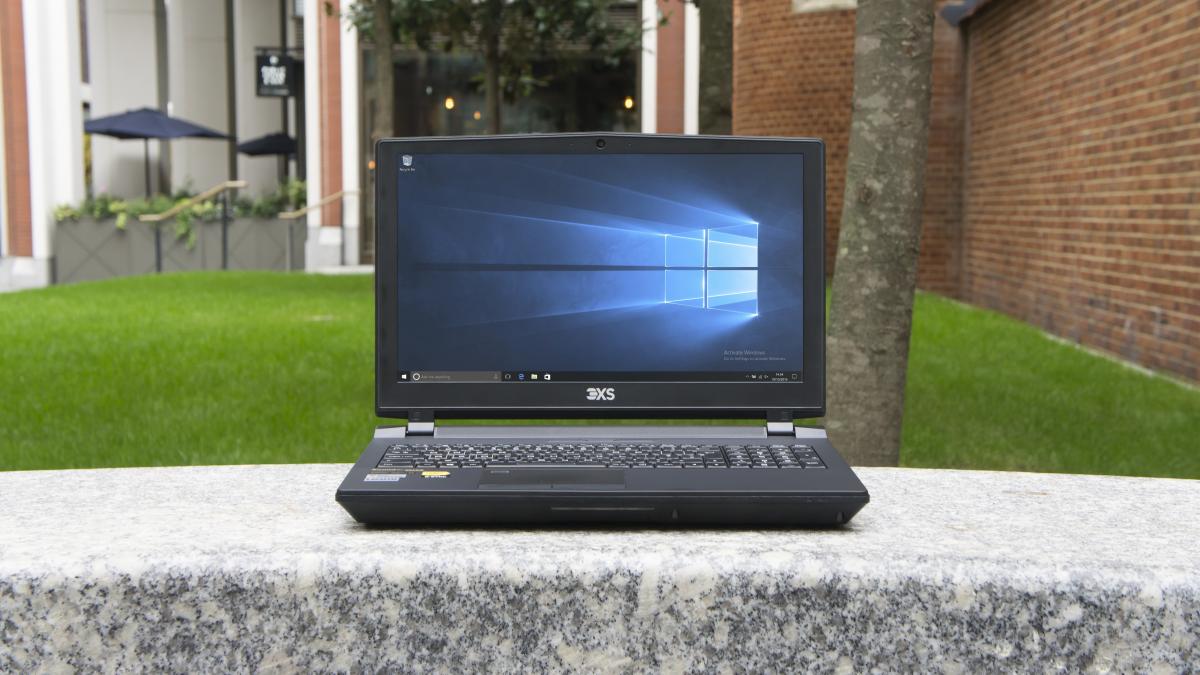 The Scan doesn't have any new components elsewhere, but its internals remain impressive.
The full-fat variant of the GTX 1060 is used, unlike the Dell's Max-Q variant.
That means the Scan's GPU runs at 1404MHz rather than 1063MHz.
There's also 16GB of dual-channel memory, which is an improvement on the Dell's single-channel DDR4 setup, and storage is divided between a 250GB Samsung 960 Evo SSD and a 1TB hard drive.
Scan has packed all of this hardware into a chassis that's 19.9mm thick and weighs 2kg. Comparatively, the Dell was 0.5cm thicker and 0.5kg heavier.
The Scan also has reasonable build quality, despite its comparatively small size.
The keyboard and the base panel are strong, although the lid is slim and feels a little creaky – we'd advise carrying the Scan in a padded bag.
There aren't many visual flourishes.
The lid has some slashes and a 3XS logo, and the rear has small air vents. There's also a strip of RGB lighting at the front, and dramatic slashes around the power button.
Elsewhere, if s just dark, brushed aluminium.
That's fine if you prefer subtlety to all-out 'game' design, and it can be made more discreet by turning off the backlighting.
That's achieved using Scan's Gaming Center app, which can also be used to customise the keyboard and deactivate the RGB light bar.
There's a reasonable port selection, including USB 3.1 Type-C and two mini- DisplayPort outputs, and Internet access comes via the usual Gigabit Ethernet port and dual-band 802.11ac Wi-Fi.
You can get full access to the interior too, and a second M.2 slot is free to add more storage.
The new Coffee Lake Core i7-8750H CPU offers six cores
Meanwhile, the aforementioned mechanical key switches sit beneath conventional, chiclet-style buttons.
The action is faster than any chiclet-based rival we've used, which helps during gaming – if s easier to get up to speed in fast-paced titles.
They have a solid base, but don't have the softer typing action of conventional laptops – instead, they bottom out with a rigid click, giving you proper tactile feedback.
They're far louder than usual laptop keys, too.
The layout is good as well, with a numeric keypad and full-sized keys, and the touchpad is reasonable.
The buttons are a bit soft in action, but you'll want a proper USB mouse for gaming anyway.
As ever, Scan's machine can be customised too, with alternative memory and storage options.
Finally, the Scan has a two year parts and labour warranty, with a collect and return service for the first year.
That's better than the one year RTB deals that we often see from big-brand rivals.
Performance
The Coffee Lake processor is superb. The huge turbo speed helped the Scan to deliver an image editing score of 51,004, which is almost 15,000 points beyond the Core i7-7700HQ.
It's no multi-threaded slouch either.
Its Handbrake result of 357,370 is also nearly 150,000 points ahead of the older Core i7.
Single-threaded software will run with speed on the Scan, and the CPU won't have any trouble with difficult, multi-threaded applications or tough games either.
The SSD bolsters the Scan's performance with read and write speeds of 3,230MB/sec and 1,464MB/sec.
Meanwhile, the full-fat GTX 1060 beat the Dell's Max-Q chip, with Fallout 4 and Deus Ex minimums of 49 fps and 40fps being 5-10 fps quicker.
Those are demanding tests at high settings, and the Scan has no trouble coping with them at its screen's native 1,920 x 1,080 resolution.
When running less intensive tasks and mid-tier games, the Scan made hardly any noise; but when running tougher games, the fans spun up, modulating between two levels.
If s a normal level of noise, unlike the Asus ROG Strix GL702ZC, which is a solid achievement
SPECIFICATIONS
| | |
| --- | --- |
| CPU | 2.2GHz Intel Core i7-8750H |
| Memory | 16GB 2400MHz DDR4 |
| Graphics | Nvidia GeForce GTX 1060 6GB |
| Screen | 15.6:n 1,920 x 1,080 IPS 60Hz |
| Storage | 250GB Samsung 960 Evo M.2 SSD, 1TB hard disk |
| Networking | Gigabit Ethernet, dual-band 802.11ac Wi-Fi |
| Ports | 3 x USB 3.1 x USB 3.1 Type-C, 1 x USB 2, 2 x audio jack, HDMI, 2 x mini-DisplayPort, SD card reader |
| Dimensions (mm) | 359 x 236 x 19.9 (WxDxH) |
| Weight | 2kg |
| Operating system | Windows 10 Home 64-bit |
| Warranty | Two years parts and labour, first year collect and return, second year return to base |
The Samsung 960 Evo provides super-fast NVMe solid state storage
It's good to see proper dual-channel memory in a laptop
Two fans linked by heatpipes keep the 6-core CPU and GTX 1060 GPU cool considering the Scan's powerful internals and slim size.
The temperatures are fine too – the CPU peaked at a 64°C delta T with each core running at 2.7GHz, while the GPU topped out at 58'C and ran at around 1550MHz.
The 60 Hz IPS panel doesn't have any active sync technology, but it does deliver decent image quality.
Its brightness level of 367 cd/m2 is huge, and the black level of 0.27cd/m2 is good.
Those figures deliver a contrast of 1,359:1, which means ample versatility; colours are vibrant, there's enough brightness for outdoor gaming, and dark areas look inky.
Those results are all better than the aforementioned Asus and Dell machines.
The Scan's average delta E of 2.64 is better than the competition too, and the colour temperature of 6.687K is close to the 6,500K ideal. Its sRGB coverage level of 81.7 percent is better than the Dell and almost on a par with the Asus, and its backlight only varied by 6.5 per cent – a superb figure.
The speakers are reasonable too, with a good mid-range and a high end that just avoids being tinny.
There's not much volume, though, and bass is weak, which is no surprise on such a small machine.
The middling battery life is no shock either.
The Scan lasted for around 80 minutes in a gaming test – miles behind the Dell. Make sure you pack the charger.
Conclusion
The 3XS LG15 Vengeance Pro is excellent.
The Coffee Lake processor delivers a huge performance boost compared with Kaby Lake predecessors, and the CPU is bolstered by a fine SSD and 16GB of dual-channel memory.
Meanwhile, the full-fat GTX 1060 outpaces Max-Q rivals and handles 1080p gaming without a struggle.
Scan has also crammed the components into a slim, light chassis with a great screen. It has a mechanical keyboard that's better than conventional hardware, and the warranty is excellent.
Problems are minor. The battery is mediocre, the touchpad is a little soft and the speakers are weedy.
Those are tiny issues, though, especially if you'll be mainly using your laptop plugged into the mains with a USB mouse and headset.
The Scan is slimmer, lighter and faster than the competition, and it's priced reasonably too, meaning there's every reason to make it your next gaming laptop.
MIKE JENNINGS
VERDICT
See also THE COMPLETE GUIDE TO…OLED laptops